As we move closer to the launch of our new standard, we continue to work behind the scenes to make the transition process as seamless as possible for partner companies. Last December we merged the UTZ and Rainforest Alliance Chain of Custody certification processes and recently we announced that from July 1, 2019 further mutual recognition options will be available for our cocoa, tea and hazelnut programs.
What does that mean for your company? We talked to Alex Morgan, Chief Markets Officer of the Rainforest Alliance, to get all the details about this next phase. Keep reading for his answers to five burning questions on this new opportunity.
Why are we rolling out this new mutual recognition and what does it mean for our partner companies?
This mutual recognition option is an important step that will make things simpler for companies sourcing cocoa, tea and hazelnut, and allow for an easier transition into our new certification program. In concrete terms, what it means is that companies at the end of the supply chain will be able to source Rainforest Alliance Certified or UTZ certified ingredients – or a mixture of both – and then use either the Rainforest Alliance Certified seal or UTZ label on pack, in accordance with the labeling rules of the respective program.
This is in addition to the Chain of Custody Mutual Recognition that has been in place since December 2018, which allows all companies to purchase both UTZ certified and Rainforest Alliance certified ingredients while only having to be Chain of Custody audited for one of the current programs.
Looking at the big picture, this allows our partner companies to make decisions on which seal creates the most value for their brand. In addition, we hope that it enables producers in both systems to find new buyers and markets for their products.
Why is coffee not included?
Put simply, coffee is out of scope of full mutual recognition at this moment because we don't want to negatively impact coffee producers. Before embarking on this process of mutual recognition, we carried out detailed assessments of all the sectors in which we work. The assessments for coffee showed that offering mutual recognition could create significant shifts in supply and demand in the sector which could have a negative impact on the income of coffee producers. We would never want this to happen, especially as the coffee sector is currently facing historically low prices, and as a result, we decided it was best not to include it at this time.
Will companies have to pay more?

In short, it depends. In order to allow volumes to be used interchangeably at the end of the supply chain, it was important for us to align the current UTZ and Rainforest Alliance fees during this period of transition in order to move closer to how they will be in the new certification system. For tea, this meant that we were able to adopt the lower level rate, bringing an additional benefit to members of this program. For cocoa, we established a new rate that sits between the two existing schemes. There is no change for hazelnuts.
What does this look like in real numbers?
The rates that will be charged during the period of transition towards the new standard will be as follows:
$12.50 per MT for tea (no change to the existing RA royalties, and replacing the current UTZ program fee from July 1, 2019)
$12.90 per MT for cocoa (replacing the current RA royalty and UTZ program fees from July 1, 2019, and the current UTZ membership fee from January 2020)
€30 per MT for the hazelnuts program fee (no change), membership fees continue (no change)
Won't mixing the use of the UTZ and Rainforest Alliance seals cause confusion for consumers?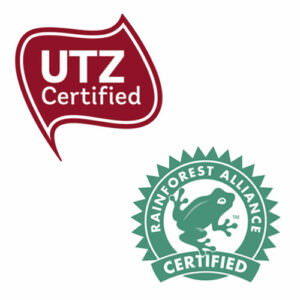 It is important to keep in mind that our two existing certification schemes are very similar in terms of objectives and impact. We also believe that the flexibility of being able to use both seals interchangeably will bring value and outweigh any potential negatives.
With that said, communication is key. We will publish details on our website outlining what the two seals mean during this transition period. Companies are welcome to link to this page in their own B2B or B2C communications to ensure full transparency and disclosure as we move towards our new standard.
If you would like support in communicating to your suppliers, employees, customers, stakeholders or consumers, please reach out to the Rainforest Alliance marketing team at marketing@ra.org.
Which seal will be used for the new certification program?
We are working to refresh and modernize the Rainforest Alliance Certified seal as part of the development of our new agricultural certification program, while leveraging existing strong consumer recognition and brand value. More information will be shared in the coming months, and companies will be given ample notification of changes as well as time to phase in the new seal.
The UTZ label will gradually be phased out. Meanwhile, companies can continue to submit UTZ labeling approval requests at least until 2022. We will also continue to offer support for UTZ certified brands and products, from sourcing through to marketing.
Preparation and support
To prepare for July 1, there are a few things that can be done. If you haven't already done so, we recommend ensuring that you have mutual recognition for Chain of Custody certification set up. As a part of this process, you will also register for an account in our Marketplace platform which will be required in order to make requests for mutual recognition and all trademark claims from July 1.
If you have any questions at all, not to worry. We are here to support you during this transition. Find more info and additional FAQs here or contact us at customersuccess@ra.org.
Support Our Work
Create a world where people and the planet prosper together.
DONATE TODAY