At the Rainforest Alliance, supporting farmers is at the heart of all we do. To better support cocoa farmers, we're making a significant shift to 'origin matching' mass balance sourcing. This means companies must buy certified cocoa from the countries that match the origin of the cocoa used in certified consumer products. This approach supports a more balanced flow of benefits to certified farmers in those countries.
In general, cocoa beans are supplied in bulk and mixed together during shipping and manufacturing. This makes it very difficult and expensive to keep certified cocoa separate from non-certified cocoa between the farm and grocery store shelves. To make certification accessible to as many cocoa companies a possible, thereby increasing the demand for cocoa from certified farmers, we support a system called mass balance sourcing. This method is by far the most popular model in the cocoa industry. The origin matching approach expands on mass balance sourcing, bringing more equity to the way certified cocoa is sourced.
"If there is a demand for certified cocoa from a specific country, we want the farmers in that country to benefit from certification. Origin matching mass balance will help us make that happen, while still allowing the industry to benefit from mass balance. We are very excited to work with the entire sector to make this innovative new approach a reality."

Ruben Bergsma, Cocoa Lead at the Rainforest Alliance
Mass balance: intent versus reality
Mass balance has played a significant role in making sustainability initiatives scalable. With this system, companies don't have to invest in segregating certified from conventional cocoa at the factory level. Instead, these investments can go directly to the farmers who need them most.
Unfortunately, companies aren't always using mass balance as intended. While they do save money at the factory level, this approach may also allow a company to focus certified sourcing on origins that bring certain advantages (i.e., lower cost or simpler logistics), instead of to origins where there is actual demand for certified cocoa. 
We do not want mass balance to be used this way. Thus, we're shifting to 'origin matching' mass balance. With this approach, companies can no longer exchange credits for certified product from one country for non-certified product from another country. Savings should be made during shipping and manufacturing, not at the sourcing level where farmers are impacted.
Origin matching benefits certified farmers
With origin matching, even if certified cocoa mixes with non-certified cocoa during the sourcing process, the country of origin remains the same from beginning to end. So, if the recipe of a chocolate bar of a certain brand calls for cocoa from Papua New Guinea, the brand must purchase the volume needed for that product from certified cocoa farms in Papua New Guinea. If there is demand for certified cocoa from a certain origin, we want the farmers in that region to benefit from it. This helps to create a more just and transparent sourcing process.
The goal of origin matching is to shift towards a certified supply chain that more closely mirrors the actual flow of ingredients and investments, while still providing some flexibility to supply chain actors. This approach ensures that farmers in origins currently producing cocoa (that is eventually sold as certified) will receive investments for their work practices. Furthermore, origin matching means companies purchasing Rainforest Alliance Certified cocoa can better mitigate social and environmental risks related to their sourcing practices.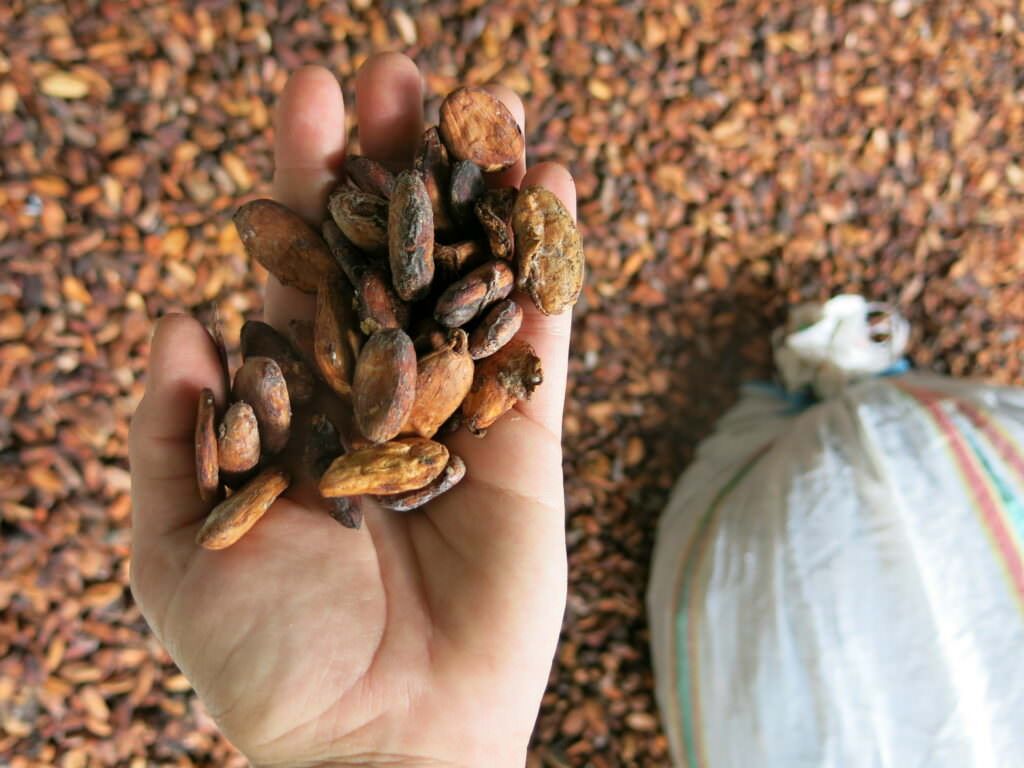 Our next steps for origin matching
We will transition to full origin matching over the coming years. This begins with the launch of our new Sustainable Agriculture Standard. In phase one of the launch, starting in July 2021, origin matching mass balance rules will go into effect for all certified cocoa bean and nibs purchases and sales, as well as on certified liquor sales. This transition will take time, and we want this shift to happen in a credible way. In many cases, the industry will need to commit to targeted investments and actions to make it a reality. Some companies have submitted sourcing plans for countries where there is currently not enough certified supply available to meet certified demand. In these cases, it will take a multi-year approach to change sourcing practices.
We know that this is a long-term goal that requires a clear roadmap and a thoughtful approach. That's why other aspects of our cocoa strategy also support the goal of origin matching, including the Sustainability Differential and Sustainability Investments. Together, these interventions will bring more shared responsibility and transparency to supply chains.
It will take effort and adaptation from farms, companies, and the entire cocoa industry to make our origin matching approach a reality. We are here to support your company through this transition. For more information, please see our phased rollout plan.
Support Our Work
Create a world where people and the planet prosper together.
DONATE TODAY