Decades ago, the Rainforest Alliance and UTZ set out to change the world through a simple yet powerful idea–connecting farmers and forest communities who are investing in sustainability with companies committed to responsible sourcing, and consumers seeking to make better choices. Today, as a merged organization, we are building on many years of experience to unify our agricultural certification programs, which touch millions of farmers and workers, thousands of companies, and consumers in more than 130 countries around the world.
Yet the sectors and landscapes we work in have changed dramatically since we began. After decades of working with and learning from our partners, from the field to the boardroom, we believe that we must reimagine certification to effectively meet the urgent environmental and social challenges facing our world today. So, what does it mean to 'reimagine certification'?
Reimagining certification: at the heart of our strategy
Reimagining certification is our long-term vision for the future of certification. It is part of our wider strategy at the Rainforest Alliance to drive change through our four main areas of work. These interventions are all interconnected and work together to drive sustainability across the sectors in which we operate.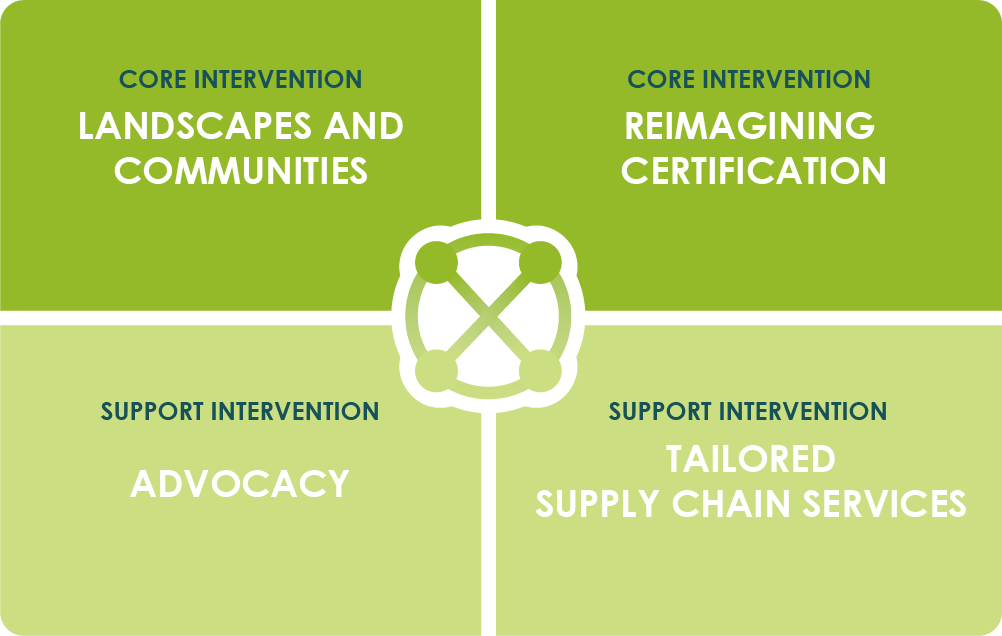 Taking our work to the next level
Certification has had a huge impact, but it must continue to evolve to drive greater impact for people and nature and provide more value to farmers and companies. The merger of the Rainforest Alliance and UTZ in 2018 was a natural moment for us to take a step back and look at the future of certification. We are now in a unique position because we have something that not many other organizations have: scale. With that scale comes both a huge opportunity and responsibility to create greater impact. By reimagining certification, we can combine our extensive history of certification, hands-on expertise, knowledge of diverse sectors, ability to innovate, and scale to take our work to the next level.
What reimagining certification looks like
There are several key principles underlying our vision for the future of certification:
From binary pass/fail to continuous improvement
We are moving away from the idea that certification is a series of pass/fail requirements. Instead, we will adopt a continuous improvement approach that drives change from a set of core criteria. This system will support farmers to work towards relevant improvements. It will also recognize frontrunners who continue to improve, perform at high levels, and innovate.
What does this mean in practice? It means first ensuring that all workers are paid a minimum wage – but continuing to drive improvements towards a living wage. It means first working to stop deforestation–and then going beyond that, towards reforestation or regenerative agriculture.
From a lack of data to being powered by data
In order to tackle sustainability issues, we depend on reliable, dynamic information. The new certification system will be much more technology- and data-powered, ensuring that the data collected is high quality and can be used to gain insights into the supply chain.
For farmers, this means getting access to information and tools that can help them improve their business. Audits will become more effective and efficient when auditors can access digital records and use geospatial technology. Companies will be able to access valuable information on sustainability performance and risk in their supply chains, helping them to target investment and communicate more clearly about their impact.
From traditional assurance to risk based & data-driven assurance
We must innovate the tools and processes used to check that the requirements of our standards have been met. In the traditional assurance model, auditors visit farms, check documents, conduct interviews, and evaluate whatever they can see with their own eyes. The issue is that agricultural systems are very complex, and we know that there are different levels of risk for different issues. Plus, we know that no system can monitor a farm 24 hours a day, 365 days a year.
That's why we want to give auditors the ability to focus on the more high-risk areas. Rather than simply checking what they see on the day of the audit, auditors will check that the systems are in place to support more sustainable practices all year round. They will also use new technology, like satellite imagery, to capture data that cannot be easily detected in a single visit. This is on top of increased investment in audit oversight and training for auditors. Together, these changes will make the auditing and assurance processes far more effective, to come to a stronger, more rigorous evaluation.
From one size fits all to context adaptable
Another thing we want to move away from is a one-size-fits-all model. There are many different realities in producing countries and across sectors, and we want to provide standards and assurance systems that are flexible enough to adapt to these contexts.
On one level, this means providing standards that take into consideration the different challenges of different farmers, whether they are a smallholder cocoa farmer or owner of a large banana plantation. But we want to go beyond this to ensure that the issues that matter are really being addressed.
An example of this in action would be with practices like child labor and forced labor. In areas where there is a medium or high risk of these practices occurring, our standard would require farmers to put in place robust systems to assess and address them. This goes hand-in-hand with auditors using risk maps to help them focus more on the most pressing issues where the audit is taking place.
From placing the burden only on producers to shared responsibility across the supply chain
Last but not least, the new certification system will promote a greater sense of shared responsibility across the supply chain. While it's good that we put the farmer at the center of certification, a disproportionate burden of certification falls on their shoulders without adequate resources being made available to them.
With the new certification system, we want to change that. We encourage companies to acknowledge the price of sustainability and invest in and reward more sustainable production as well as share the investments needed to advance sustainability progress at origin. Because a more sustainable product is a better product that deserves a better price.
How does the 2020 Certification Program fit these goals?
The Rainforest Alliance 2020 Certification Program is our first step on the journey towards our long-term vision for the future of certification. It includes the Sustainable Agriculture Standard, (made up of the Farm Requirements and the Supply Chain Requirements),  along with the assurance documents and accompanying systems and tools, that are in line with these new approaches. The 2020 Certification Program, was published in June 2020 and will now be implemented across all Rainforest Alliance certified crops, after which audits will begin mid-2021.
Support Our Work
Create a world where people and the planet prosper together.
DONATE TODAY