Our website contains a wealth of information about the transition to the 2020 Certification Program, but this page has been created specifically to support Fresh Fruit and Vegetables Supply Chain Actors.
Jump to:
Timelines
Fresh fruit (excluding banana), vegetable supply chain certificate holder timeline: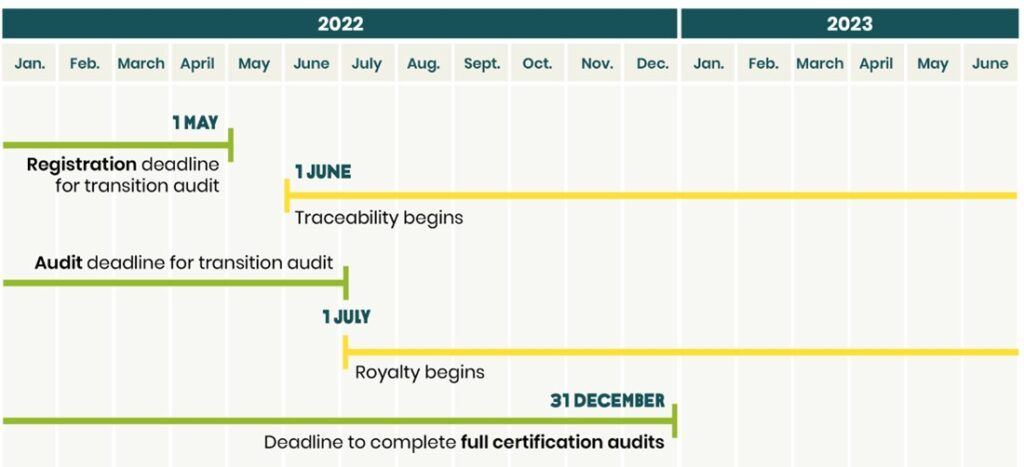 Supply Chain Certificate Holders that begin a transition audit before 1 July 2022, will receive a desk audit and will be issued a one-year transition certificate.  For Banana supply chain actors, the transition audit needs to be finalized by Dec 31, 2022.
SC CH that register and/ or complete their audit after these dates will be required to implement the full certification cycle, receive an onsite audit and receive a three-year certificate.
TIMELINES FARM CERTIFICATE HOLDERS
We recently communicated an extended transition timeline for farm certification holders until 30 September 2022 for first transition audit to give Farm certificate holders more time to complete the process.
For Banana producers, the first transition audit needs to be finalized by Dec 31, 2022.  
Registration and Licensing
Registration is the first step towards getting your Rainforest Alliance Certificate and License to Trade. This is the case even if you already have an account with us. All Supply Chain Certificate Holders (SC CH) must register in the Rainforest Alliance Certification Platform before their certificate expires, or by 31 December, whichever is sooner. 
To complete registration: Visit the Registration Portal
Registration is a multi-step process. Once you have created your new account, you will complete a brief questionnaire for each site seeking Certification in order to define your certification scope. You will also need to upload or sign a valid License Agreement (2020 version) which confirms that you agree to abide by the Rainforest Alliance's for certification.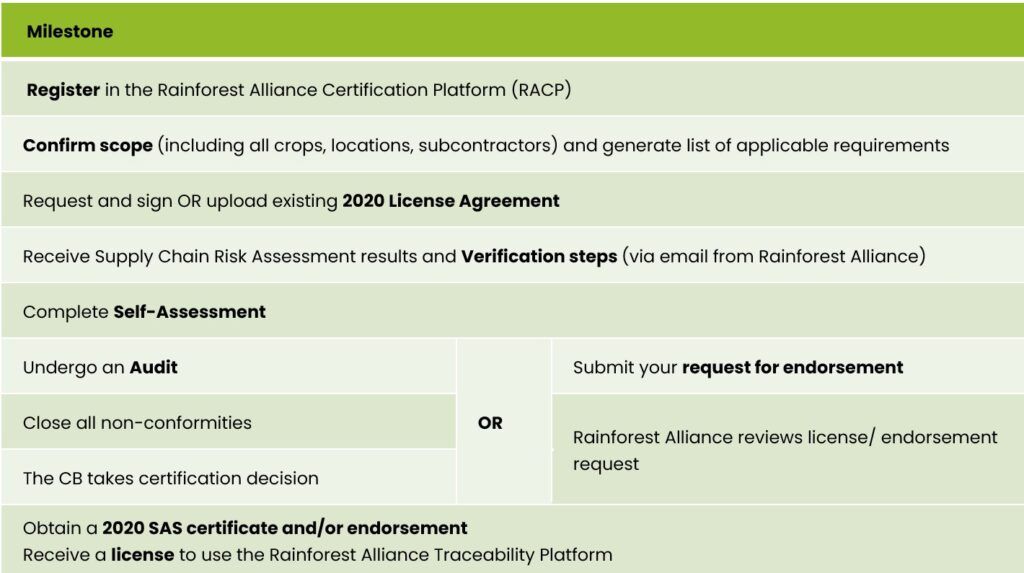 After registering in the Registration Portal, each account holder will be given access to a Marketplace account linked to the new Rainforest Alliance Certification Program. This will be a different account/login than the one you currently use of MarketPlace.
Read more on traceability and royalty here.
Trademark Approvals
All public facing materials that use the Rainforest Alliance trademarks and/or name need to be submitted in the Marketplace platform and receive official approval prior to being printed, published, or launched in the market.
More information
Here are some resources with information on the new certification program and transition process.
For further questions please contact our Customer Success team at customersuccess@ra.org.
Support Our Work
Create a world where people and the planet prosper together.
DONATE TODAY