By Diana Ortiz, Marketing Associate, Rainforest Alliance
Alex Morgan, Director of Markets Transformation, hosted more than 250 coffee professionals – including green coffee buyers, exporters, producers and roasters – at the 14th annual Rainforest Alliance Sustainable Coffee Breakfast during the Specialty Coffee Association of America (SCAA) Expo in Atlanta, Georgia in April. These coffee experts gathered bright and early at the Georgia World Congress Center to hear updates on driving more sustainable coffee, while enjoying prize-winning coffee from a group of the top scoring farms from the 2015-2016 Rainforest Alliance Cupping for Quality events.
Attending for the first time was Nigel Sizer, Rainforest Alliance President, who joined the organization in February. Sizer served as guest speaker for the morning's event and was able to share in the announcement of the results from Rainforest Alliance Cupping for Quality events and as well as present the Change Agent Award. This annual Rainforest Alliance award recognizes an individual or company within the coffee community demonstrating superior commitment to sustainability through adopting best practices and promoting sustainable certification.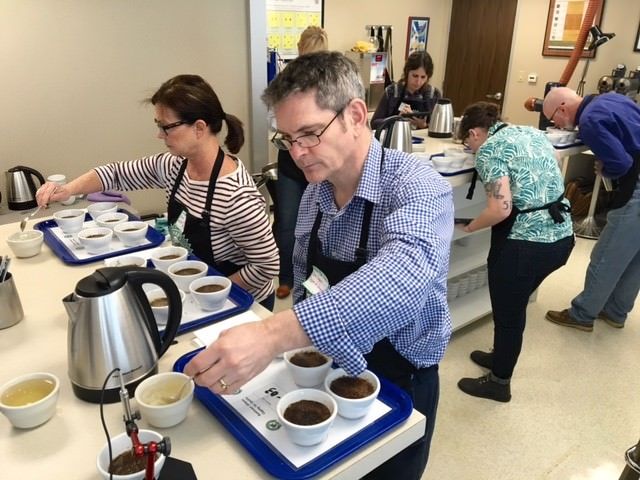 Cupping for Quality takes place twice each year according to various coffee harvest cycles – once during the spring and once in December – to evaluate coffees from origins worldwide. The March 2016 and December 2015 cuppings featured more than 70 coffees from Rainforest Alliance Certified™ farms in Latin America. All coffees scored 80 or above, which is recognized as specialty grade coffee by the SCAA Statistics & Standards Committee. The top scorers were Café Granja La Esperanza from Colombia and Finca Chelin from Mexico. Participating producers were recognized during the breakfast and presented with a certificate. Find cupping results here.
Nigel Sizer used the breakfast as an opportunity to share his background in forest conservation and his vision for a world rebalanced. He reminded the audience why the work in sustainability is so critical in promoting healthy farming communities and managing risk in supply chains. "Our pledge to you is integrity, investment, improvement, impact, and an open door," Sizer said of the Rainforest Alliance.
A highlight of the event was the recognition of Eko Purnomowidi, an Indonesian coffee farm technician, who was the proud recipient of this year's Change Agent Award. Purnomowidi was honored for his commitment to sustainability in Sumatra, where he helps educate farmers on the importance of traceability and sustainability and promotes Rainforest Alliance certification to ensure long-term impact. Through this work with farmers, important discoveries have been made, such as better quality coffee resulting from improved soil health, and using fewer chemical fertilizers and pesticides. Purnomowidi works to implement the sustainable land-use practices established by the Sustainable Agriculture Network in each farming community that he visits and has facilitated the formation of the first Rainforest Alliance Certified group in Indonesia. He also helped found a coffee farmers institute and taught the benefits of sustainable farming to children. In his acceptance speech at the breakfast, Purnomowidi shared his inspiration for the work that he does, "my main teachers in sustainability are nature, animals, and landscapes."
The Rainforest Alliance Sustainable Coffee Breakfast was followed by the SCAA Expo, where more than 3,000 exhibitors and 11,000 guests made it an exciting, highly-caffeinated event. Rainforest Alliance staff met with producers and companies that are, or may in the future, work with the Rainforest Alliance to address working together to advance sustainability in the specialty coffee industry.
Interested learning how your coffee company can work with the Rainforest Alliance on your sustainability initiatives? Our team of experts can support you at every stage of your business's sustainability journey. Contact business-support@ra.org to learn more.
Support Our Work
Create a world where people and the planet prosper together.
DONATE TODAY