Each year, we look forward to Follow the Frog as an opportunity to celebrate all that our green frog seal represents. Join us for Follow the Frog 2021, a unique B2B and B2C marketing opportunity for brands that work with the Rainforest Alliance.
Our annual campaign is designed to build brand awareness, value, and increased loyalty. How? By engaging your consumers, employees, and other stakeholders around your sustainability commitments and impacts, especially for your products that carry the Rainforest Alliance seal.
This year's Follow the Frog campaign takes place September 27 – October 3.
Why Follow the Frog?
Bring value to your brand by highlighting the impact of your work with the Rainforest Alliance;
Raise the profile and drive sales of your products carrying the Rainforest Alliance seal;
Build awareness and increase customer loyalty by engaging consumers, employees, and other stakeholders around your company's sustainability commitments.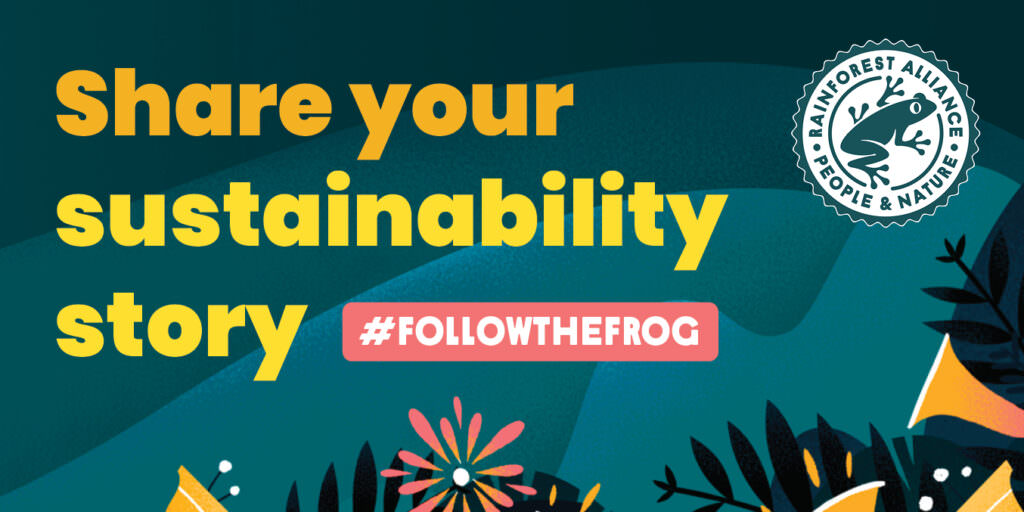 How can you participate?
However you want! Partnering companies choose to do many different activities to highlight their work with the Rainforest Alliance. We have compiled tips, inspiration, and examples for how you can celebrate Follow the Frog on social media, during events and promotions, and with the purpose of employee engagement.
Use our communication toolkit
As a partnering brand, you get access to our communication toolkit with assets to supplement your existing digital content about the new seal and your collaboration with the Rainforest Alliance. We offer both ready-to-use and customizable materials, including: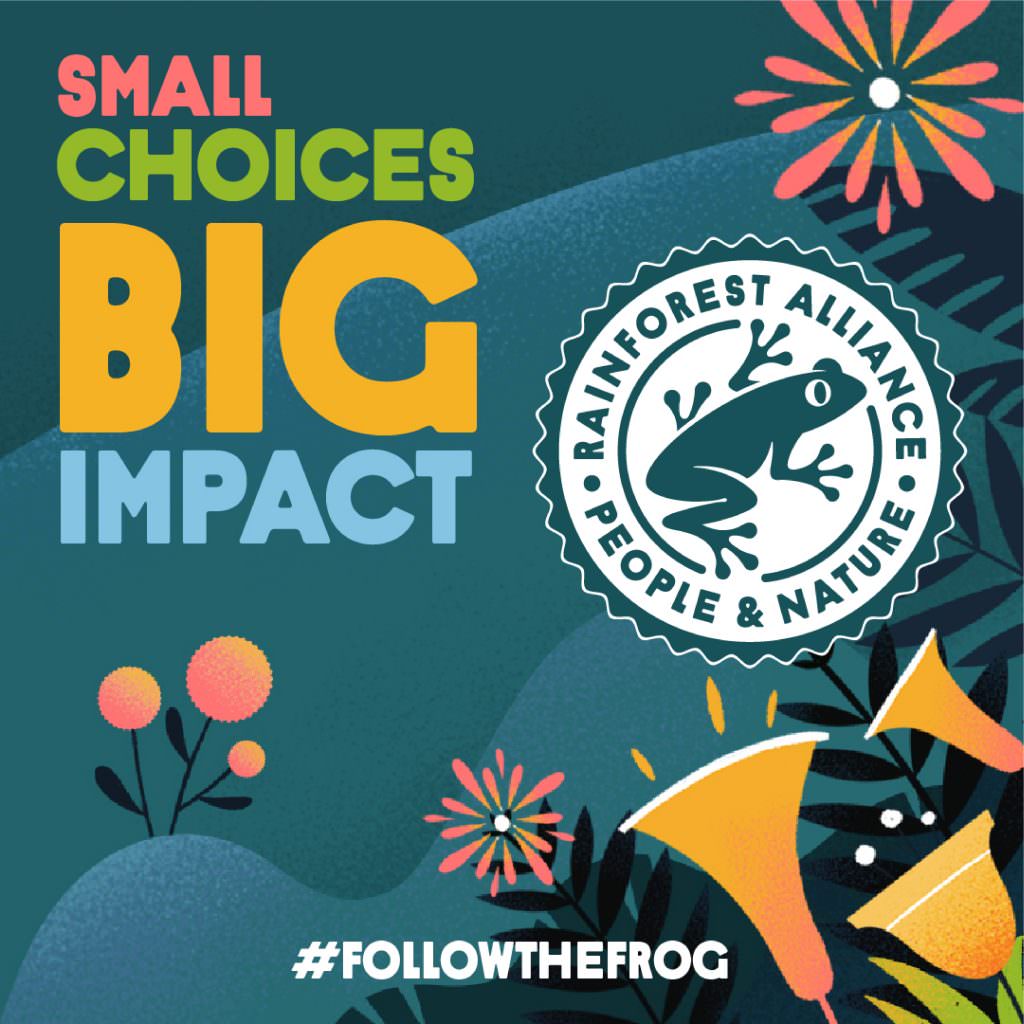 Social assets:

Three key messages: "Join the Movement for Positive Change," "Meet Our New Friend," and "Small Choice, Big Impact";
Sized in various dimensions, including Instagram Carousel and Stories formats, which can be used stand-alone or in conjunction with others to deliver a compelling story;
Assets can also be personalized by adding your own brand logo;
Other Follow the Frog social media graphics: Animated and static, available with the Rainforest Alliance certification seal (and the legacy Rainforest Alliance Certified);

Digital display banners: A translation of the social media assets into a standard-sized banner set. This could also be used in offline channels;
Animations: Six-seconds GIFs which reveal the new seal. We offer multiple variations with the legacy Rainforest Alliance seal, the UTZ label, and both seals morphing into the new seal;
Messaging framework with sample copy and building blocks for consumer communication which can be copied and pasted into your communications, used in combination with our digital assets, or customized to fit your brand's tone of voice.
All digital assets are available in English, French, German, Spanish, Brazilian Portuguese, and Swedish. The messaging framework is available in English, French, German, Spanish, and Japanese.
What else can you expect from us?
When we join forces, we thrive together. We hope to inspire and motivate a collective culture shift towards shared responsibility for planetary health and human well-being. That's why the Rainforest Alliance celebrates Follow the Frog with a full week of activations, featuring different thematic messaging for each day.
Content calendar
Under the theme "Let's grow together," we will leverage our social media (global follower base 1.7M) to spread the #FollowTheFrog message to our audience, featuring different thematic messaging for each day. From the value of certification and social gastronomy to natural climate solutions and shared responsibility, we'll engage in conversations with experts and consumers. We invite you to follow along for all or some of the week's events. View the calendar below: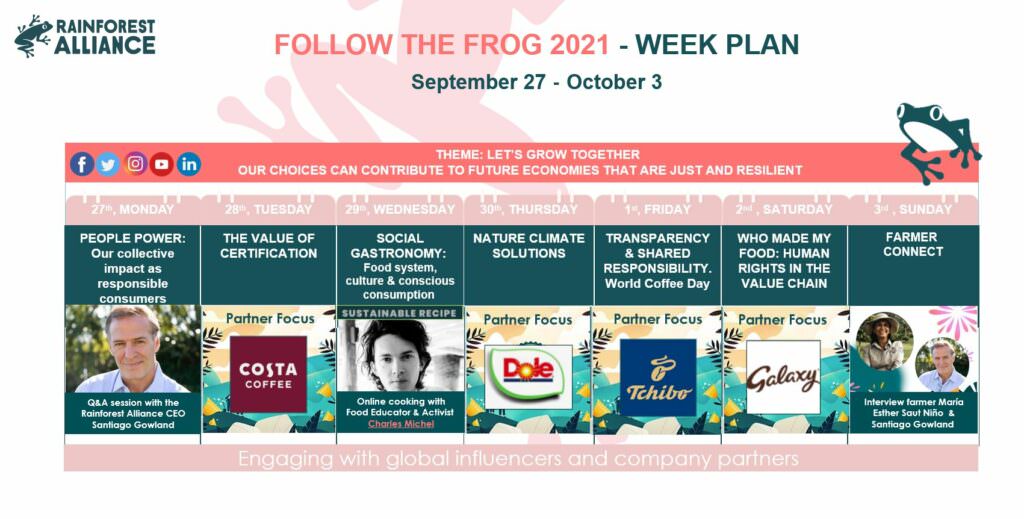 Special events
In a full week of activations, we have some special events in store!
On Tuesday, we'll be talking about the value of certification and how it can be a powerful force for change, especially when paired with other interventions. In their new video spotlighting our little frog, Costa Coffee shares how they contribute to a positive impact for people and nature by sourcing Rainforest Alliance Certified coffee beans.
We've dedicated Wednesday to exploring social gastronomy.  On Instagram we will host a live online cooking event with food educator and activist Charles Michel. The French-Colombian cook has a background in experimental psychology, human-centered design, and culinary arts. Tune in to join the chat about our food system, culture, and conscious consumption.

On Thursday, we go bananas! We'll launch an engaging video chat, featuring Xavier Roussel, marketing, communications, and sustainability head at Dole, and Oscar Maroto, our team manager – fruits in Latin America. Roussel will explain his company's choice to source Rainforest Alliance Certified bananas. You'll learn about the connection between bananas and climate change and why it's important to help banana farmers build their climate resilience.
Friday is International Coffee Day: a perfect day to talk to our coffee partner Tchibo. We'll be sharing a video chat with Nanda Bergstein, Tchibo's corporate responsibility director and Colleen Popkin, the Rainforest Alliance's coffee lead. The topic of discussion is shared responsibility, the concept of distributing the benefits and costs of certification more evenly between farmers and companies. We'll get into the specifics of why this is important and what it concretely means for Tchibo.
On Saturday, we'll dive into the topic of human rights in cocoa with MARS brand Galaxy. Our final partner video of the week will be a discussion between Inge Jacobs, senior manager of human rights and income – cocoa at MARS and Rainforest Alliance Côte d'Ivoire Director Nanga Kone. They'll talk about how MARS addresses human rights within its supply chain. Plus, we'll learn how chocolate lovers can contribute to making chocolate better,one piece at a time.
Influencer outreach
You'll have access to Rainforest Alliance followers through daily cross-promotion and engagement on social media, so be sure to tag our accounts (find our handles here) and use #FollowTheFrog in your posts. To reach an even wider audience, we are working with a global cohort of influencers from the US, Germany and the Netherlands on this campaign. They will share the #FollowTheFrog message with followers eager to hear about how making small everyday choices, including choosing products with our frog seal, can make a difference.
Need more inspiration?
Our 2020 Follow the Frog campaign was a huge success. Together with almost 90 companies from 18 countries and 21 sustainable living influencers (with a total reach of >5 million followers) we reached 12.8 million people around the globe.
Download the 2020 campaign recap for all performance results and company activations.
Support Our Work
Create a world where people and the planet prosper together.
DONATE TODAY