On September 20, millions of students—and the adults who support them—will walk out of classrooms, from Washington, D.C., to Delhi, for the highly anticipated Global Climate Strike. Could this be a turning point in history? These five young climate activists say it must be.
What started as a one-person protest by Greta Thunberg, the Swedish youth who began a weekly vigil outside her country's parliament in 2018, has grown into #FridaysForFuture—an international movement supported by more than a million students in 160 countries. Now, these young people are calling on adults to march alongside them for a global day of mass action on September 20—three days ahead of the UN Climate Summit in New York City. This historic mobilization will kick off a whole week of environmental protests in different parts of the world, culminating in a second global strike on September 27. The Rainforest Alliance stands in solidarity with these inspiring young activists, joining their call to world leaders to take bold and immediate action on the climate crisis. On the eve of this historic moment, we asked five young climate leaders to tell us why they'll be hitting the streets.
Sign up for useful tips to green your life and protect our planet.
Isra Hirsi, 16 Minneapolis, USA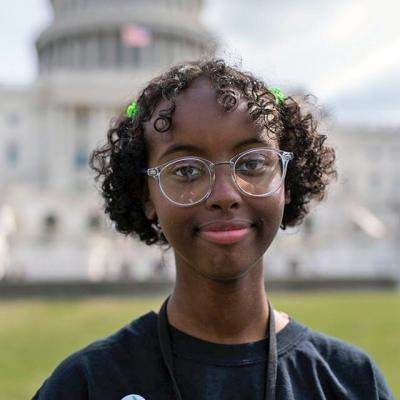 As a co-founder of the US Youth Climate Strike, 16-year-old Isra Hirsi is not only leading the charge for climate action, she's breaking barriers in the environmental movement. "I'm striking on September 20 because it's important to represent not only myself but a community of people who are being impacted by this issue but don't have a seat at the table," said Hirsi. Although marginalized communities across the US—especially people of color and low-income families—are disproportionately affected by climate change, Hirsi has frequently pointed out that they don't always have the opportunity to make their voices heard. She is quick to point out that not everyone can skip school every Friday or travel to a state capitol to protest. This is why Hirsi feels it is so important to dedicate efforts to diversify the climate justice movement—ensuring that it is a welcoming space where all voices are heard.
The teenage activist—whose mother, Congresswoman Ilhan Omar, immigrated to the US as a 12-year-old refugee—said she is also striking for her family back in Somalia, where people are already suffering the impacts of climate change. Rising temperatures have wrought havoc on the East African nation's seasons, and long periods of drought threaten the food security and livelihoods of millions.
Alexandria Villasenor, 14, New York, USA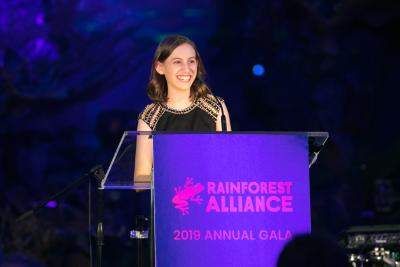 Sitting on a cold, hard bench outside the UN Headquarters for hours every Friday was not part of Alexandria Villasenor's plan when she moved to New York City as a 13-year-old in 2018. But while she was visiting family in northern California that year, the Paradise fires broke out, quickly becoming the worst wildfire in the state's history. The air quality was so poor that Villasenor, who has asthma, had to fly back to New York immediately.
That was Villasenor's first brush with the climate crisis, and it left her determined to take action. Inspired by Thunberg, Villasenor left school every Friday to sit outside the UN Headquarters in New York with colorful signs demanding climate action from world leaders. Through social media she came to know other young climate activists, and together they planned the US student climate strike in March 2019. "Climate change will affect (my generation) for the rest of our lives," she said. But she vows to do everything she can to combat it. Villasenor, now 14, said, "My hope for the future is that we can have a healthy planet to grow up in and to pass on to those who come after us."
Hilda Flavia Nakabuye, 22, Kampala, Uganda
Growing up in Wakiso, 12 miles northwest of Kampala, Hilda Flavia Nakabuye saw the effects of extreme weather changes all around her: droughts have caused food shortages, and torrential rains have triggered deadly landslides. But it was not until Nakabuye attended a climate talk at university that it hit her: the disasters ravaging her country were brought on by climate change.
That was two years ago. Today, she is one of the leading voices of the environmental movement in Uganda—rallying fellow students to join her campaign against plastic pollution with the chant, "Keep Mama Africa Green!'' Although Uganda boasts the world's youngest population— Nakabuye's generation will suffer the more frequent and severe droughts, storms, and floods—she found that her peers were largely unaware of climate change. That's why Nakabuye brought the #Fridays4Future movement to the streets of her city. "Climate change has no borders. It affects each and every one of us," said the young activist, "I am committed to missing classes every Friday to strike for a safe future."
John Paul Jose, 22, Delhi, India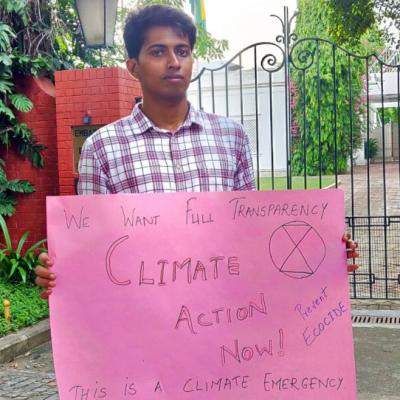 "We are the last generation that can do something," said John Paul Jose, one of the youth leaders of #FridaysForFuture in India. "We can no longer pretend nothing is happening." For the Kerala-born activist, the wake-up call came last year, when UN climate change experts announced that we had a 12-year window left to save the planet. When he set about learning what actions India's leaders were taking to tackle the crisis, he found the answer depressing—all talk and no action.
India is the world's third largest emitter of greenhouse gases, after China and the US. At the same time, it is among the countries most vulnerable to climate change—from deadly heatwaves to rising sea levels, which could displace millions from major coastal cities like Mumbai and Chennai. Jose hears a lot of political talk about embracing renewable energy and planting trees, but the government continues to push for coal production. He feels today's politicians are pawning off the job of protecting India, and the planet, to their successors. This, he fears, will be too late. "If we don't act now, we will be passing on a dying planet to the next generation."
Jerome Foster II, 17, Washington, DC, USA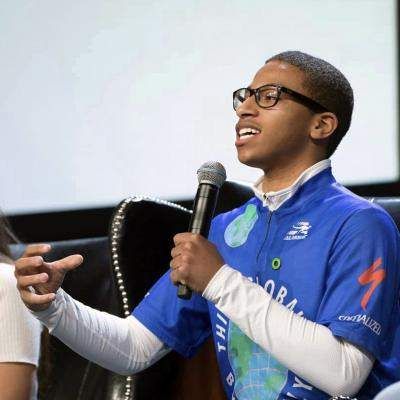 Writer, website developer, government intern, founder and executive director of OneMillionOfUs—and high school climate activist. If Jerome Foster's busy schedule looks astonishing for a typical 17-year-old, it is because he feels his generation has no choice but to step up. "I strike because world governments don't act," said Foster, who has been leading the student demonstrations in front of the White House in Washington, DC. "I strike because we must. We must show them what real action looks like."
For Foster, real action starts with getting the message out in any way he can. At age 15, dismayed by how poorly informed people are about the climate crisis, he decided to set up an online platform that laid out all the facts. The result was The Climate Reporter, a youth-led international news blog dedicated to environmental truth. Two years on, the site boasts a team of 17 writers. For those who need more than words to be convinced, Foster has also developed a solution. A talented computer programmer, he codes virtual reality experiences that allow users to explore the frontlines of environmental destruction for themselves—from plastic-filled oceans to oil refineries pumping carbon dioxide into the air.
2022 Was One Of The Hottest Years On Record. Will 2023 Be Worse?
DONATE