The Rainforest Alliance works with banana farms in 12 countries throughout the tropics. Costa Rican banana farmworker Eriberto Ruiz tells his story.
My name is Eriberto Ruiz, and I came to Costa Rica 15 years ago from Nicaragua. Today, I work on Finca Santa Marta, a banana farm in Bataan, Limón, in the Atlantic region of Costa Rica. In my country I used to work on farms too. I enjoy working the land.
I wake up every day at 4 a.m., get ready, eat breakfast and take a 10-minute bicycle ride to the farm, where I became a permanent employee one year ago. On the farm, I prepare the land, cover the banana bunches and harvest the bananas. I really like my job, the farm and the people who work here.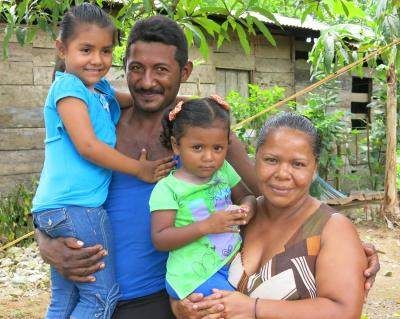 We know this farm is Rainforest Alliance Certified™, and they do things differently here. They are fair to the workers. We earn a good salary. It's not like we will be rich, but I am very organized, so I can provide for my family and live peacefully. The farm provides benefits like social security, paid vacations, holidays, Christmas bonus and overtime pay. I like to work extra hours whenever possible to make extra money for my two little girls. When I worked on a cattle farm here in the Bataan, I didn't have any social benefits. I had to work more and was paid less.
Here we don't have to talk bad about our bosses behind their back, because we are happy with our jobs and get along very well. I have learned many new things on the farm. For example, I didn't know anything about sustainability before I started working here. The owners explained to us why it is so important to plant new trees, conserve the soil and water, and protect the animals. We receive trainings at the farm twice or three times a year about other things too, like first aid and the safe use of agrochemicals.
My work day ends at 2 p.m. I ride my bike back home and have the rest of the afternoon to work in my garden, where I grow bananas and plantains, vegetables, and raise a few chickens. I do things differently in my garden now too—I don't use chemicals anymore, I don't pollute the water, and I planted new trees. I want to protect the land and my family.
Support Our Work
Create a world where people and the planet prosper together.
DONATE TODAY