Although I lived for ten years in Indonesia from 2001-2011, this is my first visit to Lampung, a mountainous province at the southernmost end of Sumatra. Home to lowland rainforests that provide habitat to endangered species, including Sumatran tigers, the province also boasts a bustling capital of 3 million people, Bandar Lampung—famous not least for its tasty snack of crunchy fish crackers with dark chili sauce.
Less well-known are the longstanding communities of farmers who grow coffee in the hills north of the provincial capital. These farmers have, in recent years, become enthusiastic Rainforest Alliance partners, which is the reason for my fact-finding visit.
Coffee grows best in cooler tropical temperatures a few hundred meters above sea level. The rolling, verdant hills north of Lampung are ideal for Robusta varieties. Coffee has been grown here for generations, and many farms are crammed with coffee bushes more than a half century old. Unfortunately, as coffee production began to expand during the 1960s, so did the use of labor and environmental practices that harmed Lampung's farming communities and degraded the land: child labor, forced labor, and the over-use of agrochemicals—including poisonous pesticides applied without protective equipment. Soils became depleted, and the little remaining tree cover was gradually destroyed.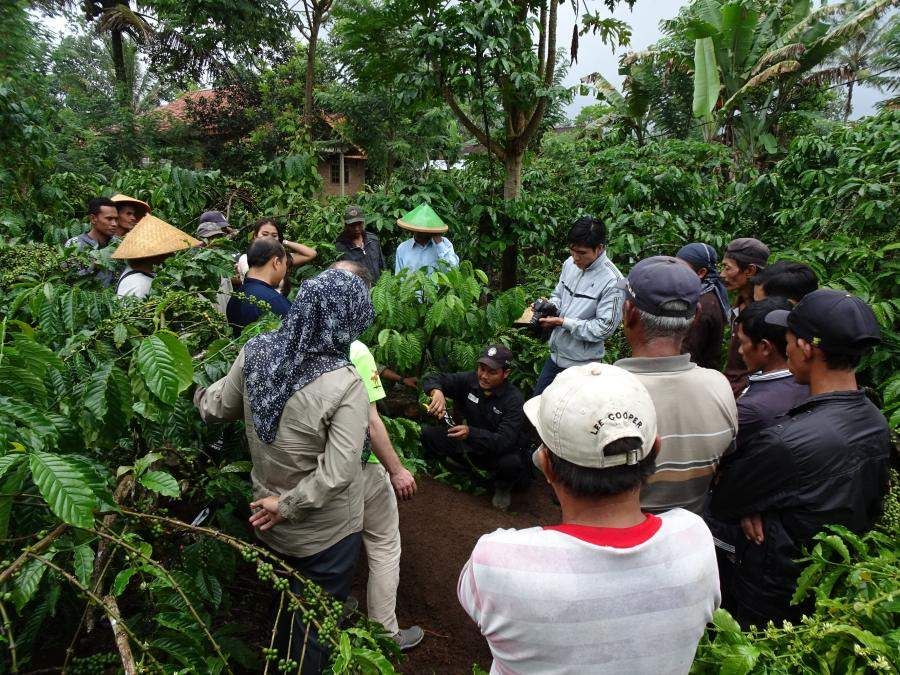 In response to the threats posed by irresponsible coffee farming to Sumatra's critically important rainforest ecosystems, the Rainforest Alliance teamed up with Nescafé, Dutch non-profit IDH, and local coffee traders to implement an innovative and low-cost sustainability training and verification program for the local farmers.
The day I visited some of our partner communities with my colleague Josh Tosteson, our head of programs, we observed a Rainforest Alliance agricultural trainer showing a group of farmers how to set up a coffee nursery and prepare "tea," an organic liquid fertilizer and soil enhancer made from green compost, animal manure, and other ingredients that are left to ferment before being applied to plants.  The farmers were deeply engaged in animated conversations.  We listened to a long discussion about the pros and cons of forgoing agrochemicals completely, with some farmers expressing concern about lower productivity and others insisting that reduced chemicals use leads to better soil health and greater output.
Three years after we started the program in Lampung, our Indonesia team has trained nearly 20,000 farmers. Our scientific research team has documented improved coffee yields (as high as 55 percent for farmers with even partial training), better quality beans, a significant drop in use of agrochemicals (from 29 percent to 10 percent), and improved soil quality. The median revenue for farmers increased by 40 percent, and farmers score their satisfaction with the program on average at four or five points out of five. All this on a small budget of about US $10 to 15 per farmer per year.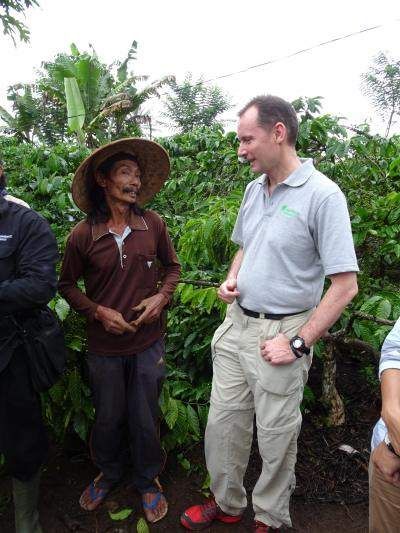 I was really impressed!
The high point of the day came in the late afternoon as we gathered in one of the comfortable village homes and were treated to a fabulous feast of local treats: groundnuts, fried cassava, bananas, coffee brewed from local beans, and best of all fresh durian. I love durian—a food described as smelling like hell and tasting like heaven—and for the first time I was was shown how to mix the large, moist, extremely pungent fruit segments with the fresh coffee. I was doubtful, but eager to please my watchful hosts I plunged in. Surprisingly delicious! The mix of rich sweetness combined with the coffee produced a chocolaty flavor and texture. In Bahasa Indonesia it is called "kopi duren"—if you ever have a chance to try it don't be put off by the smell!
Back in the car heading back to town after the visit, Josh and I had a lively conversation with Intan Fardinatri, our wonderful and charismatic local manager. We agreed with her that it's critically urgent for us to expand our farmer training program to the wider landscape, in order to support ongoing efforts to help protect local forest reserves, restore key wildlife corridors, and create smart market linkages between people around the world who are concerned about climate change and smallholder farmers who would welcome financial incentives to enhance tree cover on their farms.
This was a truly inspiring visit that really helped me to deepen my understanding of how the Rainforest Alliance and our partners are building resilient communities and protecting forests—and doing so at scale by linking with markets and business to sustain funding and generate incentives. I can't wait for my next field trip!
Support Our Work
Create a world where people and the planet prosper together.
DONATE TODAY