Sustainable agriculture is a win-win for the entire ecosystem, including people. When farmers care for their land, their yields increase. As incomes go up, the well-being of families and farming communities improves—in tandem with wildlife habitat, soil health, and the water quality of streams and rivers.
The Société Coopérative des Producteurs de Cacao de Mbangassina Sud (MBANGASSUD) cooperative in Cameroon is a stellar example of how responsible farming can fan out into a multitude of benefits for communities—especially when applied in combination with the extraordinary commitment and vision this group possesses. Formed in 2009, MBANGASSUD achieved Rainforest Alliance certification in 2012 and soon became a nexus of community-focused activities. Members started a program to distribute water filters to members, because illness from contaminated water is quite common in the area.
The coop built new classrooms for local children and an office for the director of the village's main school; distributed school supplies to students; and established a watch committee to fight child labor. As a result of these efforts, more than 80 percent of local children now attend school. This is no small feat in a sector plagued by child labor problems—which is just one reason MBANGASSUD was nominated for the Rainforest Alliance's community honoree award, presented at our annual Gala.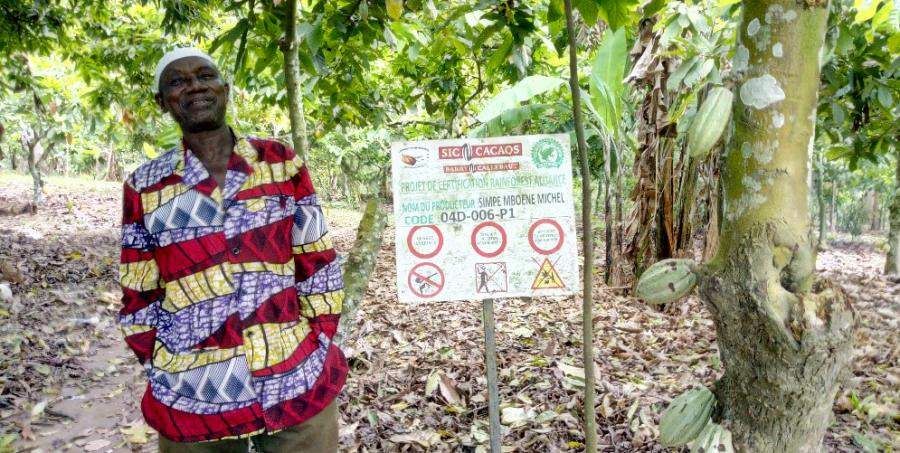 The group is committed to protecting and improving the local environment, as well. It has planted trees in fields and near rivers—which also helps keep waterways safe—and promotes the use of renewable energies, solar panels, and efficient cookstoves among its members, thereby reducing reliance on firewood.
As for the business of cocoa production, MBANGASSUD has been a model of transparency, instilling trust and enthusiasm in its members. Another cause for enthusiasm: The group's yields went from an average of 500 kg per hectare in 2013 to 800 kg per hectare in 2018––an increase that reflects a thriving agricultural ecosystem and excellent farm management. With those kinds of results, the co-op has unsurprisingly attracted a slew of new members, more than doubling its membership since 2013, and also doubling the farm area under sustainable production.
Many nearby farmers and farming communities, having witnessed the coop's great successes, are now expressing interest in achieving certification. Meanwhile, MBANGASSUD forges ahead. It is building a local health center and working on ways to increase access to clean water. It aims to have 100 percent of its households using renewable-energy cookstoves and at least 80 percent using solar panels for household use by 2020. Given MBANGASSUD's track record, we have little doubt the group will achieve its goals.
Support Our Work
Create a world where people and the planet prosper together.
DONATE TODAY