The Amazon, which spans an enormous swath of land in South America about the size of the continental United States, houses over 10 percent of the world's biodiversity—and it's got tremendous cultural diversity, as well; more than 350 different indigenous or native ethnicities live within the Amazon.
That's why, if you're trying to conserve the Amazon—as we at the Rainforest Alliance are—working with its native communities is a great place to start. Recently, Mark Moroge, the senior manager for the Rainforest Alliance's Sustainable Landscapes project, presented a fascinating webinar called Conserving the Andean Amazon: A Case Study of Indigenous Communities in Madre de Dios, Peru. The work he spoke about is part of the Initiative for Conservation in the Andean Amazon (ICAA), a long-term regional program created by the United States Agency for International Development (USAID) that brings together more than 30 local and international partner organizations for the conservation of the Amazon biome in Ecuador, Colombia, and Peru.
The project involves six communities in the southeastern region of Peru—which is also a deforestation hotspot. Mining, illegal logging, and small-scale agricultural expansion drive deforestation, which then threatens social cohesion and the livelihoods of local people. But in these six communities, one of which is Tres Islas—the focus of Moroge's webinar—community members have successfully established long-range plans for natural resource management.
Tres Islas established and obtained legal approval for a series of different management plans for timber, Brazil nuts, and other forest products, and they set aside well over 20 percent of their 30,000 hectares for conservation. They've increased sustainable production of forest products and have connected with markets, thereby improving livelihoods. Recently, together with authorities, the people of Tres Islas successfully halted invasions by external parties who were trying to illegally deforest their land—a real milestone.
We talked with Mark Moroge, our senior director for Latin America, about our work in Tres Islas.
Q: Is this an example of an indigenous community succeeding solely because of outside help? Or has this model as it's been applied in Tres Islas begun to influence other surrounding communities? How will replication and scaling up happen?
A: Replication and scale-up is something that we at the Rainforest Alliance, and I think many folks in the region, are contemplating very deeply these days. There are many mechanisms for scale-up, from market access to policy incentives to working with the right people. National and international buyers who want to see more of these products in the marketplace provide a strong incentive, and financial resources in some cases. Secondly, government has a strong role to play here—for example, by making it easier for communities to harvest and sell products legally and provide the necessary financial incentives. It's also about working with the right people. There are some really strong indigenous forestry organizations and indigenous organizations in general, both in Madre de Dios and throughout Peru. By working with these folks, who have a mandate to bring this more to scale—and they're already key partners in this work—we hope to give it more legs in the future.
Q: Are there potential negative effects of scaling up?
A: As with any business, there are always going to be risks, and these may turn into negative consequences. The way these communities are trying to mitigate these risks today is by having a very clear long-term vision and plans, and then developing their own local organizational and governance capacities to ensure that systems are in place to promote transparency, accountability, and broad participation. So while there are risks from this work, real progress has been demonstrated that shows how native communities are becoming more capable of mitigating them. It's important to bear in mind that there's a whole other set of risks associated with not taking a chance on this new type of sustainable, diversified forest-based economy: the continued illegal harvesting and extraction of gold and timber from native communities.
Q: What are the critical issues and bottlenecks?
A: Great question. There is of course a tremendous amount of work that remains to be done, some of which we tried to capture in the 'Where to from here' part of the webinar. To recap, in the context of consolidating gains and beginning to scale-up, some key issues/bottlenecks would include:
Growing sales and production volumes in tandem. The development of a new commercial brand, O'HEE, hopefully should help drive increasing sales. As demand grows, supply will have to grow as well: continuing to harvest sustainably, to harvest more, and to improve quality and consistency when processing wood into furniture, Brazil nuts into oil, aguaje into fruit juice pulp, etc, will be key. To do so, and to do so at scale, it will be important to further build capacities of local and regional indigenous associations and governments to provide quality technical assistance on these issues.
Access to finance: Can't say this one enough. Access to more finance, on more favorable terms, from government and businesses is critical. Part of this is about creating more tools and training to enable native communities to access existing programs. It's also about creating new financial packages that are better structured to the needs of native communities.
More effective support delivered via government programs: On paper, Peru has put in place a lot of exciting plans and commitments to support native communities to do work very similar to what Tres Islas and others in Madre de Dios are doing. This is a great sign, but there are some systemic barriers to achieving this in practice, out in the forest. For example, government agencies have their own capacity constraints—many have little or no presence where many of Peru's native communities are. Also, sometimes the policies and programs need to be adapted or tweaked to better suit local needs. Local organizations are already sensitive to these and other issues, and strengthening the work of groups like AFIMAD and FENAMAD on these topics is important.
These are key bottlenecks, and also opportunities. While there are many more, one more that is interesting to consider would be further work to research and bring to international markets is the next generation of amazing Amazonian fruits. Acai berries are one recent example that the general public might know about. There are dozens more products that can be harvested sustainably from the Peruvian Amazon as inputs to juices, energy drinks, sauces, even the cosmetics industry and who knows, with the evolving palates of global consumers and growing interest in responsible consumption, maybe there are innovative, forest-friendly products in the Peruvian Amazon just waiting for a chance to make it to the international stage.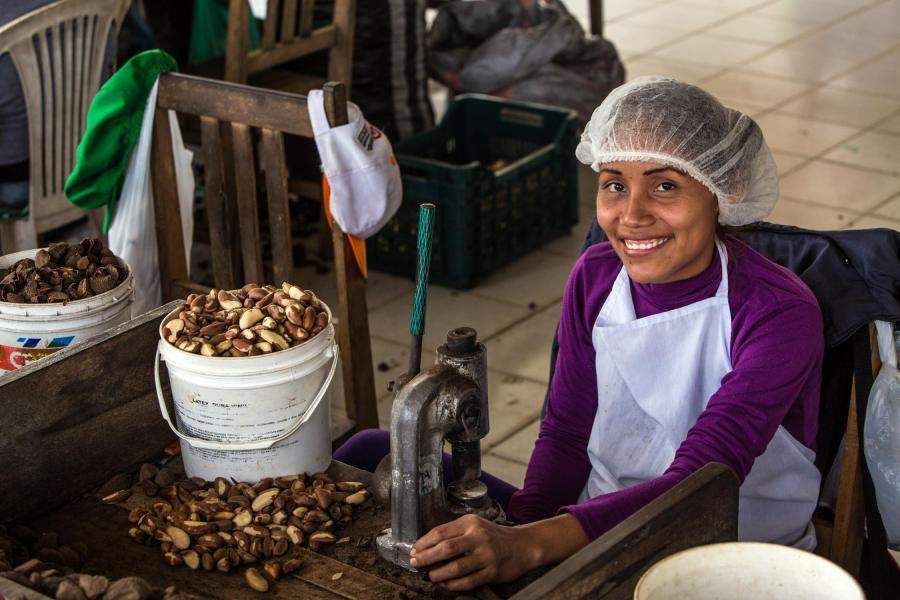 Q: Is there a need in these communities for some kind of mobile, consolidated training program for practical business skills, and if so, is that being addressed?
A: Absolutely. It's a critical need. We gave a really strong focus on enhancing enterprise capacity development. So things like basic bookkeeping, being able to understand how much it costs to produce, what the potential profitability gains are, as well as more complex issues around being able to produce a business plan, having a marketing strategy—and having the capacities within the community to be able to get out into local, regional, and national trade fairs, get out in front of gourmet restaurants in Cusco, to be able to pitch aguaje pulp, for example. So that's work that's underway, and it will be important to further strengthen it.
One key local ally is AGROBANCO, the national rural development bank. It's become more interested in providing financing to native communities in past years, and we've been discussing with them ways to reach a greater number of native communities. Tres Islas and others have shown that with a bit of training and guidance, native communities can successfully access and rapidly repay loans and credits.
Q: How much of the work that the indigenous communities are doing grows organically out of their own decision-making processes rather than out of the integrated model that the Rainforest Alliance has put forth? In other words, is there a danger here in imposing our own cultural values (value-added production, for example) on these indigenous communities?
A: This is a great question. First, it's worth underscoring that the community's decisions are their own, and nothing starts until they've decided they want to walk this path towards more responsible management and value-added production. They have their own vision and priorities and they discuss and agree to these through their community assemblies, which are the primary decision-making space in native communities. The Rainforest Alliance and other local partners provide information about land-management alternatives and opportunities to live better off their forest resources, and native communities make their own decisions based on this (and other) information. Once the communities decide to commit to this improved, diversified management is when things get really interesting and we all get to work together on putting into practice some of the elements of this integrated model. At each step, the community engages in participatory planning processes and receives approval through their community assemblies, to ensure all the right people are involved, everyone's voice is heard and decisions aren't imposed from the outside. It's really important to underscore that the community leads—they decide what they want, and we support them and offer our experience and know-how to help them start to do it, and then, over time, do it better and better, and more and more independently.
Q: To what are extent indigenous peoples involved in illegal activities like mining, illegal deforestation, agricultural expansion, and the illegal sale of land?
A:"Halting deforestation is a task that requires shutting down the fuel that feeds it: chronic poverty and the low economic value of forests." This quote, from an inspiring book created by Peru's Ministry of Environment to raise awareness around the global uniqueness and importance of its forests, provides important context to answer this. While each community is unique, members of native communities often participate in illegal activities because they are the only economic alternatives available to them. It's both an internal and external dynamic. The external pressures are always present and may well always be—middlemen who make deals to purchase and sell timber without legal permits or in accordance with management plans, traders of threatened wildlife species, or informal gold miners ready to make a deal to give communities a cut of their profits in exchange for authorization to mine their lands. By increasing the value of standing forests, Tres Islas and other native communities are becoming more resilient to these external pressures while also looking inward and proving to themselves that there are other ways they can make a living, and do so in a way that protects their forests.
Forests Are Falling At An Alarming Rate.
Each minute, 85 acres are destroyed.
Donate