Every morning at Finca Santa María de Rio Jimenez , a 206-acre Rainforest Alliance Certified flower farm in Costa Rica, 35 male workers go to the field and harvest bright orange heliconias, pink, red, and white gingers, mini-pineapples, maracas, and ferns. The men cut the stems, bunch them, and place them in containers that hang from a simple monorail system—then send the fresh cut flowers and foliage off to the packing facility.
There at the facility, women take over: 28 female workers receive the stems, wash them, classify them, make bunches and bouquets, and pack them for shipping. On an average day, Finca Santa María ships 1,200 boxes of stems to North America and Europe, and during holidays periods like Valentine's Day, Mother's Day, Easter, and Christmas, the farm ships closer to 3,000 boxes per day.
"It is true that women are better for this job, because they are more careful,' explained Gustavo Arroyo, Finca Santa María's farm manager. "But the main reason we hire only women for the packing facility and for our offices is because women in this area need more and better job opportunities."
Women in Costa Rica's rural areas, such as the Caribbean region where this farm is located, face an unemployment rate that is five percent higher than the rate men face; women are also more likely to work informal jobs, receive cheaper labor wages, and no social benefits. But at Finca Santa María, women receive legal wages, have social security, paid vacations, and maternity and sick leave. The farm also promotes a family-supportive work environment, which is key in a region where 35 percent of the homes are led by single women. The work schedule—6:00 am to 2:00 pm—allows women to be home for their children in the afternoons, and to attend classes themselves; the women also have flexibility to rearrange their schedules for special school events, or to take relatives to medical appointments.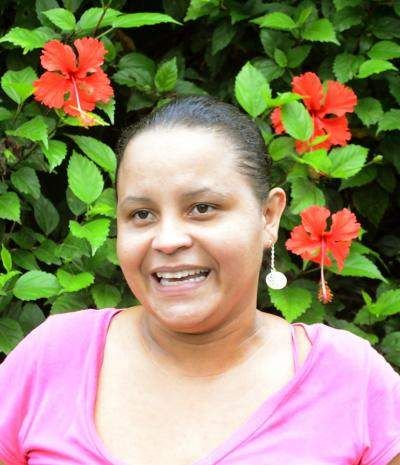 "I feel lucky to have a job, especially one as good as this. Our bosses and coworkers are understanding and supportive. We all help each other so that we can attend classes, parent meetings, appointments, or tend to an emergency," said Kayleen Suárez, the packing plant supervisor and mother of two kids.
In cooperation with a local NGO, the farm supports a training and development program for its female workers and for women from neighboring communities, which helps women expand their skills so they can grow within the company or start projects to generate additional income.
The company also supports seven local primary and secondary schools where farm workers send their children. It provides financial assistance to the schools for infrastructure repairs and donates furniture, didactic materials, teaching equipment, and school uniforms and supplies.
Finca Santa María is part of Plantas y Flores, a company that owns three additional Rainforest Alliance Certified flower farms in other parts of Costa Rica. Plantas y Flores promotes these favorable conditions for female workers on all their farms, and helps replicate the training program in the rural communities where these farms are located. So far, the program has benefited 100 women.
"Investing in women is one of the best social investments we can make," Arroyo remarked. "If our female workers do better, their families thrive and the communities improve."
Support Our Work
Create a world where people and the planet prosper together.
DONATE TODAY