Arkilaus Kladit is the first of his clan to leave Papua, Indonesia, in nine generations. He's traveled all the way to Guatemala to learn how to protect his people's forests.
It is midday when we reach Yaloch forest camp, on the eastern edge of Guatemala's Maya Biosphere Reserve. Our hosts—members of the El Esfuerzo cooperative, which manages a forest covering 25,000 hectares inside the reserve—have prepared lunch for a group unlike any other to set foot in this camp before.
As the food arrives, the guests, hailing from forest communities across the Indonesian archipelago, give thanks for the heaping plates of rice, meat, and tortillas. They compare the local habanero salsa with the sambal chili pastes of their homeland, and using two interpreters—among the very few on the planet who speak not only Bahasa and Spanish, but also the language of community-based forestry—the visitors request coffee to fight their jetlag. We then head back into the woods.
Just why five people from Indonesian forest communities now find themselves deep in the Selva Maya is due to a confluence of factors: the resounding success of the forest concessions here in Guatemala, a landmark Indonesian court decision to hand over forest rights to local communities and indigenous groups, and the budding partnership between Guatemala's Association of Community Forests of the Petén (ACOFOP), who is hosting this exchange, and the Indonesia Indigenous People's Alliance (AMAN). With the support of the Rainforest Alliance and the Rights and Resources Initiative, these community representatives have come to see first-hand what is increasingly recognized as the best way to conserve forests: sustainable and productive community forest enterprise.
Although the community members are hardly world travelers—most didn't have passports when we started planning this exchange, and one of them, Arkilaus Kladit, from Papua, says he's the first of his clan to leave his home in nine generations—none exhibit much discomfort in their new surroundings. As we bushwhack into the woods, Arkilaus explains why he feels at ease: "I'm very happy because here the forest is continuous, as it is where I come from. And when I'm in the forest, I feel at home."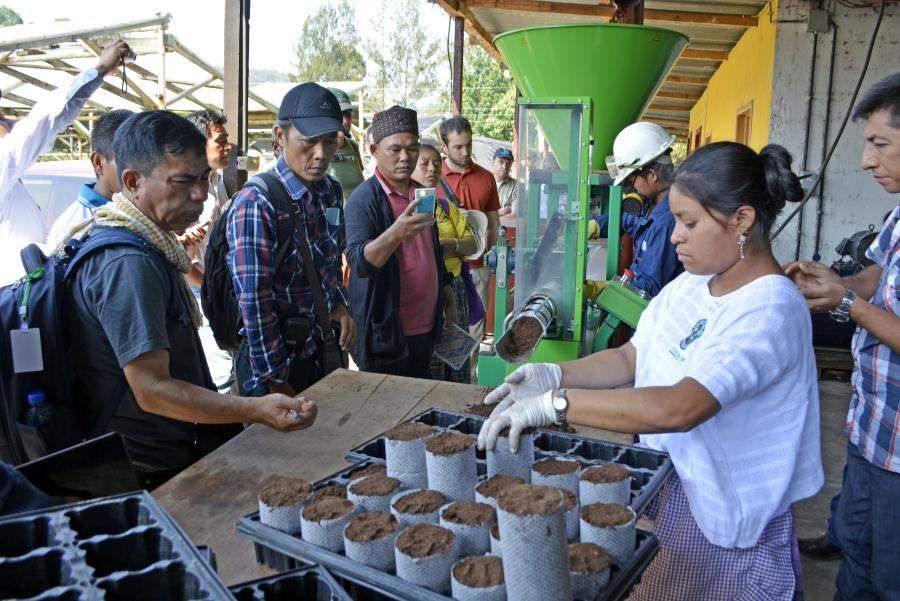 Of the Maya Biosphere Reserve's 2.1 million-hectares, about 20 percent has been handed over to local communities to use for extracting timber and other forest products. The decision to create these concessions was controversial: many doubted the capacity of local communities to manage the forest sustainably. Others—especially some international conservation groups—questioned the very notion of "sustainable forestry." (Some still do.) It was ACOFOP that pressed for the right to use the forest, ultimately succeeding by employing a clause in the 1996 peace accords that ended Guatemala's 36-year civil war.
Twenty years later, the verdict is in: active community concessions in the reserve have maintained a near-zero deforestation rate—while nearby areas designated for strict protection have lost swaths of forest to cattle ranching operations, which are often tied to organized crime.
This stark example of conservation success has helped bolster a growing trend of governments across the tropics handing over land rights to local and indigenous communities. In Indonesia, where deforestation is rampant, the government aims to hand over 12.7 million hectares of forest to local communities by 2019; a historic process of indigenous land titling, based on a watershed 2013 Supreme Court decision which ruled in favor of AMAN, has also begun. This is a critical moment for Indonesian forest communities—and the lessons learned here in Guatemala will be key to getting off on the right foot.
One afternoon, we go to Uaxactun, where timber is sustainably felled, extracted, and milled, and non-timber forest products are harvested and processed. The Indonesian visitors are particularly impressed by what the community has achieved with xate, a palm frond widely used in floral arrangements (more than 30 million xate fronds are exported each year to the US and Canada for Palm Sunday alone). Seeing the xate operation, they note that their own forest products could also power such major business, with the right access to markets.
For Arkilaus, who comes from an indigenous community in West Papua called Knassaimos, learning more about non-timber forest products like xate is the priority. His community is fortunate to still have stocks of agarwood (Aquilaria spp., also known as eaglewood or oud), which produces a highly valuable resin used in incense and perfume. Traded globally, especially in the Middle East, agarwood is literally worth its weight in gold.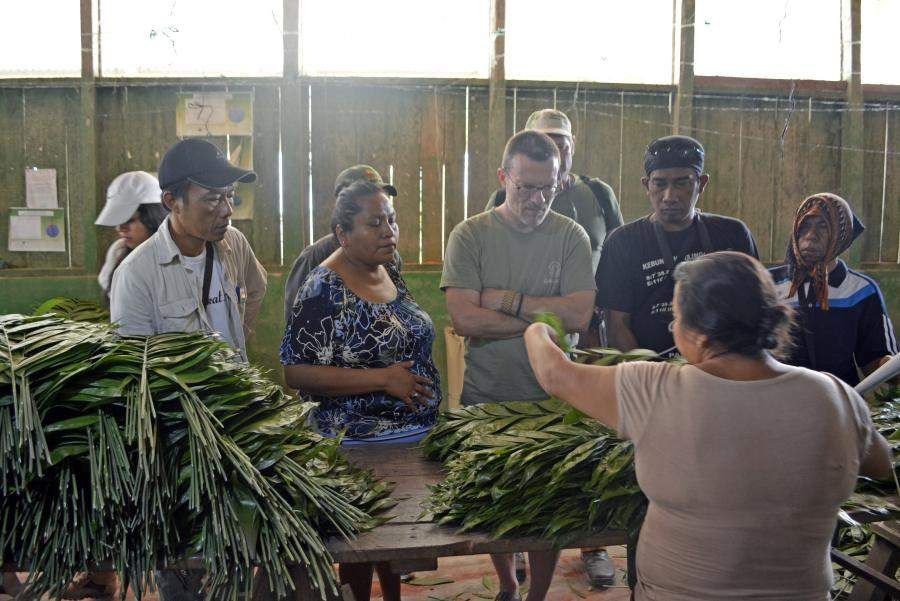 The potential for overharvesting such a valuable product is high, but Arkilaus's community has already fought back against reckless deforestation. Together with neighboring communities, Arkilaus's village organized against the illegal logging that was feeding the booming demand for high-value hardwoods in China; an expose published in 2005 drew international attention to the case. Since then it's been a long process of social organizing, mapping their territory, and winning rights to manage their ancestral forests.
While winning land rights is a necessary first step, that alone is not enough to keep forests standing: support for developing these sustainable businesses is crucial. Since concessions were awarded in the Maya Biosphere Reserve, for example, cooperatives like El Esfuerzo have received long-term support from international and local agencies, as well as the Guatemalan government. Millions of dollars spent over the course of two decades has helped communities build sustainable forest economies that go beyond timber to include nuts and plants and other such non-timber products, as well ecotourism ventures. It is such diversified, socially equitable forest enterprise that has kept deforestation at bay.
Now that Indonesian communities such as Arkilaus's are gaining control over their forests, tremendous investments will be needed to support them, too. With backing from the Ford Foundation, the Rainforest Alliance has begun a new effort with AMAN, the Samdhana Institute, Kaoem Telapak, and other local NGOs to do just that. The trip to Guatemala was organized as a launching pad for the initiative, to inspire project partners and to craft concrete work plans for each participating community to take home to implement.
At a late-night dinner on a lake, with the earliest thunderclouds of the rainy season gathering on the horizon, a meeting with ACOFOP's leadership helps the AMAN visitors take the long view. The organization's founder Marcedonio Cortave, without whose efforts the community forests here would not exist, recounts the struggles of the concessions to get off the ground more than 20 years ago and the sacrifices made since then to build the enterprises—while simultaneously fending off pressures to clear the forest. The struggle continues, Cortave says, but they are deeply proud of having shaped a model whose success now inspires forest communities around the world. After the talk, Wahid, a leader from a newly-titled community in West Java, says, "Knowing that it took Guatemalan communities a long time to get here gives me hope we will be able to achieve the same."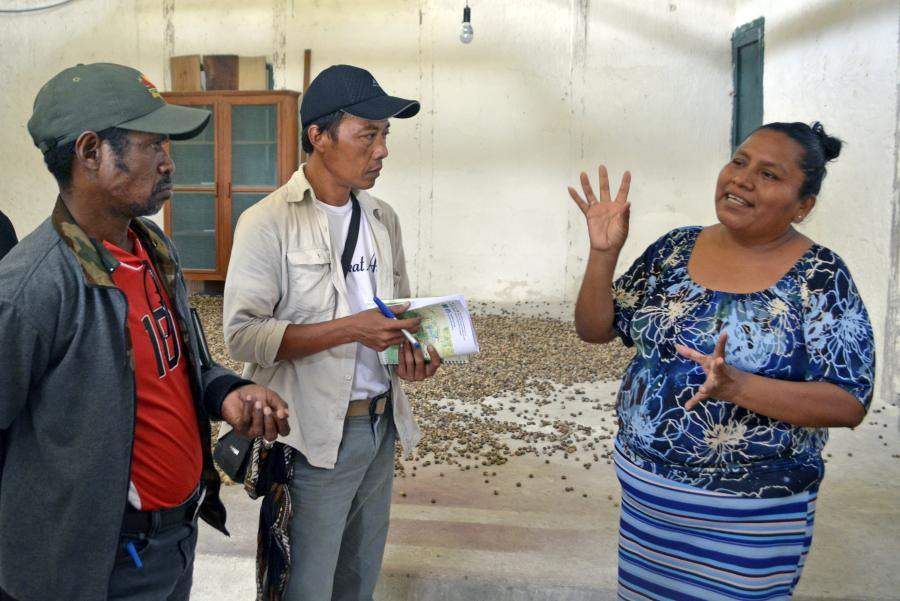 As important as it is for the Indonesians to see the Guatemalan enterprises up close, one thing is clear: the approaches they will ultimately apply back home will be tailored to their own needs and cultures. In the woods one day, we get a run-down of the timber management approach being applied in the Petén communities. It is an approach that's been shown to represent the state of the art in tropical forestry. Paudanan Embong Bulan, an indigenous leader from a community in Enrekang, South Sulawesi, says he's impressed by the level of scientific knowledge he sees. But he also notes that at home, other norms must also be taken into account: because of his culture's belief system, for example, trees can only be felled when the wind blows from the west.
For Arkilaus too, it will be a somewhat different model. His territory, which covers more than 90,000 hectares, is divided up amongst 52 sub-clans. While indigenous tradition prescribes certain levels of collective management, collaboration between sub-clans around enterprise can be difficult in traditional Papuan culture.
These are the kinds of challenges we deal with in community forestry. Doing good forestry in the tropics is a tall order on its own. But how to weave westward winds into your management plan? How to develop a realistic business plan, build a solid enterprise, and mobilize finance while respecting indigenous decision-making norms—all in remote places where communication technology and formal education is limited, but where the buzz of the bulldozer is not far off?
Before ending our time in the reserve, we tour the ancient Maya temples of Tikal, near the community forests we have been visiting. Walking through the forest—the sounds of the Bahasa Indonesia language mixing with the ethereal gurgle of the Montezuma oropendola bird—we spot a few small pyramids. Then, cresting a small hill, we suddenly find ourselves in the center of an expansive plaza, dwarfed by the massive 143-foot Gran Jaguar pyramid. It is a breath-taking moment, one that prompts Arkilaus to wonder aloud if we ought to seek permission from the spirits to enter this site.
We leave the plaza, sweating buckets as we climb the seemingly countless steps of the tallest temples in the complex. At the top, the rumble of howler monkeys rising from the forest greets us. One of the participants, Zainuri Hasyim, from Sumatra, takes in the view of unbroken forest canopy before us and says, "This view, this vision, is what will guide our work when we return home."
Support Our Work
Create a world where people and the planet prosper together.
DONATE TODAY