Millions of farmers rely on palm oil for their living, and millions more around the world use it as cooking oil and a food source, yet palm oil production often drives deforestation and causes human suffering. These issues have given palm oil an overall negative image.
As a result, even when it is responsibly sourced, many companies prefer not to draw attention to palm oil as an ingredient in their products. This is challenging when one considers that palm oil is found in approximately half of all products we use every day, from shampoo and soap to chocolate and ice cream. And the demand for palm oil keeps growing. The hesitancy to talk about palm oil is an obstacle to the development of responsible sourcing and production.
Palm oil production and attributes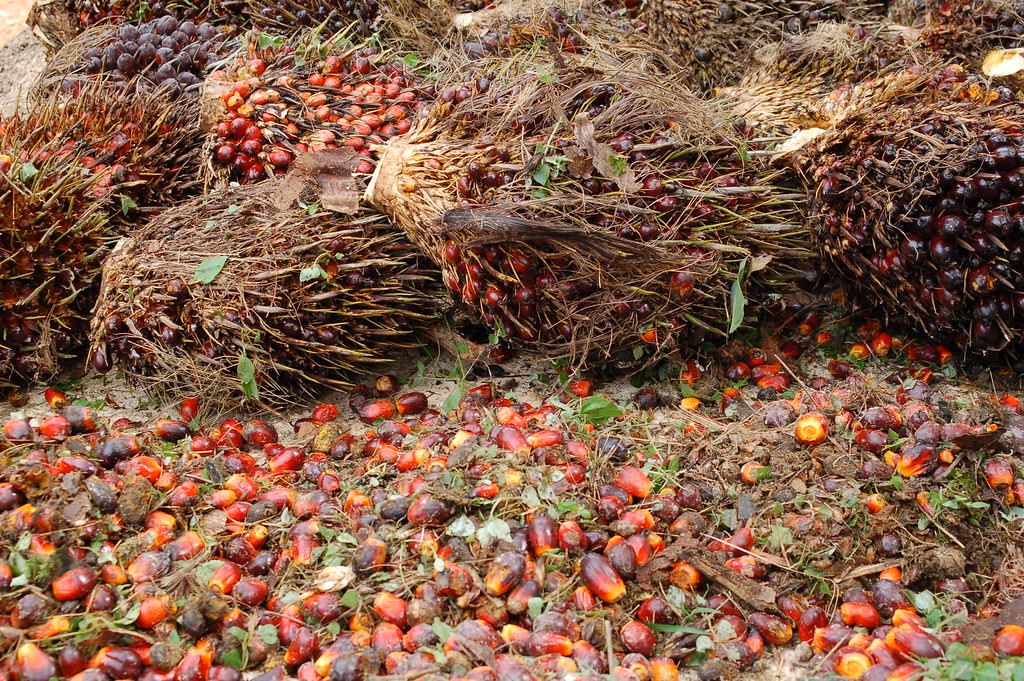 Palm oil is used widely because of its versatility, leading to a current world-wide annual production of around 70 million tons. It comes from the fruit of the oil palm, growing mainly in the tropical belt of Southeast Asia, Latin America and Africa, with the top three palm oil-producing countries being Indonesia, Malaysia and Thailand. More than half of the global demand for palm oil also comes from Asia.
Oil palm has many positive attributes. It is the most efficient vegetable oil crop in terms of land use. It has the highest yield compared to other oil crops per hectare of land, meaning less land is required to achieve a similar yield as other alternatives. Palm oil production also requires less fertilizer, fewer pesticides, and stores more carbon than other oil crops.
The boom in demand for palm oil provides livelihoods to millions of rural people both as workers on large plantations and as smallholder farmers. There are around three million smallholders growing oil palm globally who produce about 30% of global palm oil on approximately 40% of the world's total oil palm area.
The human and environmental costs
There has been wide-spread reporting on the human and environmental costs of irresponsible palm oil production, and consumers are increasingly aware and concerned. Palm oil is among the top commodities driving tropical deforestation and biodiversity loss. Unsustainable practices also lead to other issues including forest fires and greenhouse gas emissions.
Numerous reports have also shown significant human impacts, including the displacement of indigenous people and local communities from the areas transformed into oil palm plantations, forced labor, and poverty of small oil palm farmers.
How we tackle the challenges in palm oil
Systemic challenges in the palm oil sector require urgent attention. Of the millions of small farmers who depend on palm oil for their living, many live below the poverty line. At the same time, palm oil is an important product for feeding a constantly growing world population due to its high productivity.
More sustainable palm oil production can balance the needs of people and nature—providing a better income for small farmers and plantation workers while protecting the environment. At the Rainforest Alliance, we believe that by bringing diverse actors together we can facilitate deep-rooted positive change on some of the most pressing sustainability issues in the palm oil sector.
What we are doing now
On the journey to more sustainable palm oil, we are joining forces with farmers, companies, civil society organizations and other standard and certification organizations.
The Rainforest Alliance is an active member of the Round Table for Sustainable Palm Oil (RSPO), which runs the world's largest palm oil certification program. We have been working with the RSPO on traceability, developing and managing the RSPO PalmTrace system used in their certification program and enhancing transparency in the palm oil supply chain. This work was started by UTZ in 2007, before the merger of UTZ with the Rainforest Alliance. In addition, prior to this merger, the Rainforest Alliance actively participated in developing the principles and criteria of the 2018 RSPO standard, as well as the new RSPO smallholder standard, which is currently under public consultation.
We also work with companies such as Unilever to support their efforts to trace their palm oil supply chains back to mills, as an essential step in implementing a deforestation-free policy. Furthermore, we support companies like GSK, Dunkin' Donuts, Clif Bar, and Kraft Heinz in establishing sustainability policies and implementing them in their supply chains.
In India, the world's largest market for palm oil, we helped launch the India Sustainable Palm Oil Coalition with the Centre for Responsible Business (CRB), WWF-India and RSPO. The aim of the coalition is to promote the use of more sustainable palm oil and advocate for leading trading and manufacturing companies to build sustainability into their business operations. Until 2018, there was very little engagement in palm oil sustainability among companies in India. Since the launch of our collaborative initiative in October 2018, nine large companies have signed on to the Coalition and a further eight are in active dialogue with a view to joining.
Our work in Indonesia shows how we have been using mutually reinforcing interventions: working with communities and farmers across high-priority landscapes as well as supporting RSPO and undertaking advocacy. Our specialist local staff and consultants provide technical support to smallholders. At the same time, we collaborate with the Union of Palm Oil Smallholders (Serikat Petani Kelapa Sawit) and work with national and international companies to strengthen the production systems and organization of smallholders in their supply chains. We have also been supporting the development of the Sustainable Districts Platform (Lingkar Temu Kabupaten Lestari)—an initiative by district governments in Indonesia to develop participatory plans for sustainable management of their forests and agricultural land.
What we will focus on in the future
The merger of the Rainforest Alliance and UTZ in early 2018 provided a great opportunity to develop a new organizational strategy to drive increased sustainability impact in all our sectors of operation, including palm oil. Currently, certification reaches only 4% of palm oil smallholders. Millions of smallholders still need to be engaged to improve their livelihoods and the sustainability of their practices. Moreover, the issues in palm oil require integral landscape-wide approaches. Therefore, to accelerate impact in the future, we will prioritize targeted partnerships in smallholder engagement and landscape- and community-centered approaches. We will leverage learnings from our multi-sector experience and partner actively with RSPO to explore scalable solutions in this space.
We will also prioritize engaging with companies, consumers, government and civil society to build a positive global dialogue on the importance of responsibly sourced palm and the positive impacts to be gained from a sustainable palm sector. We will work on raising awareness and demand for sustainable oil palm in key emerging markets such as India, Indonesia and China, as the largest palm oil-consuming countries. We continue developing our new strategy and will share more about it in the coming months.
What you can do
You and your company can play a key role in making palm oil production more sustainable. Take action in your supply chain:
Engage and support smallholders. We can support you in identifying smallholders in your supply base and engage with you in projects to support their inclusion in more sustainable supply chains.
Investigate your supply chain to address the gaps. We can trace your palm oil to mill level and support you in assessing and addressing the risks of your supply base.
Explore landscape- and community-centered approaches. We can support you in participating in and sourcing from areas which are applying Landscape approaches.
Engage your clients in the journey to sustainable palm oil. We can support you in telling the story of sustainable palm to your clients.
Communicate about responsibly sourced palm oil to your consumers and stakeholders. We can support you in building the story around your commitment to sustainable palm and provide supportive materials and information for your consumers and stakeholders.
We know that these actions require commitment, expertise and resources. We are happy to support you at any step on this journey. Contact us, we would love to think and talk along with you!
Support Our Work
Create a world where people and the planet prosper together.
DONATE TODAY