When you buy a coffee, cocoa, tea, or hazelnut product with the UTZ label you help to build a better future.
The UTZ label stands for more sustainable farming and better opportunities for farmers, their families, and our planet. The UTZ certification program enables farmers to use better farming methods, grow better crops, and generate more income. They learn how to improve working conditions, adapt to climate change, and protect the environment.
Products do not get the UTZ label easily. The compliance with the strict requirements by UTZ certified farms and companies is audited by independent certification bodies. These requirements include good agricultural practices and farm management, safe and healthy working conditions, addressing child and forced labor, and protection of the environment. The UTZ label on your product shows that your favorite brand supports sustainable farming.
UTZ means good
The UTZ certification program was born as "UTZ kapeh" (pronounced o͞otz kahpāy) meaning "good coffee" in the Guatemalan Mayan language of Quiché. It was launched in 2002 by a Guatemalan coffee farmer and a Dutch roaster who wanted to bring coffee certification to a global market and spread the impact of sustainable farming practices worldwide.
UTZ Kapeh evolved from a 'corporate initiative' to an independent and robust standard for sustainable coffee production. Over time, the UTZ program was able to expand its offerings to include certified cocoa, tea, and hazelnut. The name was changed to UTZ Certified to reflect this broader scope. In 2016, as the organization started to work outside certification and collaborated with different stakeholders on tackling complex issues like child labor, climate change, and farmer income, the name was shortened to simply UTZ.
UTZ is part of the Rainforest Alliance
The UTZ certification program is now part of the Rainforest Alliance. The UTZ organization joined forces with the Rainforest Alliance in 2018 to create a better future for people and nature and to be an even better partner for the many stakeholders we work with. Since the merger, the UTZ certification program and the Rainforest Alliance Certified program have run in parallel. Simultaneously, the new agricultural standard was developed which builds on the strengths of both organizations and decades of combined experience.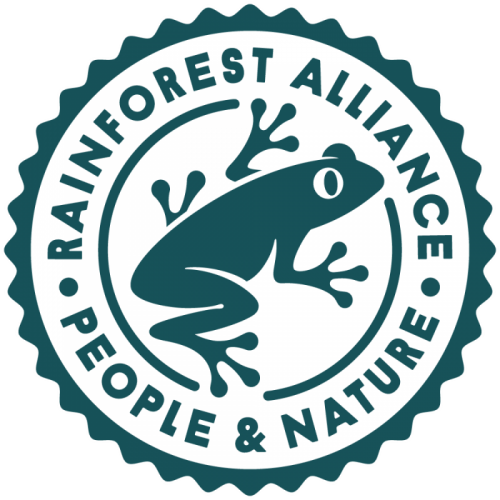 With the launch of the 2020 Rainforest Alliance Certification Program in July 2020 and the introduction of the new Rainforest Alliance seal in September of that year, the UTZ certification program and its corresponding label are gradually being phased out.
That's why you will see the Rainforest Alliance certification seal on more and more products. Just like the UTZ label, the Rainforest Alliance seal stands for farmers and companies taking steps towards a world where people and nature thrive together.
For companies
All relevant information related to certification and our seal will be found on the Rainforest Alliance website on our certification page. All information that continues to be relevant, including the Labeling and Trademarks Policy, or guidelines on how to use the UTZ seal during the transition, remain available. If you have any questions, please send an email to customersuccess@ra.org.
UTZ certified farms and companies
Check our database to view the list of UTZ certified farms and supply chain actors.
Transition to the Rainforest Alliance certification program
Farms and companies with an UTZ certification are transitioning over to the Rainforest Alliance 2020 certification program. New companies looking to work with us no longer register for the UTZ certification program, but sign up for the Rainforest Alliance 2020 certification program instead.
For questions or support, please reach out to your regular Rainforest Alliance contact or send an email to our Customer Success team at customersuccess@ra.org.