Our core values are key to achieving our mission to create a better future for people and nature. These values form the compass that guides the way we work with our colleagues and partners.
Impact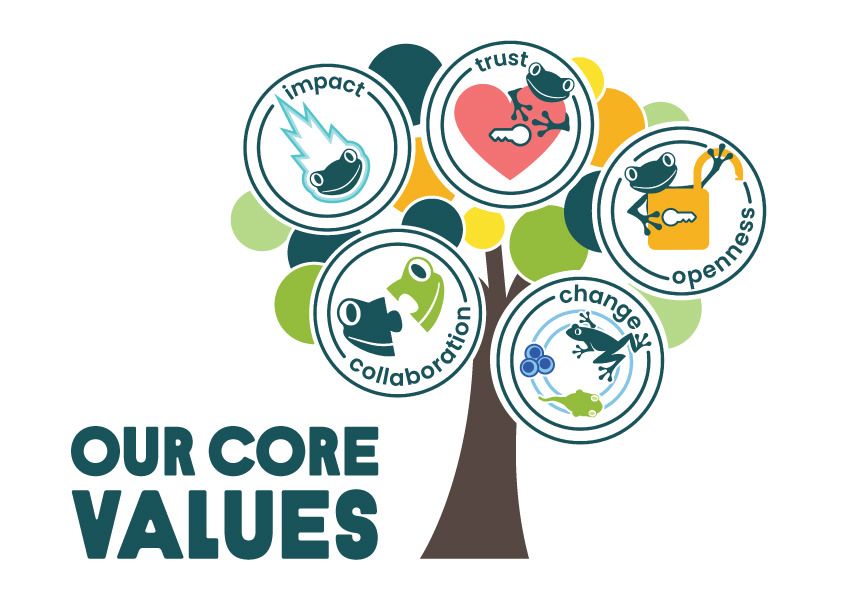 Impact is our driver, the reason we exist. We are passionate about solving some of the most urgent environmental and social challenges of our time, from deforestation, climate change, and biodiversity loss to rural poverty. We're implementing proven and scalable solutions on the ground while testing innovative ways and technology to drive change.
At the same time, we work to reduce our own environmental impact by choosing more sustainable products and travel options.
Change
Our alliance is all about changing the way the world produces, sources and consumes. We amplify our impact through change across the entire supply chain, change in the relationship between people and nature, and change within our own organization.
We generate new ideas and are not afraid to leap into the unknown. Only by constantly asking for feedback, evaluating, adapting, and innovating can we create the kind of impact we want to make.
Collaboration
Our greatest strength is our alliance itself. We are an alliance of farmers, forest communities, companies and consumers committed to creating a world where people and nature thrive in harmony.
Working together as a team across departments and geographies towards a common mission allows us to collaborate with our stakeholders around the globe, create impact where it is needed and learn from each other. We take pride in our work, celebrate our successes and have fun together.
Openness
Building an alliance requires being open to the contribution, perspectives and needs of all our diverse allies and colleagues around the globe. Together we strive to address some of the most pressing social and environmental challenges of today—this is only possible by being open about their complexity and creating better understanding around them.
We are a diverse and dispersed organization, with colleagues located in strategic places across the globe to create the biggest impact. Working together across geographies demands that we are open and honest, so that we can support each other in the best way possible.
Trust
We build relationships based on trust, respect and integrity. We embrace transparency as the best way to build trust across our alliance. With our work we lay the foundation for trust between farmers, companies and consumers. Trust enables us to amplify each other's voices and together be a bolder, louder force for good.
Our staff is highly knowledgeable and professional and we trust colleagues to take the right decision with the best intentions in mind—and we hold ourselves accountable for our commitments.