2022 Annual Report
---
We're
all in.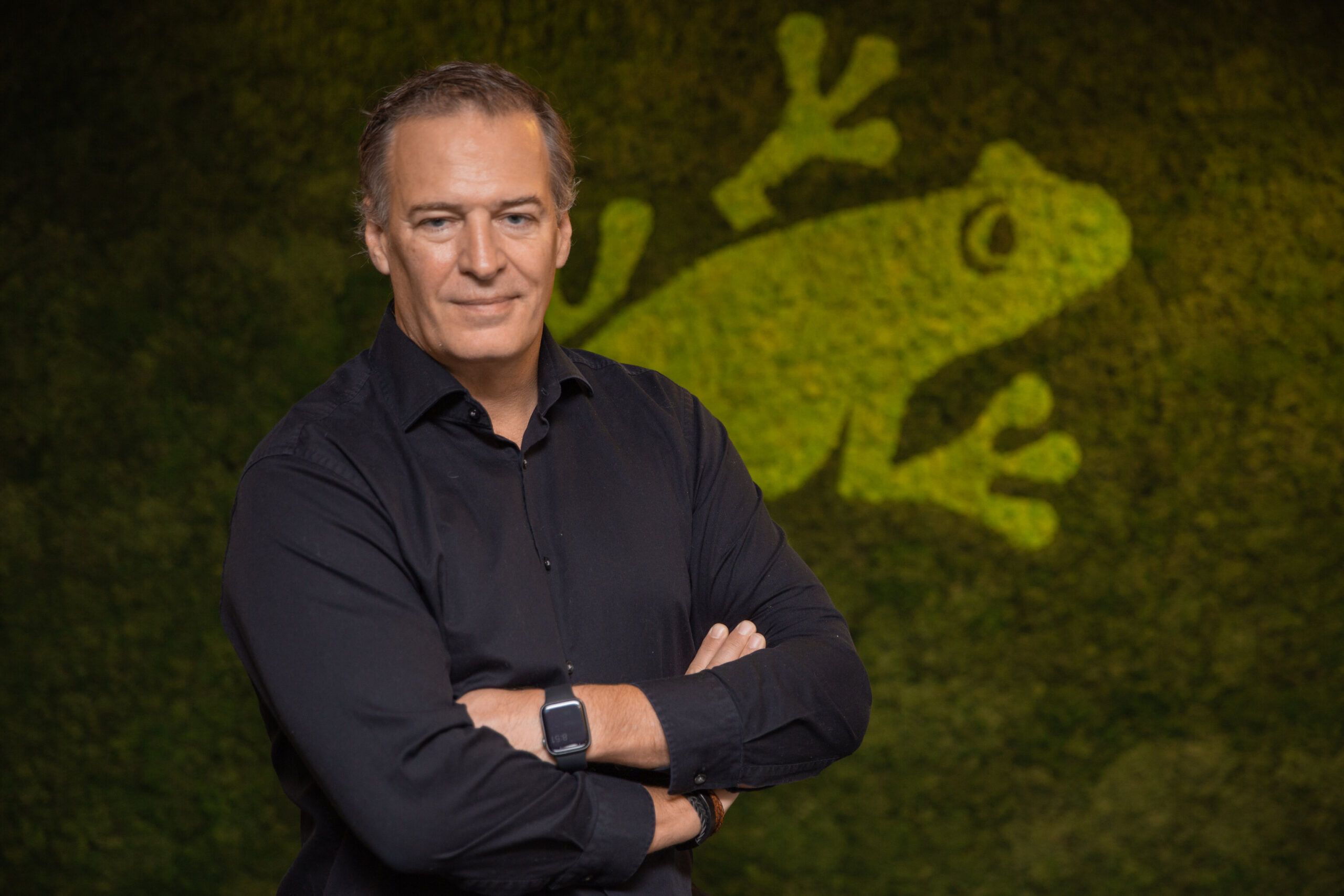 "We are focusing on accelerating the transformation of key landscapes at a speed and scale we've never seen before. Food, agriculture, forestry—it's a critical agenda that affects us all."

Santiago Gowland
Rainforest Alliance CEO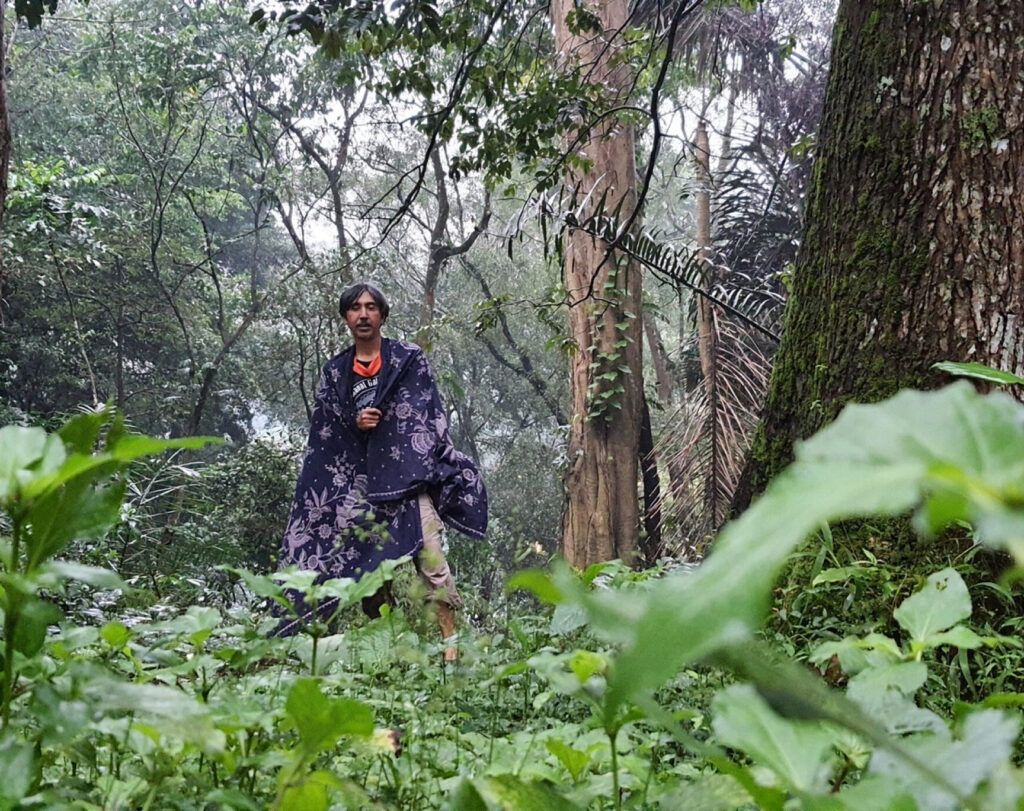 1.
---
Our Global Reach
We partner with diverse allies around the world to drive positive change across critically important landscapes and global supply chains.
The Rainforest Alliance spans nearly 60 countries and includes farming and forest communities, companies, governments, civil society, and millions of individuals. Together, we work to protect forests and biodiversity, act on climate, and promote the rights and improve the livelihoods of rural people. Our holistic approach weaves together four closely connected interventions: certification, landscape and community programs, advocacy, and supply chain services.
Countries with certified farms

Rainforest Alliance offices and staff locations

Landscape and community project sites

Countries with certified coffee farms

Countries with certified cocoa farms

Countries with certified tea farms

Countries with certified banana farms

Countries with certified fruit farms (see our Crop List for details)

Countries with certified herb and spice farms (see our Crop List for details)

Countries with certified flower and plant farms (see our Crop List for details)

Countries with certified vegetable farms (see our Crop List for details)

Countries with certified nut farms (see our Crop List for details)
6 million+

hectares of certified farmland

58

countries with certified farms and projects

4 million

farmers and workers on certified farms
87

projects to improve livelihoods and protect nature

18

new projects started in 2022

54,000+

products with the Rainforest Alliance Certified seal or UTZ label

190

countries where Rainforest Alliance Certified products are sold
Note: Due to the self-reported nature of some of our data sets, paired with recent changes to our collection and analysis systems, we are still processing the final 2022 figures for the number of farmers and workers on certified farms and the number of hectares of certified farmland (as of the time of publication). The numbers reported here for those two indicators are from 2021, with updates forthcoming.
"After [the Rainforest Alliance training], my yields improved and I'm making a better income for my family."

Sapar
Indonesian cocoa farmer
Certification
For the past two years, we have been refining our approach to best support farmers and companies transitioning to the 2020 Rainforest Alliance Certification Program.
Here are some highlights from our largest certification sectors in 2022:
4 million
farmers and workers
on certified farms*
---
6,000+
company partners
8,000
individual donors
---
46
institutional donors
58
coalitions and platforms
that we take part in
---
56
NGOs and CSOs that
advocate with us
* Note: Due to the self-reported nature of some of our data sets, paired with recent changes to our collection and analysis systems, we are still processing the final 2022 figures for the number of farmers and workers on certified farms (as of the time of publication). The number reported here is from 2021, with updates forthcoming.
Brand Reach
Our work depends on a broad and diverse alliance to address the world's most pressing issues—an alliance made stronger when we connect with supporters around the globe. This year, through social media and email campaigns like Follow the Frog and Let's Grow Together, collaborations with brand partners and influencers—like Nespresso with their Empty Cup campaign, featuring George Clooney—and interactive content, we were able to reach more people and significantly grow our brand.
"I believe every one of us has a responsibility to our planet and to other people, and that we should all help as our means allow."

Zaina Gohou
German-Ivorian model, businesswoman, and environmental activist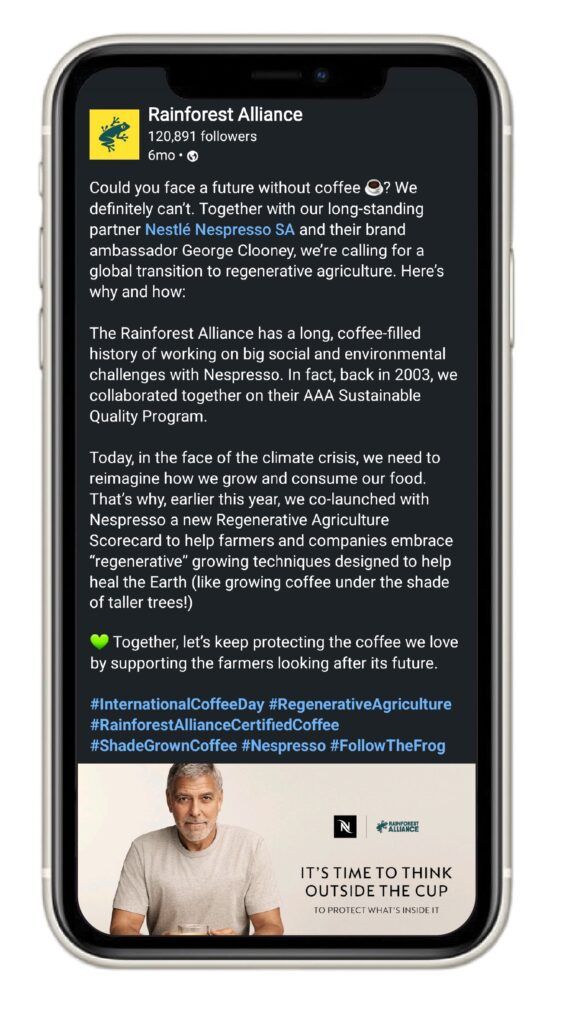 1.78 million

social media followers (4.8% growth)

3.3 million

website visits

443,000+

newsletter subscribers

45

influencer partners in 7 countries

28,700

media mentions of the Rainforest Alliance and our programs

96.6%

of media mentions were positive or neutral
Staff Statistics
A more diverse, equitable, and inclusive alliance
We envision a world where people and nature thrive together, which can only happen if we foster a more just and equitable global community. In the past year we've been building the foundation needed for meaningful progress on diversity, equity, and inclusion (DEI) at the Rainforest Alliance. Just as sustainability is a journey, DEI work is never finished: improving the lived experiences of the people in our alliance is a long-term project.
Some actions we've taken to create positive change in the last year include:
Developing and implementing a DEI Committee structure and workplan, with active participation from team members of different geographies, identities, cultures, and backgrounds
Conducting conversation circles with staff in different languages and organizing DEI courses for specific teams on cultural awareness and inclusive leadership, with a focus on local contexts
Providing staff training on unconscious bias to encourage understanding and respect in our way of working
Our goal is for everyone in our alliance to have a sense of belonging and to feel safe, seen, and valued. While we still have much work to do, we are dedicated to making the Rainforest Alliance a place where we all thrive.
"Our growing staff in Africa, Asia-Pacific, and Latin America is a reflection of building our workforce in countries where we have more impact, creating a more inclusive way of working in which everyone can thrive."

Ana Hernandez Azmitia
Lead Diversity, Equity, and Inclusion at the Rainforest Alliance
701

employees

34

countries with Rainforest Alliance staff

107

employees in the USA (+8%)

200

employees in Latin America (+16%)

202

employees in Europe (-2%)

124

employees in Africa (+49%)

68

employees in Asia-Pacific (+51%)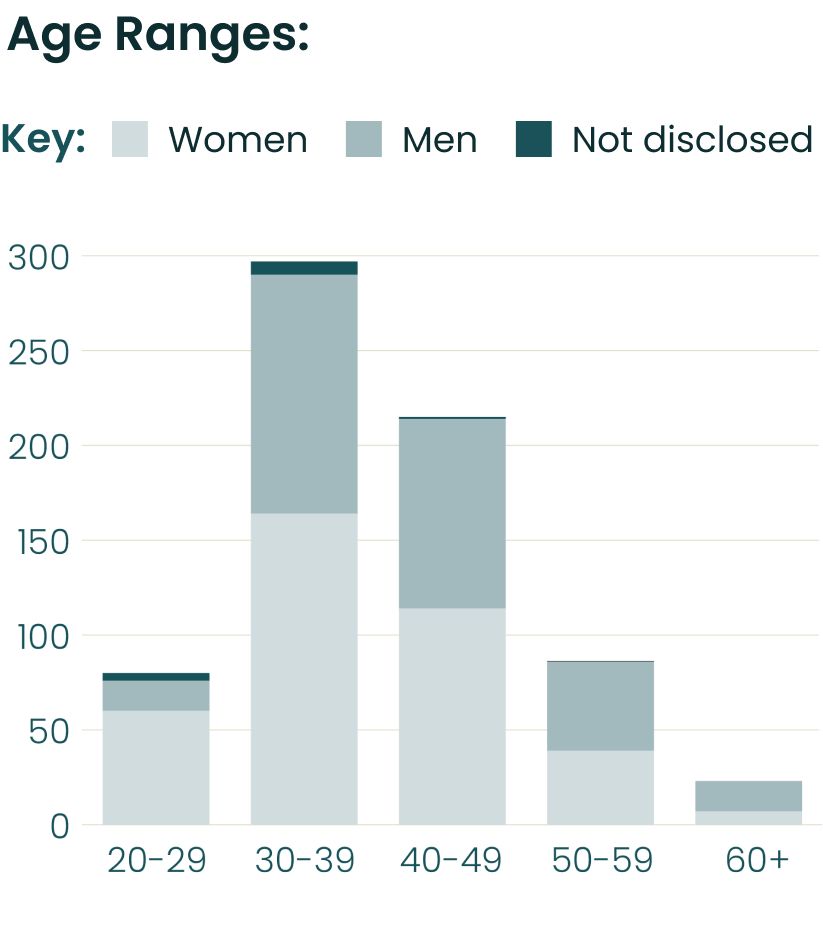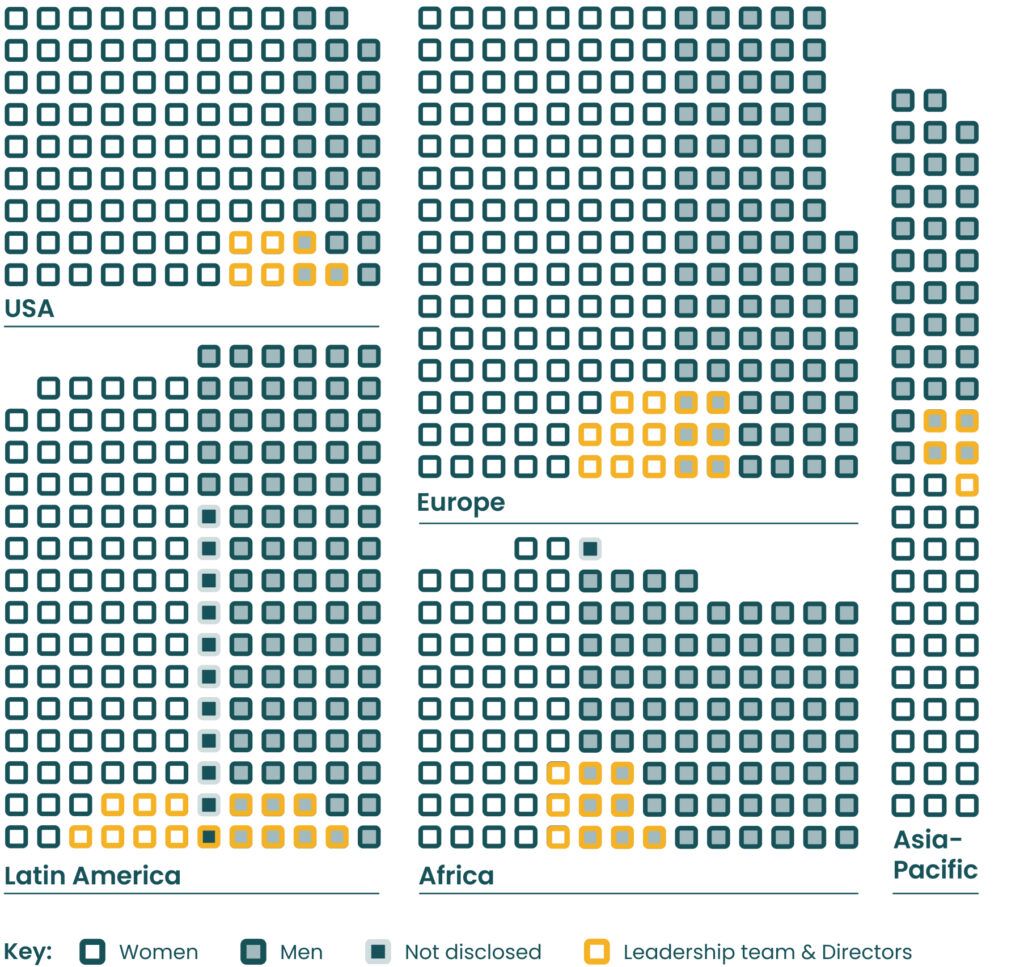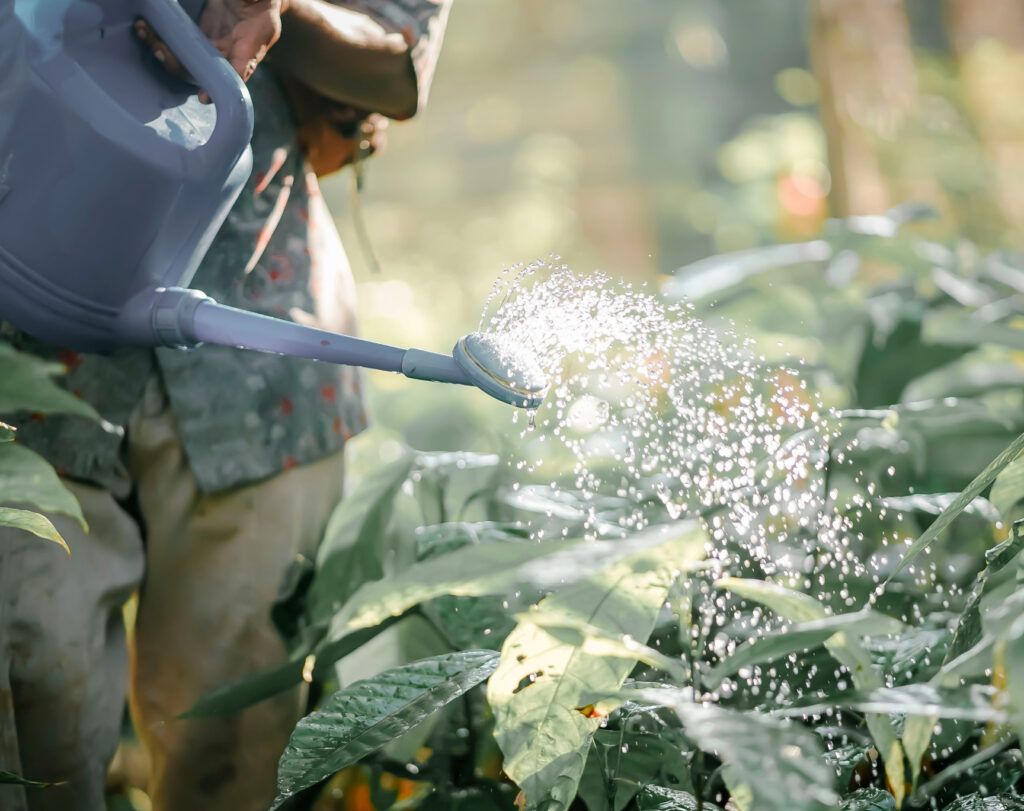 2.
---
Certification & Beyond
Building on our decades of experience in certification, we're scaling our ambitions through cross-sector partnerships and farmer-focused innovation.
A First for Regenerative Agriculture: Our Coffee Scorecard
For the Rainforest Alliance, sustainability is a journey, and regeneration is the destination. Regenerative agriculture seeks to create farms that actually add to nature's richness, rather than take away.
In the coffee sector, a clear pathway to regenerative agriculture has been lacking—until now. In 2022, we launched the Regenerative Coffee Scorecard, developed in partnership with Nespresso. The scorecard focuses on five key indicators—soil, biodiversity, livelihoods, water, and crop resilience—and allows agronomists to tailor practices to local growing conditions, which can differ widely from region to region. This new tool, available to both certified and non-certified supply-chain actors, assesses current farm performance, highlighting improvement areas needing targeted support, and tracking progress toward regenerative goals.
"Regenerative agriculture is a win for farmers, food companies, and the environment," says our Regenerative Agriculture Lead Juliana Jaramillo.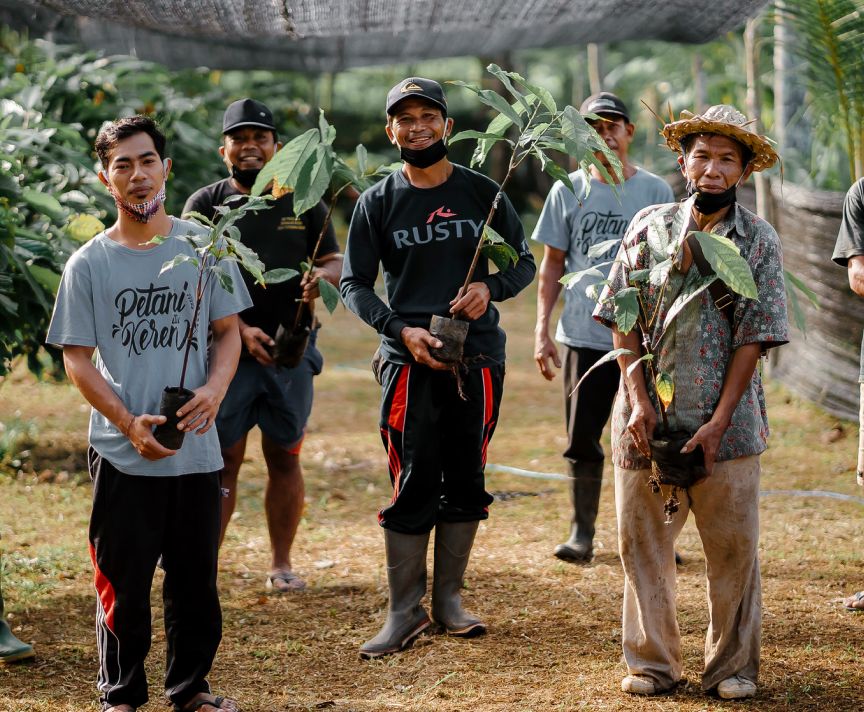 Transforming the Cocoa Sector in Indonesia
When nine days of heavy rains devastated a community in Ende, East Nusa Tenggara, local cocoa farmers joined forces with the Rainforest Alliance to rebuild their livelihoods—and prepare for future climate shocks. Together with our partner NGO Rikolto, we ran trainings in climate-smart farming techniques focused on flood prevention and crop health—from seasonal pruning and mulching to digging "rorak" pits to collect rainwater runoff.
This work is part of our wider initiative to improve the livelihoods of cocoa farmers in seven regions across Indonesia. In 2022, we trained 1,690 smallholders in key skills, including climate resilience, gender equality awareness, farming as a business, and cocoa fermentation.
"In the past, I had to wait for trees to bear many fruits, but not anymore. Now, every two weeks, I go to the farm to check."

Nuri
Cocoa farmer
Toward a Regenerative Approach to Tea in Mount Kenya
On the slopes of Mount Kenya, we're teaming up with farmers, companies, and government agencies to protect an iconic East African landscape. Together, we've set up a community-led Landscape Management Board tasked with forest restoration and strengthening rural livelihoods.
In 2022, much of our work focused on helping tea farmers tackle climate challenges—from rising temperatures and unpredictable rainfall to outbreaks of tea mites and weevils. Our efforts are rooted in the Rainforest Alliance's regenerative agriculture approach—practices that heal the land, like organic composting, planting cover crops, and minimum tillage. Enos Gichanga Muriuki, a Rainforest Alliance Certified tea farmer in Kirinyaga, notes that his income has improved following the trainings. He is especially proud that "nothing goes to waste on our farm," since he now turns livestock manure into household biogas and organic fertilizer.
"I am now perceived as a role model and my farm is seen as a center of excellence where many farmers within the region come to learn."

Enos Gichanga Muriuki
Tea farmer
Mount Kenya is one of East Africa's most iconic landscapes. Here, smallholder tea and coffee farmers must work together to tackle the climate crisis.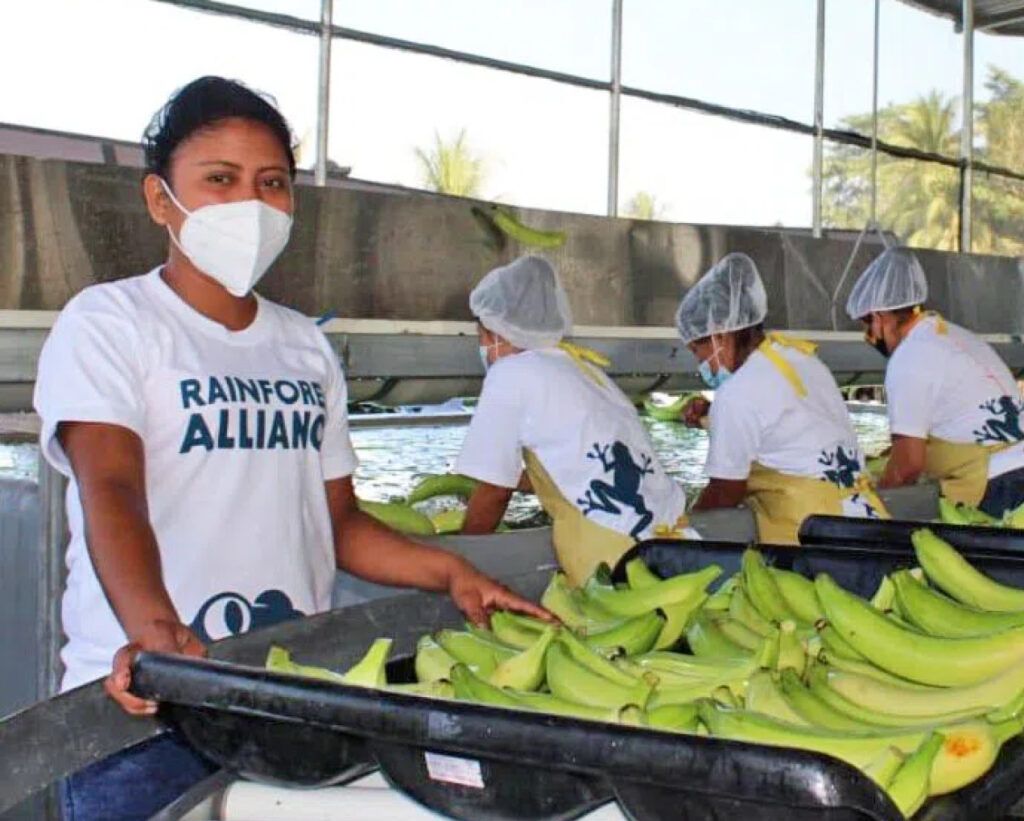 Protecting Migrant Fruit-Sector Workers in Mexico and Costa Rica
The production of tropical fruits like bananas, pineapples, and berries relies heavily on migrant workers, who are particularly vulnerable to fraudulent and exploitative hiring and work practices. The Rainforest Alliance Certification Program requires certificate holders to perform rigorous oversight of labor recruiters to ensure workers are not exploited, and recruitment-related fees must be paid by farms, rather than workers.
In 2022, we went even further: In Mexico and Costa Rica, we secured commitments from 74 fruit farms (including avocado packing plants) and eight labor contractors to participate in responsible recruitment interventions. Our approach is based on a toolkit developed in collaboration with workers' rights initiative Stronger Together.
Our Certification Program: Continuous Improvement Through Dialogue
This year we deepened our support for farmers and supply chain certificate holders as they transitioned to the certification program that we launched in 2020. Already more ambitious than previous iterations, the program and its rollout were further challenged by the COVID-19 pandemic and severe weather events.
That's why we engaged in robust, on-going dialogue with partners, using their feedback to innovate targeted support. We increased the number of trainings, resources, and guidance, tailoring them to the needs of partners; we simplified tools and requirements; and extended transition deadlines. We granted almost 5,000 licenses to certificate holders in 2022.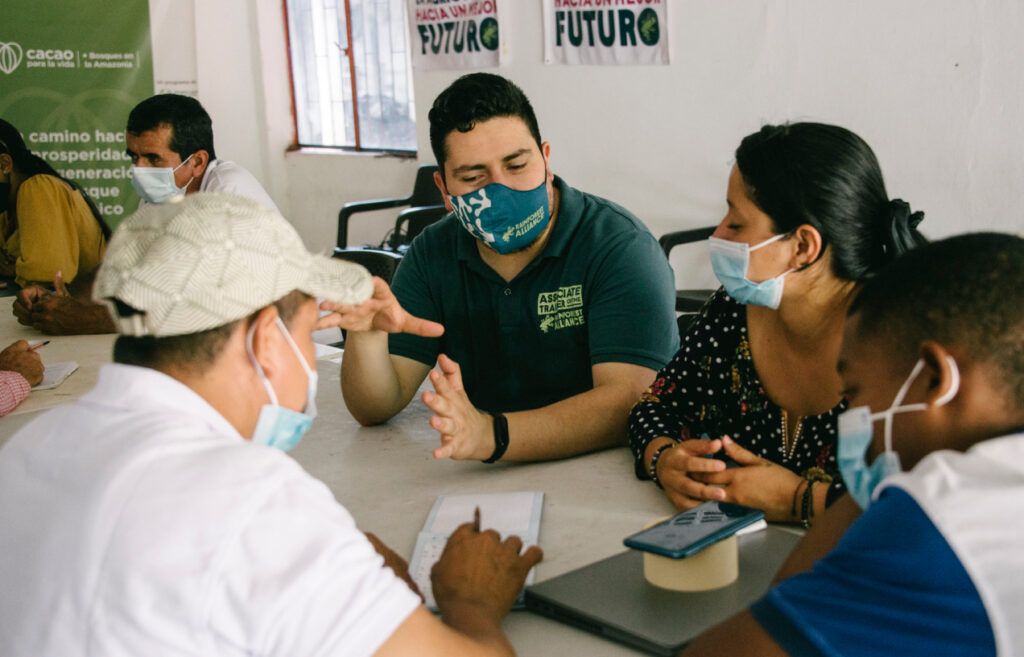 Discover our certification highlights from 2022:
Resuming in-person trainings with expanded online support
Training—on everything from pruning to financial literacy—has always been one of the most effective ways we help farmers tackle challenges specific to their contexts. In 2022 we resumed in-person trainings after pandemic restrictions eased, while continuing to build out and use the Rainforest Alliance Learning Network (RALN), a user-friendly training platform we developed during lockdown. The platform now allows us to adapt materials for more contexts, reach more farmers, and support in-person trainings.
20,000+
individuals
trained
1,000+
trainings delivered
across 24 countries
"Training is so much more than transferring knowledge."Mark Njeru
Rainforest Alliance regional training manager for Africa
Associated Training Network is a consortium of skilled local trainers who have undergone training from the Rainforest Alliance.
---
Strengthening workers' rights on certified farms
For the Rainforest Alliance, the well-being of those who work on farms is central to any sustainability transformation. That's why we protect and promote the human rights of hundreds of thousands of farmworkers through our certification program, and of tens of thousands more in our community-level work. Using an assess-and-address approach, establishing gender and grievance committees, and promoting a living wage are just some of the ways to strengthen the rights of workers on certified farms.
Throughout 2022, as part of that effort, we refined our risk mapping methodology, and collected more data for our child labor and forced labor risk maps (based on key indicators for priority sectors and countries). As part of our improved assurance system, we've tailored implementation and verification of standard requirements to the risk exposure of each farm—meaning that we expect farms with high risk to be more proactive about identifying and addressing their specific challenges. These risk maps are also an important tool for companies seeking to adhere to human rights due diligence processes.
"I used to think of my boss yelling at me as a normal thing, but now I know that it is harassment—and I know where to report it."

Sofia Nuru
Farm unit supervisor at the Green Coffee Agro-Industry in Ethiopia
A win for smallholders in deforestation-free regulation
Our certification program aims to help stop deforestation, with strict prohibitions on farm expansion into nearby forests and requirements for collecting data on farm borders. This year, 2.7 million farms were mapped for this purpose. But certification alone cannot stop deforestation, which is one reason we worked with partners, including the EU Cocoa Coalition, throughout 2022 to help shape the European Union Deforestation Regulation (EUDR). One of our goals was to ensure provision for smallholder farmers in the regulation text. Thanks in part to this work, the final law (agreed upon in December 2022) includes capacity-building for smallholders among the recommended list of actions companies may undertake as part of their due diligence obligation. The European Commission has also committed to develop a strategic framework that supports producers in the implementation of the EUDR. Our deep, longstanding connections with small-scale farmers around the world guided our efforts to shape this law.
Our certification program can be a useful aid for companies seeking to adhere to this regulation, and also to carry out due diligence obligations on human rights and environmental risks in their supply chains.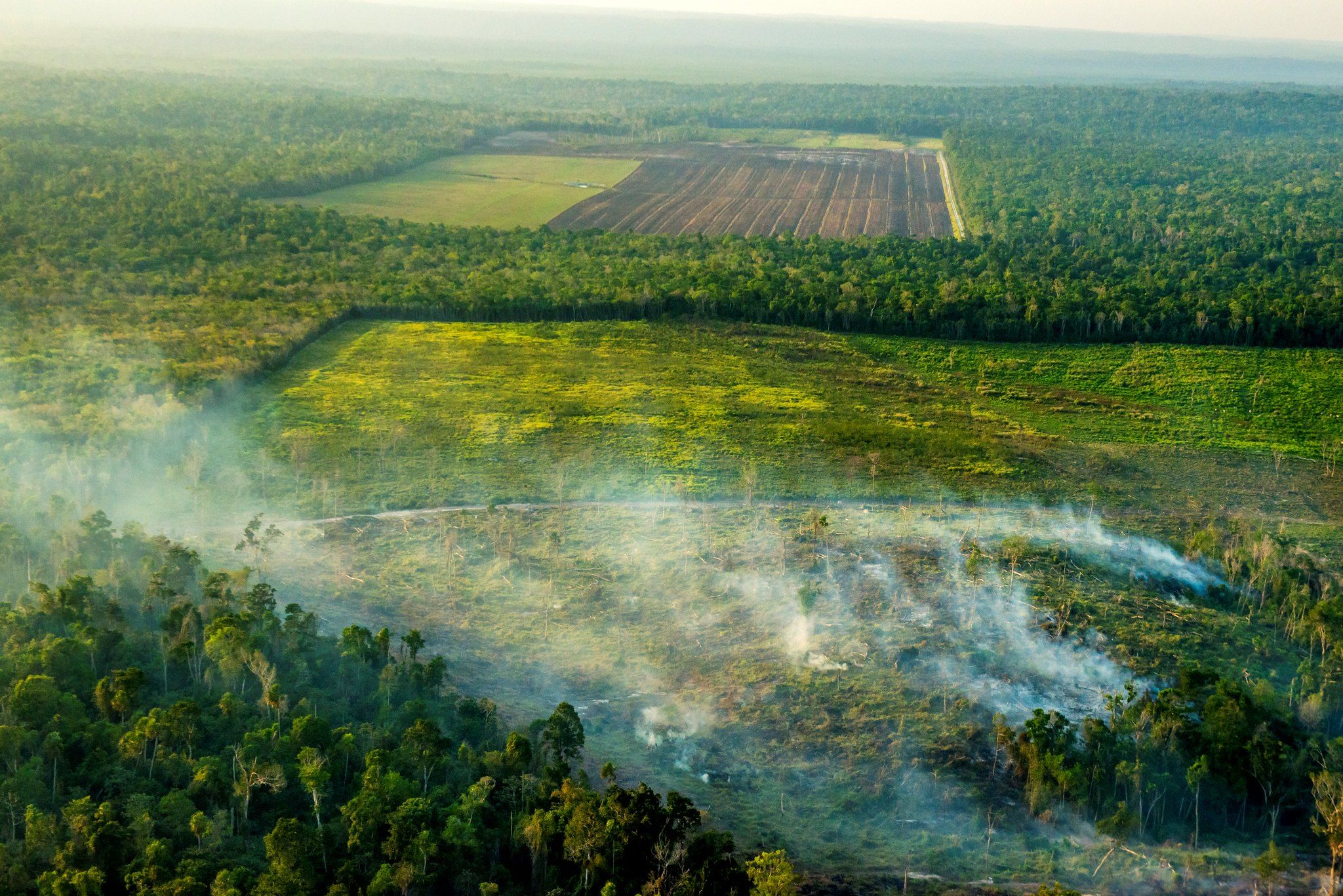 Better data for better decision-making
Businesses are under increasing pressure to measure and report on their social and environmental impacts, whether from governments, interested consumers, or involved boards. More importantly, the data they gather can help them make better-informed decisions.
In our certification program, we work together with farmers and companies, supporting them to use data to improve their risk analysis, measure progress along their sustainability journey, and support future claims.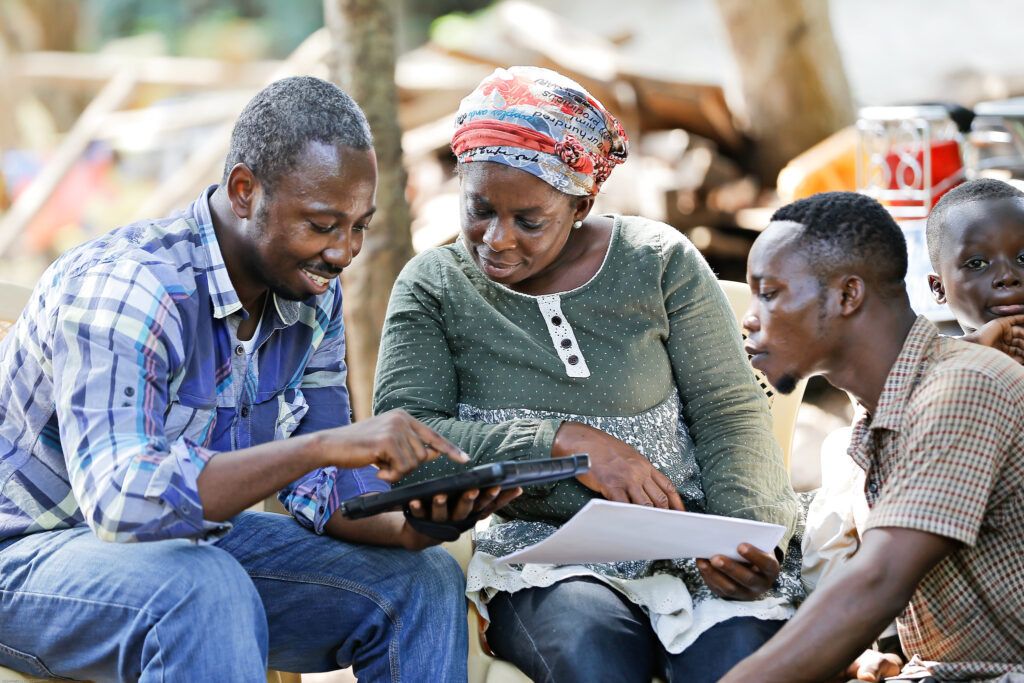 Planting seeds in our growth sectors
While the Rainforest Alliance is perhaps best known for certifying major crops like coffee, tea, cocoa, and fruit, we also certify 250 other crops.
In 2022, our certification program experienced growth in many sectors, ranging from herbs and spices to orange juice to coconut oil and hazelnuts, with more and more farms and buyers joining.
39%
increase in certified volumes of hazelnuts
1.9M
metric tons of oranges certified for the production of orange juice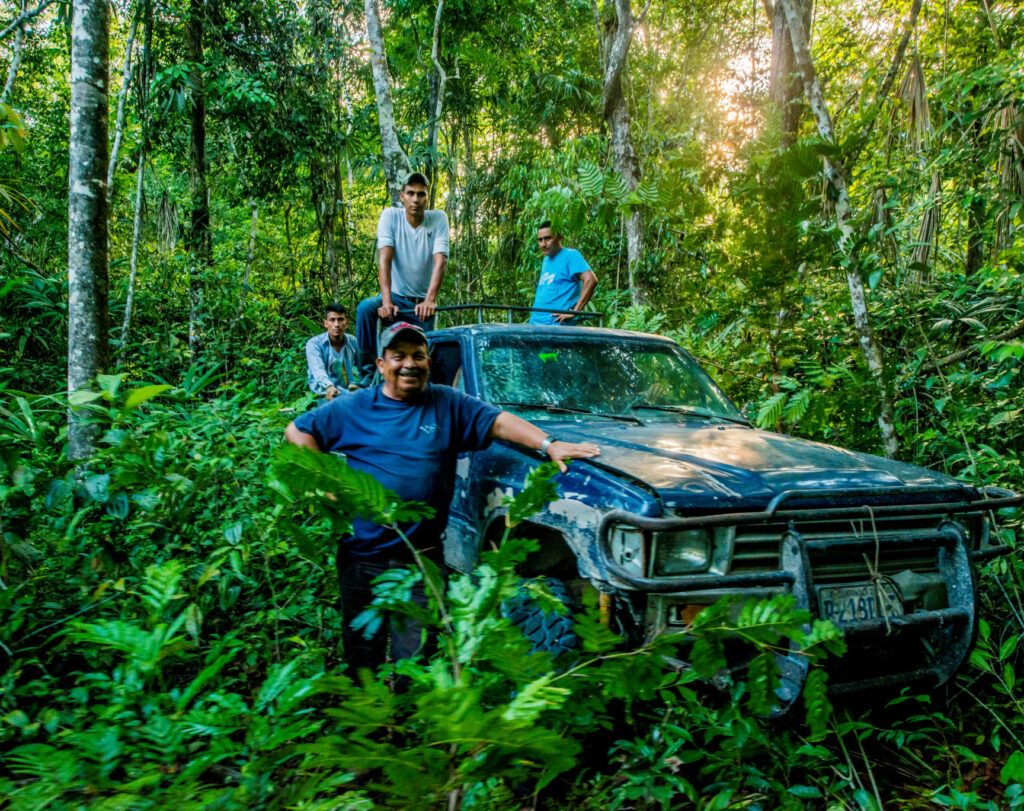 3.
---
Landscapes & Communities
We're driving sustainability transformation across vast landscapes. In partnership with all land users, we tackle complex and interconnected challenges that are too big to take on alone—from climate change and deforestation to human rights and rural poverty.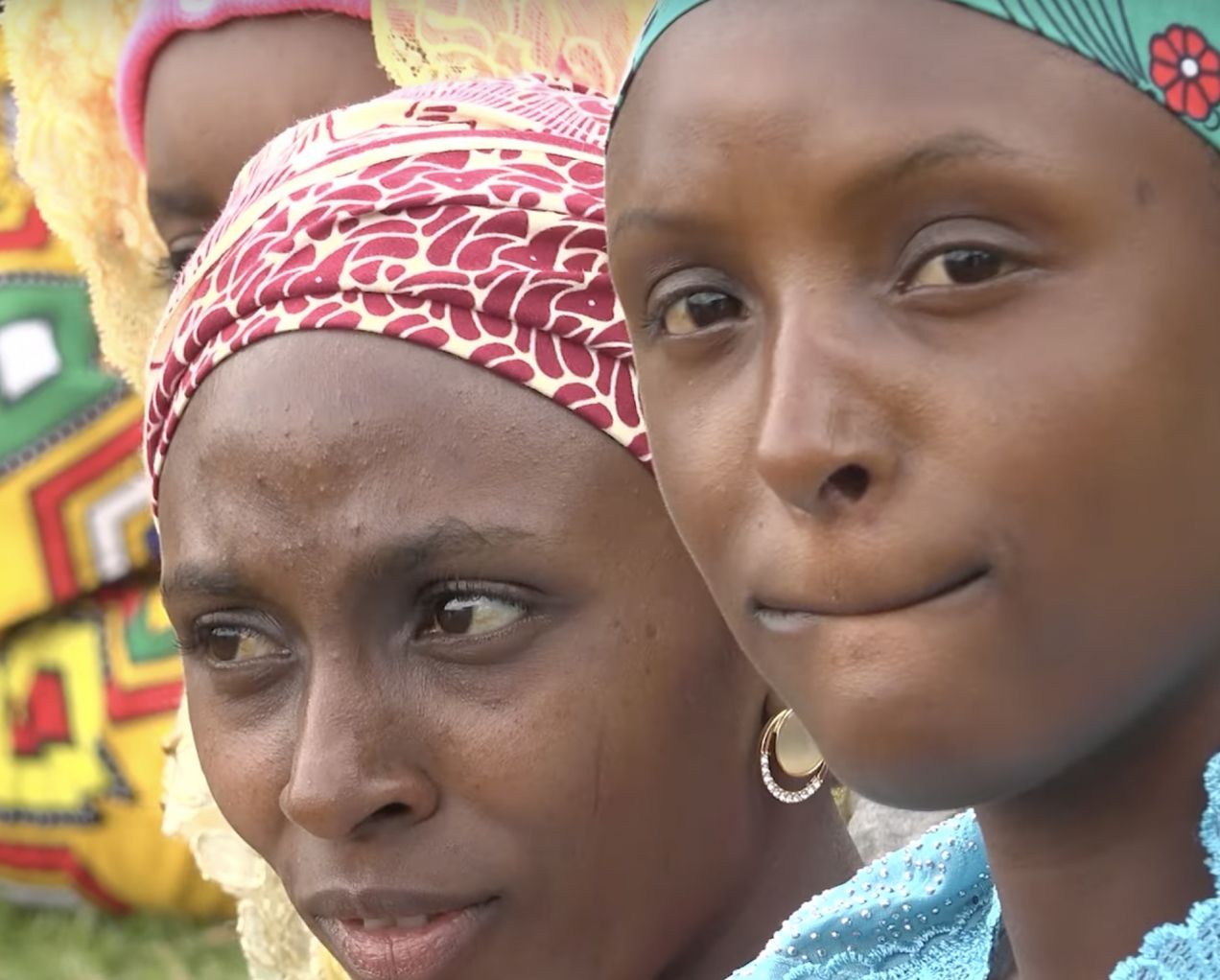 "It's absolutely necessary that women are involved in landscape management. While men will always talk about productivity, women will be thinking about the variety of crops to grow, water access, and so on… all the things that help them bring food to the table."

Nadège Nzoyem
Rainforest Alliance Senior Director, West and Central Africa
Uplifting Women to Help Landscapes Thrive in Cameroon
When women lead, it benefits families, communities, and entire landscapes. In two of Cameroon's most important biodiversity hotspots—the Western Highlands and Dja Reserve—the Rainforest Alliance is working to strengthen community-led landscape management and promote women as sustainability champions. Our goals include helping these communities establish landscape management boards (LMBs) with at least 30 percent women's participation, and boosting women-led local enterprises.
Our Cameroon team has worked hard to address the everyday hurdles that local women face and to open up new opportunities for leadership roles. We created workshop spaces that are child- and infant-friendly, engaged directly with traditional authorities and participants' husbands and family members to ensure they embrace the women's efforts, and more.
In 2022, we reached some major milestones. The community-run LMBs are fully functioning across nine municipalities with an average of 32 percent women's participation—a number that's already higher than our original target. Additionally, five women-led businesses (selling agricultural and forest products) are receiving regular support for improved business management.
COP27 Side Event: Land Restoration Protects People and Nature
During COP27, Nadège Nzoyem, our senior director for West and Central Africa, joined a panel of climate leaders to discuss how expanding proven land restoration techniques can help us achieve our climate goals. She shared learnings from our work in Cameroon to show the importance of a multi-stakeholder approach to landscape management, emphasizing the need for long-term financial support.
This event was put on by the Rainforest Alliance and Landscape Finance Lab (partners of 1,000 Landscapes for 1 Billion People) along with World Vision Australia and the Ikea Foundation. Nzoyem also shared our work in Cameroon at two additional events organized by the Rainforest Alliance.
What is "Integrated Landscape Management" (ILM)?
Through our ILM approach, the Rainforest Alliance works with rural communities to build dynamic landscape partnerships that unite all land users: farmers, forest enterprises, local leaders, companies, and governments.
Together, we tackle complex and interconnected challenges that are too big to take on alone—from climate change and deforestation to human rights and rural poverty.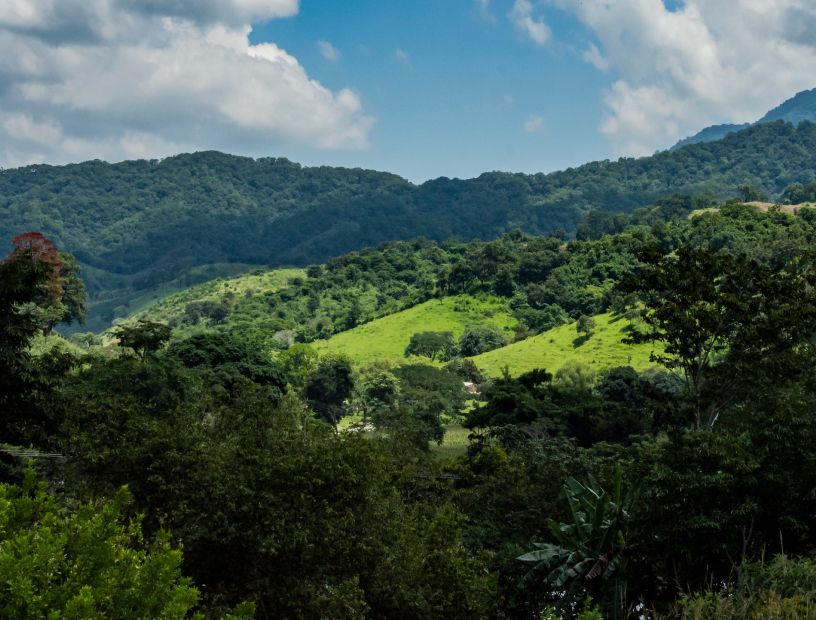 Explore some of our landscape projects around the globe: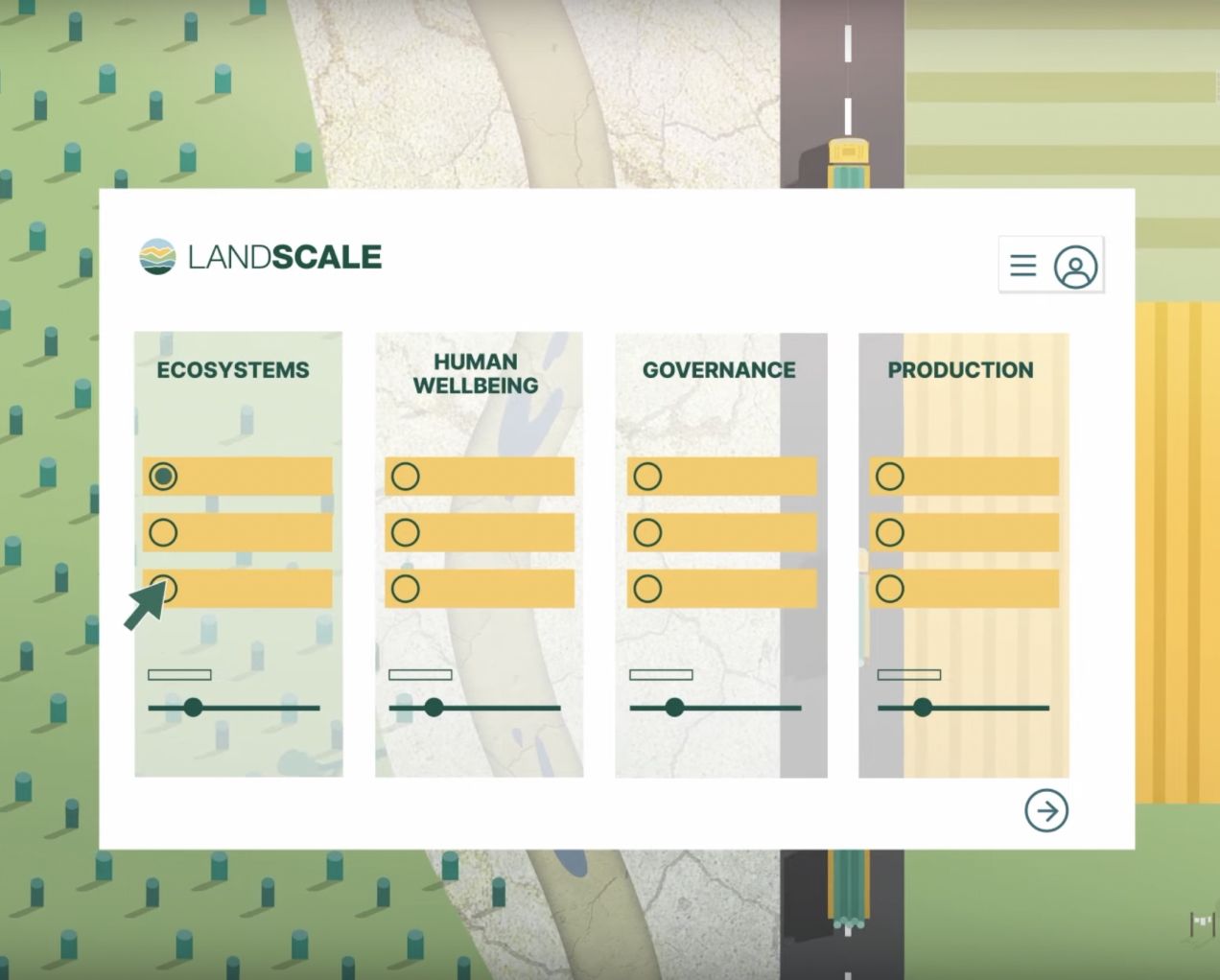 Launching the LandScale Platform
LandScale is a game-changing, all-in-one tool that allows users to assess social and environmental risks (such as deforestation or land conflict) and invest in, monitor, measure, and communicate their sustainability impacts at the landscape level. After a three-year pilot phase, LandScale officially launched its online platform in April 2022.
In 2022, LandScale assessments covered:
24%

more land area since 2021

26

landscapes

17

countries

21 million+

hectares
Harnessing a Global Village to Tackle Child Labor
The world has seen a post-COVID spike in child labor cases, but as the experiences of our "global village" show, we can make huge strides to change the course. By bringing together parents, teachers, farmers, governments, NGOs, businesses, and millions of individuals, we aim to ensure that all children grow up in dignity.
We believe the best way to eliminate child labor is to tackle its root causes, which range from rural poverty and weak law enforcement to traditional gender norms and a lack of access to quality education.
"Ensuring all children return to school and stay in school requires urgent investments in education, social security, and poverty reduction."

Kunera Moore
Rainforest Alliance Director of Themes
We can and must stop child labor. According to Kunera Moore, this requires long-term collaboration and a context-specific approach that tackles the root causes.
Discover how we're working to stop child labor: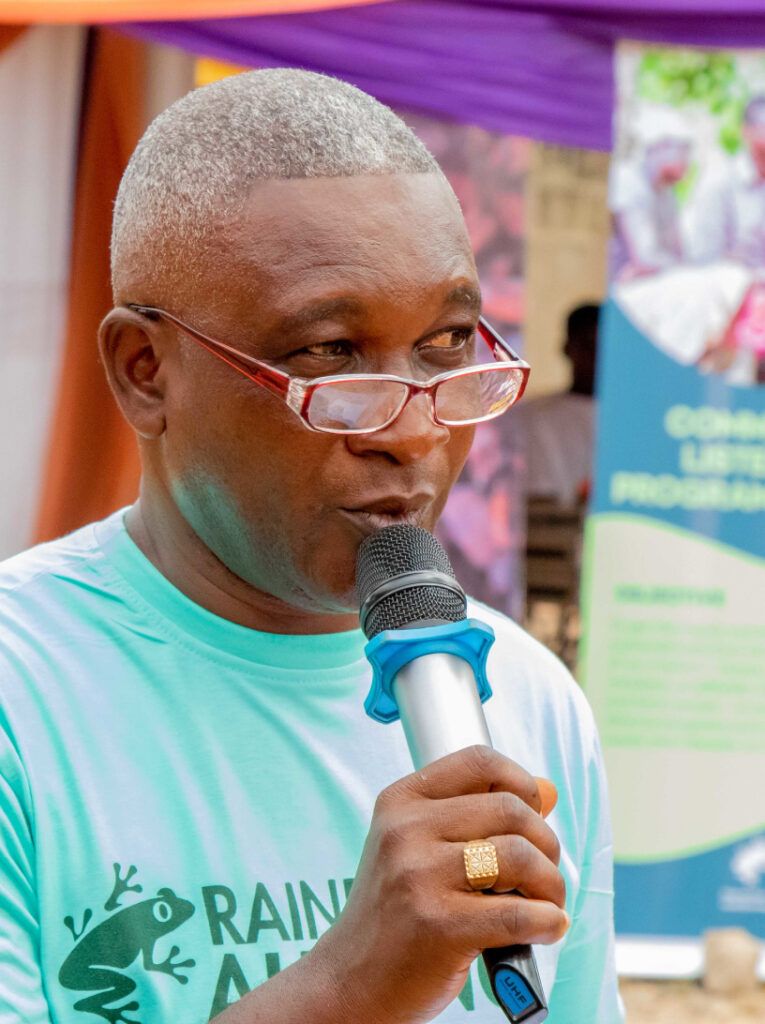 Putting Farmers at the Heart of Our Work with the Community Listening Program
The Rainforest Alliance believes that listening closely to farmers, community members, and other local stakeholders can help us tailor our programs to better address their most urgent needs. In 2022, the Community Listening Program was launched in Guatemala, Ghana, and Mexico to develop and test a set of tools for gathering, synthesizing, and responding to stakeholder feedback.
Since then, we've conducted one-on-one interviews with over 300 farmers and other community members, learning about their experiences with Rainforest Alliance programs and projects and gathering suggestions for improvement. We learned, for example, that stakeholders view the training provided by the Rainforest Alliance as a major benefit of partnering with us and are especially interested in additional training on income diversification strategies.
"I nearly stopped cocoa farming because of how the trees were dying, but I was encouraged by the Rainforest Alliance's visits and trainings."

Salomey Arthur
Cocoa farmer, Ntakam, Ghana
Forest Allies: A Unique Partnership Between Local Communities and Companies
In all our landscape work, we center the voices of those who call these places home. When it comes to addressing the climate crisis and combating forest degradation and deforestation, forest communities have invaluable firsthand knowledge to share with those who want to develop and invest in effective solutions.
That's where Forest Allies comes in: We're forging a powerful alliance between companies, local communities, regional and international organizations, governments, and other stakeholders to support forest communities to solve the complex problems they face. Forest Allies is an opportunity for holistic collaboration and, for companies, impactful investment in the regions they source from and beyond.
Our company partners help us finance this work; their initial investments helped us secure an additional US$2.4 million in donor funding.
How Our 'Forest Allies' Work Together to Support Thriving Rural Communities.
Our Forest Allies projects span:
5

countries

40

communities

5,300

livelihoods benefitted

200,000

hectares under community management

3 million+

hectares protected in preserved areas
4.
---
Our New Strategy
During this critical decade, join us in accelerating the speed and scale of impact.
A Critical Decade
Connected crises threaten our future—from the climate emergency and spiraling biodiversity loss to chronic rural poverty and human rights challenges. 2030 is commonly cited by experts as a potential "point of no return"—making this a critical decade for humanity.
The hard truth is that the old sustainability models are good, but not good enough. They're too fragmented, too small, too slow—and we all know it.
But on the flip side, we've learned a huge amount about what works and what doesn't.
Our 2030 Vision
We need a systemic approach—a transformative global alliance that puts rural communities at the heart of the solution. Only together can we accelerate change at the speed and scale the world needs.
The three pillars of this approach are:
Regenerative Agriculture
Changing our food system begins with meeting the needs of the people who grow our food: farmers. That's why our model for change starts with creating conditions for thriving rural producers in some of the world's most critical tropical landscapes.
This kicks off a flywheel effect that brings positive change to everybody who's touched by this market—from stimulating demand from companies and consumers to attracting more funding and support for regenerative agriculture.

"What if farming not only fed people, but also healed the land? The truth is we already know that there is a better way to farm—and it's called regenerative agriculture."

Chandra Panjiwibowo
Senior Director, Asia-Pacific
Thriving Landscapes
We will focus the full power of our alliance on five key landscapes across Latin America, Africa, and Asia. These are all places of extremely high environmental value, where threats to people and nature intersect on a daily basis.
To maximize our impact, we need an inclusive and integrated approach. This means bringing all landscape users together—and all tools at our disposal—behind a shared vision for system change.
"We need to flip the traditional rules of sustainability project design—ensuring a leading role for the rural communities who live and depend on these landscapes."

Julius Nganga
Senior Director, East & Southern Africa
Impact Data
Ambition is one thing and accountability is another. That's why we need to track our impacts—and do so transparently.
The Rainforest Alliance is committed to building one integrated data system for all our programs, from farm to landscape level. This, in turn, will unlock further opportunities for impact and smart investments across global value chains.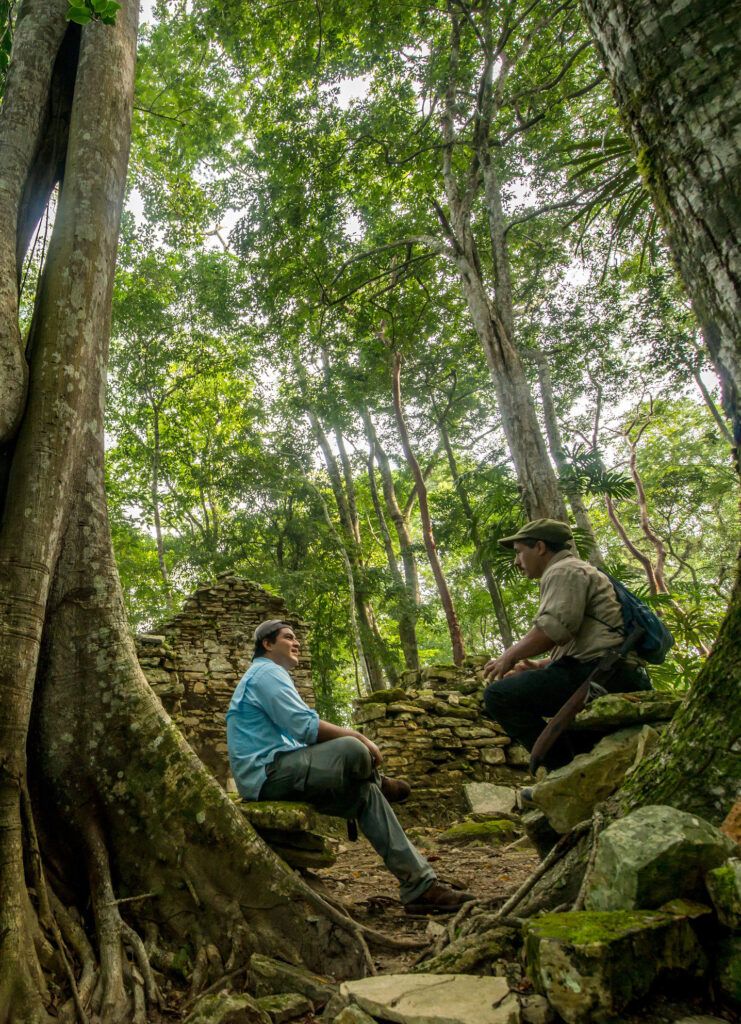 We're All In
From the iconic Selva Maya to the fertile slopes of Mount Kenya and beyond, we're inviting farmers and forest communities all over the world to join the global transition toward regenerative agriculture and forest restoration. And we're calling on companies, institutions, governments, and individuals worldwide to stand with us and help scale impact across critically important landscapes.
Let's create a world where people and nature thrive in harmony together.
"By 2030, our regeneration movement hopes to reach 100 million people in farming and forest communities. This is 20 percent of all producers working in tropical forest areas—a tipping point for system change."

Santiago Gowland
Rainforest Alliance CEO
5.
---
Finances & Funding
Our work and sustainability programs are financed by diverse sources of income—from certification royalties to grants from governments and foundations, and individual donations.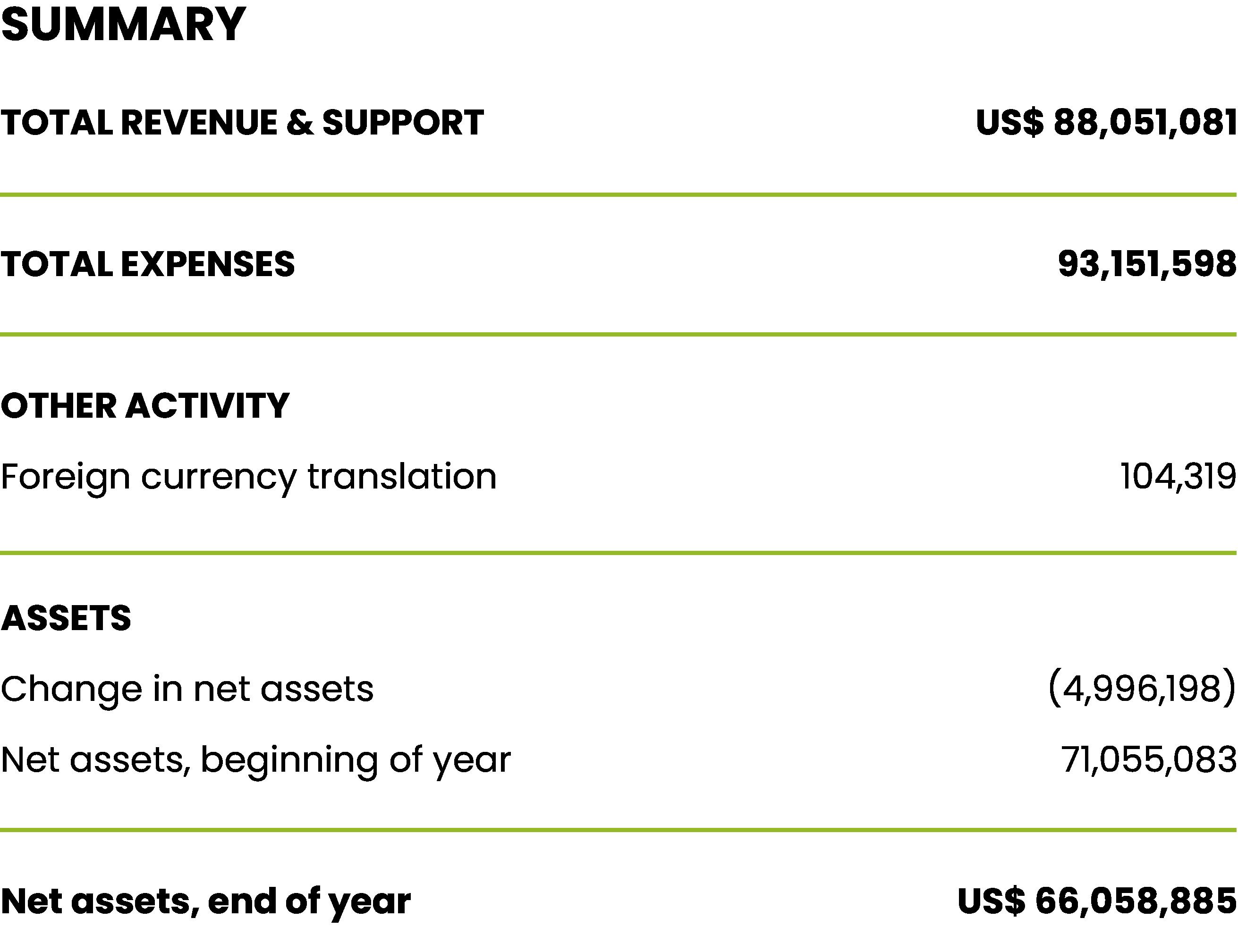 Rainforest Alliance Holding, Inc. is an international non-profit organization, organized on January 1, 2018 in the State of Delaware to serve as the common parent non-profit corporation providing centralized governance and oversight over Rainforest Alliance, Inc. and Stichting Rainforest Alliance. The above financial summary represents the consolidated revenue and expense for 2022 for the merged organization.
How is the Rainforest Alliance Funded?
Donors
We are deeply grateful to the thousands of individuals and organizations who make our work possible. Your "we're all in" commitment to our shared mission helps us take action on some of the most pressing social and environmental challenges of today.
The donors who signed contracts with us in 2022 and contributed more than US$ 1,000 to support our work are listed below.
US$1,000,000+
BHP Foundation
Global Environment Facility (GEF)
Jacobs Douwe Egberts
Netherlands Enterprise Agency (RVO)
One Tree Planted
The United States Agency for International Development (USAID)
United Kingdom Department for Environment, Food & Rural Affairs (Defra)
Walmart Foundation
US$100,000 – US$999,999
Anonymous
Cemaco
Consumer Goods Forum
Deutsche Gesellschaft für Internationale Zusammenarbeit (GIZ)
Marilú Hernández and Luis Bosoms
Krystyna and Dan Houser
Inter-American Development Bank
Elysabeth Kleinhans
Revolut
Telos Impact
The David and Lucile Packard Foundation
The French Facility for Global Environment (FFEM)
The Overbrook Foundation
United States Department of State (DOS)
US$10,000 – US$99,999
Garrett Albright
The Anne and Leigh Perkins Foundation
Climate Ride
Confiseur Läderach AG
Conservation International
David and Katherine Moore Family Foundation Fund
Sandy and Roger Deromedi
Dock & Bay Ltd.
Jerome L. and Thao N. Dodson
Element Solutions Inc.
The Eric and Joan Norgaard Charitable Trust
Lynn Feasley
Laney Thornton & Flora L. Thornton Foundation
Frances Lear Foundation
Global Forest Watch
Goldman Sachs Gives
Good-Loop
Wendy Gordon and Larry Rockefeller
The Mancheski Foundation
Hekemian Foundation
M. House Family Fund at The San Diego Foundation
Intersnack Procurement B.V.
Johanette Wallerstein Institute
Maria M. Johnson Fund
Maggie Lear and Daniel Katz
Lyn and Norman Lear
Peter H. Lehner
Mary Ann Mahan
Margolis Living Trust
Richmond Mayo-Smith
Mercon B.V.
Mitsubishi Corporation Fund for Europe and Africa (MCFEA)
Mr. Lane B. Merrifield and Mrs. Maegan Merrifield
Lida Orzeck
Rick Steves' Europe
Frank Rodriguez
Catherine A. Ludden and Eric B. Rothenberg
Ed Rounds and Callae Walcott-Rounds
Peter M. Schulte
Kerri and Drew Smith
Teksystems Inc.
The Estée Lauder Companies Charitable Foundation
Towards Sustainability Foundation
TribeDisciples, Inc.
Annemieke Wijn and Helmut Detken
William H Donner Foundation Inc.
US$1,000 – US$9,999
Anonymous
Kristen and Labeeb Abboud
Wilhette Afghan
Eliot Aguera Y Arcas
Amalgamated Charitable Foundation
AmazonSmile
Ambre Blends
Ameriprise Financial
Shylesh Aravindan
William Armbruster
Sanjay Athavale
Nancy and Scott Atherton
Benita Auge
AUrate New York
James Bair
Julia Barckmann
John Barry
Diane Bastian
Jill Beathard
Alexander Belderok
John Beliveau
Jason Bello
Richard Benfield
andrea Bergsland
Erin Berman
Betty A. Lewis University Environmental Charitable Trust
Blackbaud Giving Fund
Stephen Blommer
Scott Bonora
Karen Bowen and Beth Gerstein
Donna Brand
David Brenner
Kathryn Briggs
Laura Brooks
Eleanor Burgess
Heather Burks
Andrew Burson
The Burt Family Foundation
Stephanie Carpenter
Bruce Ceniceros
Robin Chancer
Charitable Giving
Charities Aid Foundation Of America
Jennifer Chartoff
Sheaulin Chi
Yvon Chouinard
Yee Chow
Nabi Chowdhury
Joanne Cirocco
Jane Clark
Andrea Cochran
Kevin Cochran
Ezra Cohen
Joseph and Melinda Connelly
Laurie Conroy
C. David Cook
Sonila and David Cook
Copernicus Educational Products
CPRO Foundation
Christine Curtis
Julie T. Daily and Kenneth W. Kiss
Canute Dalmasse
Deborah Davidson
Ron Davies
Donna Davis
Davis-Tailer Foundation
Sheryl and Doug Dawson
Rebecca De Souza
David Dellen
Wanda Denton
Ashley Derrick
Steven Digerardo
Kathleen C. Doyle
Helen Dunlap
EarthShare
East Bay Community Foundation
Sturtevant Eckhardt
Elizabeth College
Dominic Elliott
Lara Elliott
Enfuce
Ann Erickson
Linda Essén
Stepan Europe
Trevor Evenson
Facebook
Karen Fagan
Duncan Fedde
Jane Ferry
Laura Fetzner
Kerra Field
John Fields
Rochelle Fimmel
Josephine Garbisch Fleishman and Ilya Ian Fleishman
Jennifer Fortenberry
Fortuna Foundation
Olivia Jones Family Foundation
Carol Fox
Zoe Friedberg
Dianne Friedman
Diana and andrew Frost
Malgorzata Furtak
Amory and Linda Gage
Candace Galen
Romanie Garcia-Lee
Mary Garton
Maria Gea Arredondo
Cyrill Gebert
Susan Gerngross
Edward S. Gilman
Give Lively Foundation Inc.
Madeleine Glick
The Glickenhaus Foundation
Matthew Glomski
Norma Goldberg
Gopal Madabhushi Family Fund
Nirmal Govind
Santiago Gowland
The Grace Jones Richardson Trust
Nicole Green
Deborah Greenwald and David Harder
Bryan Gregori
Andre Gregory
Terence Groening
Sam Gunther
Katherine and Robert Haas
Chris Haluszczak
Joseph Harmon
Eric Hayes
Autumn Heep
Hazel Hensel
Jon Herbst
Carol Casazza Herman and Neil Herman
Angela Hillsman
Mary W. Hoddinott
Penelope Hooper
James Brian Hovis
Leona Hubatch
Nathan Hughes
Ryan Hunt
Fiona I'Anson
Impact Assets
Implement Consulting Group
Invisible North
Stephen Irish
Erik Jackson
Janney Montgomery Scott LLC
Jeffery Jens
Jewish Communal Fund
Emeline Jhowry
Stephen Johns
Melinda Johnson and Ethan Johnson
Michael Johnson
JP Morgan Chase Matching Gifts Program
The Julio R. Gallo Foundation
Robert Jungmann
Just Giving Inc.
Adele Kamel
Donna Kaplan
Alejandro Kato
Steve R Kaufman
Christopher Kelley
Laura Kent
Jeanie and Murray Kilgour
Linda Klaben and Matthew Klaben
Joan Klein
Knobloch Family Foundation
Courtney Knott
Pany Koizi
David Konn
Korein Foundation
Margaret Kramar
Hosanna Krienke Krienke
Peggy Kurtz
Jan Kwiatkowski
L4 Foundation
Diane Lamb
Ron Lang and Katharine Lang
David Lasky
Eric A. Latimer
Peter Leahy
Kate Lear and Jonathan LaPook
Thomas Leibowitz and Jodie Smith
Russell Lemle
Gracella Lenhart
Carolyn Lenz
Margaret Liftik
Lisa Liljeqvist
Yuling Liu
Long Island Community Foundation
Josephine K Lowe
Lila L. Luce
Thomas Lukas
Corinne Lyon
Made by Mantra LLC
Tom Maguire
Teresa Malies
Diane Marsh
Marta Heflin Foundation
Brandi Martin
Ryan Martin
Joseph Martinez
Oliver Masaba
Elisabeth Mason
Emilie McConville
Irlanda Mendez
Timothy P. Messler and Tara Marchionna
Barbara Meyer
The Michael and Nancy Berman Family Foundation
Jennifer Miller
Blake Mitchell
Kendra Mitchell
John Moffett
Paul Molina Chavez
Gabrielle Moore
Morris Weinman Memorial Foundation
Dwight Morris
The Kristina and Pat Morton Family Fund
Sandra Munoz
Ryan Murphy
James Nash
Dominic Natalizio
National Energy & Gas Transmission Inc.
Glenna Neece
Nepcon LLC
Alfred and Jidith Netter
Network for Good
Allen Newman
Liana K. and Gebhard Neyer
Brittany Nicksic
Gabriel Nicolau
Stephen Norris
Norristown Zoological Society
Amy Nussbaum
Stuart Oliver
Leslie O'Loughlin
Panay Films
Lauri Paul and Mark Hamilton
Adele F. Paynter
Michael Peltz
Rebecca Perlmutter
Jim Phillips
Deborah and Tony Pines and Schwart
Lisa Podolsky
David Porteous and Vicky Smith
Nathan Potterton
Alice Pulver
Leslie and David Puth
The Phyllis Green and Randolph Cowen Fund
Polly and Kenneth Rattner
Eric Rawley
Raymond James Charitable Endowment Fund
RC Charitable Foundation
Allen Reitz
Eleanor and William Revelle
Sara Richelson
John Rickert
James Rieger
Rivinus Family Foundation
Brian Rogan
Miller Rogers
Ronald J. and Grace C. Ruggiero
Ronald L. Katz Family Foundation
Mariana Rose
Glen Roseborough
Jeanne Rosenmeier
Richard Rosenthal
Simon Rowe
RSF Social Finance
Lenore Ruben
Charles Ruedebusch
Ronald Ruggiero
Pamela Sams
The Savannah Community Foundation Inc.
David Schnadig and Lori Roth
St Christopher's School
Thomas Schulz
Michael Sekera
Bardia Shahali
Anil Shankar
Divya Sharma
Sherman M. Starr Charitable Remainder Unitrust
Silicon Valley Community Foundation
Patricia Simpson
Iqbal Singh
Edwin Sisson
Leslie Smith
Snappy
Society Of The Transfiguration
Randolph Stadler
Stanley Shalom Zielony Foundation
Jennifer Steingart
Stride Inc.
Robin Stutman
PRé Sustainability B.V.
Leticia Taft-Pearman
Lee and Norelle Tavrow
Julie Taymor
Teespring Inc.
The Thomas R. and Deborah A. Davidson Foundation
Jan Thompson
Robert Tipp
Elinor Tourtellot
Diane Trombetta
Alexander Tsesis
Grace Tyner
United Way Of Rhode Island Inc
Amber Valletta
Goran Visnijc
Diana Visser
Jerusha and Kenneth Vogel
Susan and Hugh Voigt
Axel von Heland
Raymond Wager
Stephen Wagner
Walking Stick Family Fund
Thomas Wallach
William Waller
Amber Ward
Nancy Warwick
Spring Washam
Martha Weiner
Elizabeth Ginsberg and Robert Weinstein
Donald Weir III.
Stephanie Weir
Laura Weiss
Emily White and Richard White
Betsy Wice
Julia Williams
John and Lacey Williams
Robert Windbiel
Terry Wizig
Catherine Woods
Worldremit Corp
William Wozencraft
Penelope and Philip Wright
Wenqing Yan
Neill Yelverton
Oliver Yost
Jean Schiro-Zavela and Vance Zavela
David Zuckerbraun
ZwickRoell
Judith Sulzberger Society
Anonymous
AAF Family Trust
Gabriel Allan
Ameriprise Financial
Arthur Dusdall Revocable Living Trust
E.A. Aschmoneit-Jüdell
Richard Badalamente
Paula Band
Barr Charitable Foundation
George Benz
Anne Bernier
Betty A. Lewis University Environmental Charitable Trust
Susan Blackman
Martin Brazeau
Joel Brown
Jerry L. Burns
Winifred Caldwell
Joan Callahan
Christopher Canino
Capital Group Co. Charitable Foundation
Dr. Lynn H. Caporale
Carl F. Bostrom Estate
Carol J. Novak Living Trust
Charles N. Conover Marital Trust
Pamela J Davidson
Holly Davis
Sheryl and Doug Dawson
Dorothy S. Hines Revocable Trust
R Stephen Dorsey
Erhart Eger
Cassandra Ellis
Estate of Robert B. Keiser
Estate of William Seydlitz
Jane Ferry
Dorothy Fiore-Gramenstetter
Edward Firestone
William Forbes
Steven Forman
Alison Freese
Rosemarie Gatehouse
George W. Schmidt, Jr. Living Trust
Carol Young and Glenn Browning
Kathleen Goetten
Carlyn E. Goettsch
David Goodkind
Hans Grellmann and Annerose Grellman
Terence Groening
Autumn Heep
Susan Heller Gebel
Edward Helmer
Keith Hester
Dorothy Hines
Tom Horner
Howard Waymire Surviving Spouse's Trust
Charles P Howard
Jennifer Jinot
The Joseph M. Liebling Trust
Laura Kent
KeyBank National Association Trust Division
Stephen Kochman
Linda Kuhli
Pat Lacy
Ron Lang
William Maillet
Margolis Living Trust
Maynard and Katherine Buehler Trust
Melisande Congdon-Doyle Revocable Trust
Lawrence Meyran
Emma Milkeraitis
Jere Lowell Barnhart 2009 Revocable Trust
Stuart Oliver
Brian Peterson
De Nyse W. Pinkerton
Tom Plant / Plant Family Environmental Foundation
Jonathan Pool and Susan Colowick
Revocable Trust of Francis P. Tafoya
William L. and Linda K. Richter
The Kelly Living Trust
Harry Michael Dudte Trust
Arthur Rowe
Roseann Schneider
Schwager Family Trust
The Scott Gordon Campbell Living Trust
William Seydlitz
Joanne Sheridan
Sherman M. Starr Charitable Remainder Unitrust
Fumiko Shido
Victor Soukup
Randolph Stadler
Marc Sussman
Sandra Szanderek
Allan J. Taylor
Kathryn Torrez
John Tyler
Anne Lee Walter
Brendan Ware and Vivienne Myler
Ilse Holliday
Julie Whitacre
Cheryl Woodward
The Judith Sulzberger Society honors those individuals who have chosen to include the Rainforest Alliance in their estate planning.

In-Kind Contributions
Abcor
Covington & Burling LLP
Davis Polk
Galeano & García
Gonzalez Calvillo
Jérémie Gicquel
McDermott, Will & Emery LLP
O'Melveny Meyers LLP
Orrick
Paul Hastings LLP
Perkins Coie LLP
Shearman & Sterling LLP
White & Case LLP
Donations of goods and services such as legal advice, space, and consulting.

Board of Directors
Daniel R. Katz, Chair • Ton van der Laan, Vice Chair • Peter M. Schulte, Treasurer • Labeeb M. Abboud • Tasso Azevedo • Sonila Cook • Daniel J. Couvreur • Sarah-Jane Danchie • Wendy Gordon • Marilú Hernández de Bosoms • Nina Haase • Dan Houser • Peter H. Lehner • Nalin Miglani • Vanusia Nogueira • Juan Esteban Orduz • Anurag Priyadarshi • Anisha Rajapakse • Eric B. Rothenberg • Paul Rubacha • Kerri A. Smith • Annemieke Wijn
Ambassadors Circle
Members of the Ambassadors Circle are talented individuals from the business, scientific, philanthropic, and entertainment industries who actively support the Rainforest Alliance's mission in unique ways.
Maxine Bedat • Gabriella Campagna • Count Amaury de Poret • Jamie Denburg Habie • Ricky Echanique • Jesse Glickstein • Carol Casazza Herman • Andrew Klaber • Lawrence F. Lunt • David Madden • Richmond Mayo-Smith • Laurie Medley • Alexis Rockman • David Scott Ross • Cameron Russell • Melanie Salmon • Bonnie Wright • Grace Yu
Editors
Daria Koreniushkina • Gui-Xi Young
Writers
Laura Jamison • Jenna Pacitto
Designers
Patrick Floyd • Mason Philips • Joost Voets
Video Production
Justin Valdes
Web Development
Matt Nerger • Erica Rosset
Project Management
Marta Fiolhais
Contributors
Gabriela Cordon • Alexandra Dawe • Larissa Diakanua • Nurul Wara Firda • Michael Gibbons • Marlene Höning • Alba Leon
Photographers
Joost Bastmeijer • Giuseppe Cipriani • Matt Ehnes • Matthew Harmer • Caroline Irby • Sergio Izquierdo • Suvashis Mullick • Nice and Serious • IGN Andre Stiana • Dan Stone • Michael Toolan • Kalyan Varma • Angela Vives • Charlie Watson