Latin America is home to a colorful range of popular fruit varieties. The region, together with the Caribbean, is the largest exporter and second largest producer of bananas and tropical fruits globally. Production of these fruits rely heavily on manual labor and is often linked to risks of forced labor and other workers' rights violations.
In Mexico and Costa Rica, key commodity products destined for the North American market like avocados, berries, bananas, and pineapples, are mainly grown on medium and large farms that use labor recruiters to provide a proportion of the workforce. In Jalisco, Mexico, about 10 percent of workers on berry farms are seasonal migrants from Indigenous communities. And in Costa Rica, around 70 percent of seasonal workers on banana and pineapple farms are cross-border migrants from Nicaragua. These workers are vulnerable to fraudulent and coercive practices such as recruiters charging fees and costs (which can lead to debt bondage) and taking a cut of workers' wages. Other exploitative practices, including miscalculated wages, excessive work hours, and poor-quality housing for migrants, also occur.
The same issues can be seen in Guatemala and Ecuador where banana production is linked to health issues for workers and neighboring communities, including contaminated waterways and threats to wildlife. Reliance on monoculture farming is also linked to excessive pesticide use and soil damage, and poor pest management is allowing diseases like the highly damaging TR4 fusarium variant to spread rapidly. As a result, many farmers throughout the region are struggling with low productivity and cannot meet the requirements of export markets.
Through this project—the continuation of a previous phase—the Rainforest Alliance will leverage the power of our strengthened Certification Program to address these issues. Partnering with governments and local communities, we aim to improve working conditions, boost agricultural productivity, and increase market access for vulnerable workers and farmers across Latin America.
Location
Mexico: The state of Jalisco
Costa Rica: Alajuela, Heredia, and Limón provinces
Guatemala: La Blanca municipality in the department of San Marcos
Ecuador: El Oro and Guayas provinces
Period
2021-2023
Partner communities
This project will provide training and engagement to at least 37,100 workers in the avocado and berry (strawberry and raspberry) sectors in Mexico and the banana and pineapple sectors in Costa Rica. These workers are employed at 72 Rainforest Alliance Certified farms, 25 non-certified farms, and with 15 labor providers throughout the region. The project will also provide field training to 3,800 banana workers at 90 banana farms across Guatemala and Ecuador.
Project objectives: Promoting good agricultural and labor practices
The overarching vision is a future where farmers and workers, as well as their families and surrounding communities, are healthy, protected, and resilient. Drawing on the Rainforest Alliance's network in the region, we will implement a range of activities under two key objectives:
Supporting farmers in Mexico and Costa Rica to comply with relevant labor laws and the requirements of our 2020 Sustainable Agriculture Standard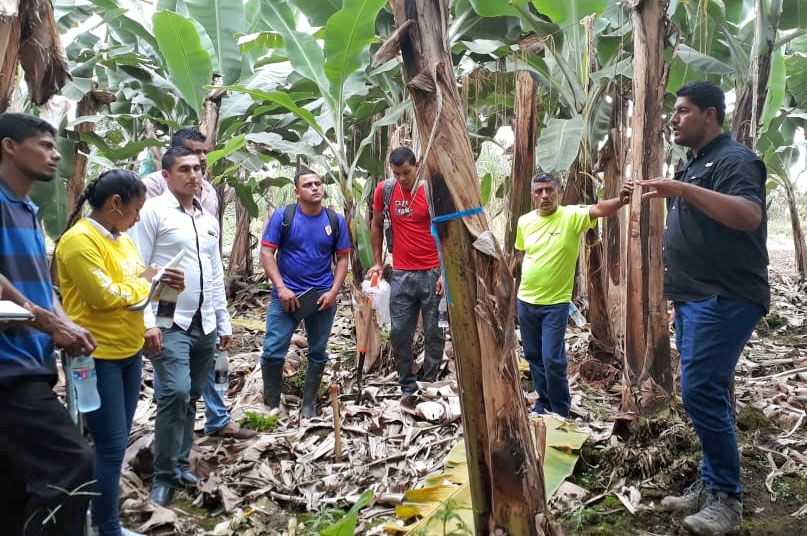 Using Stronger Together's Responsible Recruitment Toolkit, we will pilot tools to help farms and cooperatives prevent, identify, and take action on recruitment-related risks. We will also help certified farms and cooperatives comply with the 2020 Rainforest Alliance Sustainable Agriculture Standard through targeted training sessions.
Embedding sustainable agricultural practices into banana production in Guatemala and Ecuador
This project will work directly with banana farmers, providing training and resources to help them manage their farms more sustainably and apply good agricultural practices. Farmers will learn about wastewater treatment, water quality monitoring, and how to safely dispose of farm waste. Training will also cover how to safely handle and use agrochemicals, including ensuring they are not overused or misused and that laws and regulations for registering safer agrochemicals and prohibiting the use of Highly Hazardous Pesticides are respected. This also includes increased compliance with national and regional protocols for TR4 prevention and control.
Desired impacts: healthy workplaces for better livelihoods
By the end of the project, we will work to achieve the following outcomes:
Stricter labor compliance on fruit farms in Mexico and Costa Rica
72 Rainforest Alliance Certified farms, 25 non-certified farms, and 15 labor providers operating in the avocado and berry (strawberry and raspberry) sectors in Mexico and the banana and pineapple sectors in Costa Rica will have increased their capacity to comply with relevant laws and the requirements of the Rainforest Alliance's 2020 Sustainable Agriculture Standard. These requirements will be related to responsible recruitment tools (RRT) and understanding the importance and value of compliance.By the end of the project, we also expect to be ready to scale up the use of RRT tools to other countries with recruitment-related risks.
Increased adoption of sustainable practices on banana farms in Guatemala and Ecuador
90 banana farmers in Guatemala and Ecuador will have progressed on their sustainability journeys, embedding production practices required by international markets and following improvement plans to meet the Farm Requirements of the Rainforest Alliance's 2020 Sustainable Agriculture Standard. We will assess these outcomes by conducting a comparative analysis of farmer surveys applied at the start and end of the project.
New market opportunities for farmers
Farmers in the project who comply with social and environmental best practices will be able to gain access to new market opportunities that come with stricter international certifications such as the U.S. Food & Drug Association Food Safety Modernization Act (USDA FSMA). Progress will follow a stepwise approach: starting with ensuring compliance with national regulations and permits, then moving onto GlobalG.A.P. and compliance with private brand sustainability protocols and ending with Rainforest Alliance and USDA FSMA certification.
Funders
The Walmart Foundation
Implementing partners
In coordination with:
Ministry of Agriculture of Mexico
Ministry of Labor of Mexico
Environment Secretary of Jalisco
Consejo de Desarrollo Agrícola
The Ministry of Labor and Social Security of Costa Rica
Rainforest Alliance contact
Oscar Maroto, Latin America fruit lead
Support Our Work
Create a world where people and the planet prosper together.
DONATE TODAY