Time and again, studies show that climate change disproportionately affects women and girls. Often tasked with finding water and firewood, as well as growing and cooking food for the household, women tend to be the ones who are more reliant on natural resources. When unpredictable weather or natural disasters threaten these resources, they feel it most. At the same time, this intrinsic bond with the natural landscape is exactly what makes women ideal sustainability leaders.
Sign up for useful tips to green your life and protect our planet.
19 years of championing women and forests
These facts are a guiding force for Nadège Nzoyem, the Rainforest Alliance's Central Africa director. "It's absolutely necessary that women are involved in landscape management," said Nzoyem. "While men will always talk about productivity, women will be thinking about the variety of crops to grow, water access, and so on… all the things that help them bring food to the table."
Nzoyem's career in forestry and sustainable development is a testament to the power of women's leadership. Not only has she spent 19 years driving on-the-ground impact where it matters most—like helping local communities keep their land rights on over 50,000 hectares of forest—but she's also dedicated to putting rural women at the heart of the Rainforest Alliance's work.
"Women will be thinking about the variety of crops to grow, water access, and so on… all things that help put food on the table."

Nadège Nzoyem
Supporting women sustainability leaders in Cameroon
In Nzoyem's home country of Cameroon, women are the backbone of the natural resource economy, yet they are often excluded from decision-making processes that directly affect their lives. That's why our organization—led by Nzoyem—started two closely connected initiatives to promote women as sustainability champions and strengthen community-led landscape management in Cameroon. In five years, we aim to serve 3,000 people, including 1,500 women, across the West and South regions. One of our main goals is to set up community-led landscape management boards (LMBs) that are comprised of at least 30 percent women representatives. And to support local, women-led enterprises selling agricultural and forest products, the projects will also provide training in business management.
Investing in women helps the economy
Though Nzoyem is proud of her achievements in supporting community-led land management, the success comes with ongoing challenges: Once communities have their land rights, they must continue to show the government that the forest is still profitable, that they are managing the forest well, and that their food crop enterprises have access to markets.
"After 25 years, if the governments find it is more profitable to convert the forest into an agricultural concession—like jojoba or palm oil—they will do so," Nzoyem said. "We must work with the forest communities to make sure they don't lose their rights. That is something that's really important to me." Having varied revenue streams, sustainability investments from governments or company partners, and access to markets are some of the ways in which community-managed forest concessions can ensure economic viability for years to come. Moreover, it's crucial that the LMBs include women's voices and that women-led enterprises have equal access to resources and markets.
Nzoyem has seen the effects of poor land management firsthand. There used to be many types of food in the villages where she grew up, but today you'll find more food in town than in the villages. This is because the soil is becoming increasingly infertile due to environmentally harmful practices like over-reliance on toxic fertilizers.
"The Rainforest Alliance is working on that," she added. "We want to positively impact the degraded areas so the soil will start producing again."
Opening doors for more equitable leadership
In the first two years, the initiatives have already reached major milestones. For one, the LMBs are fully functioning with a 32 percent average in women's participation across nine municipalities. Additionally, five women-led businesses are already receiving regular support for improved business management.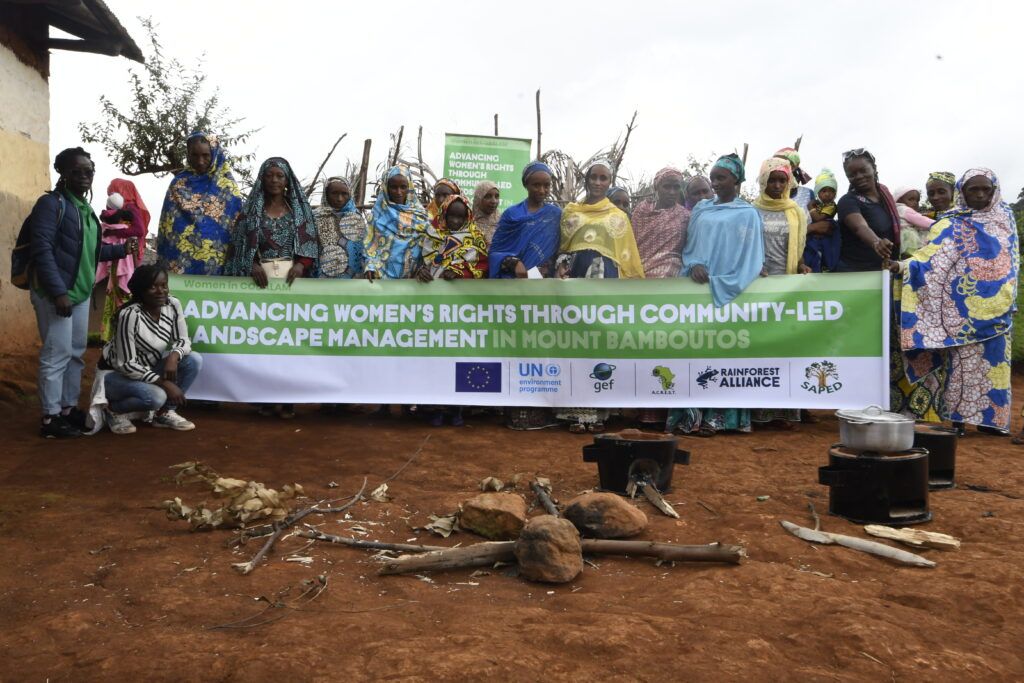 These outcomes show just how well-suited Nzoyem is to lead these initiatives. Her team has worked hard to remove the hurdles that faces women in the community. Sometimes that means having discussions with traditional authorities and participants' husbands and family members to ensure they embrace and support the women's efforts. Other times, it means working around the women participants' busy social schedules, creating workshop spaces that are child- and infant-friendly, coaching them in public speaking, and finding solutions to their specific problems.
Women in Cameroon transform a cocoa nursery
In the South region of Cameroon, for example, the Rainforest Alliance established plant nurseries at a local cocoa cooperative. Women from the cooperative came to their local Rainforest Alliance representative and told him that, in addition to the nurseries, good-quality water access would be a necessity for them to take care of the plants. As an added benefit, it would lessen the time they spend gathering water for cooking and cleaning. In the end, the initiative expanded its scope to include water pumps at each of the nurseries.
"So, it was not the Rainforest Alliance's plan—our plan was just to build the nurseries. But once we understood their needs, we installed a water well in each nursery. This helps the plants grow while also improving water access for their communities," said Nzoyem. It's a perfect illustration of how uplifting women's voices benefits families, communities, and entire landscapes.
Follow the frog for more inspiring stories from our global alliance
Explore