Flanking the edges of India, the mountain ranges of the Eastern and Western Ghats are a culturally and environmentally rich region. Ranked among the world's 36 biodiversity hotspots, the area is home to dense forests, vital rivers, and rare wildlife such as the Asian Elephant and lion-tailed Macaque. Spanning several of India's states, the area is linguistically and culturally diverse, with tribal populations earning their livelihoods from forest resources and farming families producing a range of crops for local consumption and sale. For example, the mountain slopes of the Western Ghats are India's primary coffee-growing region. Despite their importance for people and wildlife, these areas face land degradation and biodiversity loss.
As of 2019, the Indian government estimated that approximately 29 percent of India's total geographical area had been degraded—and scientists estimate that there will be a 33 percent drop in biodiversity in the Western Ghats by 2050 due to extreme weather caused by climate change. Agriculture is also encroaching on forested land, contributing to growing human-wildlife conflict as forest cover diminishes, and is depleting soils and polluting rivers through the inappropriate use of agrochemicals.
There is extensive legislation in India to protect the natural environment, conserve biodiversity, and guide the development of sustainable agriculture, including a commitment to restore 26 million hectares of degraded land by 2030. However, it is not always effective, due to a lack of government capacity for implementing and enforcing its policies. Both the government and the market have key roles to play in incentivizing farmers to adopt more sustainable practices and produce healthy food and other agricultural commodities. Through this project, the Rainforest Alliance will work with the central and state level governments of India, the private sector, farmers, and communities to develop a strategic approach to land management that improves livelihoods while restoring degraded land and conserving biodiversity.
Location
India:
State of Andhra Pradesh

Eastern Ghats (3.6 million hectares), Vizianagaram, Visakhapatnam, East Godavari, West Godavari, Prakasam, Kurnool, and Cuddapah districts

State of Karnataka

Western Ghats (0.9 million hectares), Kodagu, Hassan, and Chikmagalur districts
Period
2022 – 2027
Partner communities
This project is expected to benefit 770,000 people across the states of Andhra Pradesh and Karnataka, of which 765,000 are farmers and farm workers and 5,000 are service providers and other stakeholders engaged in landscape management.
Project objectives: aligning landscapes and markets to increase sustainable agriculture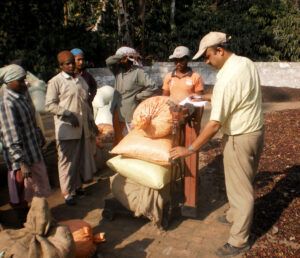 This project will work at both the farm and landscape scales to help farmers, Farmer Producer Organizations (FPOs), and communities adopt more sustainable land use practices, restore degraded lands on and off farm, and protect forests. It will facilitate supportive policies and harness market demand for natural production systems that use water efficiently, replenish soils, and conserve biodiversity.
Activities will fall under three key areas:
Training farmers and farmer organizations on sustainable agriculture
Farmers will be trained in best practices to conserve the natural ecosystem and increase their incomes through soil and water management, agroforestry, and crop diversification. The project will promote two agricultural production systems: the Rainforest Alliance's Sustainable Agriculture Standard in Karnataka, which is widely adopted by coffee and spice farmers, and the Community Managed Natural Farming system being scaled up in Andhra Pradesh by the state government organization Rythu Sadhikara Samstha for a variety of food crops, including rice, millet, maize, pulses, and cotton. We will also train and mentor FPOs in business management and support them in developing action plans to strengthen their business operations, access to markets, and financial literacy. This will enable them to interact more profitably in supply chains and secure a higher price for products. In turn, this will create opportunities and incentives for farmers to apply sustainable land management (SLM) practices and climate-smart technologies.
Facilitating participatory land use planning and management
In coordination with existing local government bodies, and through extensive local consultation, participatory governance structures known as Landscape Management Boards (LMBs) will be established that include community representatives, farmers, local businesses, and policy makers. These boards will plan and implement activities to promote sustainable agriculture, restoration of degraded soils and watersheds, and conservation of biodiversity and High Conservation Value Areas, including sacred groves. To record and report changes in landscape performance, LMBs will use a LandScale-based performance measurement system. The project will also target financial services organizations, such as commercial banks and India's Small Farmers Agribusiness Consortium, to invest in landscape-scale initiatives.
Innovating along the value chain
The project will build new markets by helping local companies implement responsible purchasing policies. We will also help companies develop communications materials to increase awareness of the sustainability challenges across the landscape while highlighting the actions they are taking. Lastly, we will support companies in the creation of new value-added products that highlight farmer stories and sustainability; for example, by using QR codes that link to farmer stories and finding opportunities for certified farms to showcase the Rainforest Alliance seal.
Desired impacts: thousands of hectares protected and restored
By the end of the project, we aim to achieve the following outcomes:
Widespread sustainable agricultural production and 75,000 hectares of land restored
The project will build capacity in and commitment to more sustainable agricultural production across the states of Andhra Pradesh and Karnataka. It will directly impact 1,150,000 hectares of agricultural land, including the restoration of 75,000 hectares of degraded land.
100,000 hectares under participatory landscape management and 25,000 hectares of forest protected
At the landscape level, LMBs will work together to manage 75,000 hectares of land sustainably, while conserving forests, restoring degraded land, and improving livelihoods for the communities that live there. In addition, 25,000 hectares of High Conservation Value Forest will be protected in Karnataka and Andhra Pradesh.
Strengthened government and market support for sustainable practices
This project will engage India's central and state governments to review institutional structures, fiscal policies, and strategic planning processes. It will also leverage demand in commodity markets for sustainable products and mobilize financial investment to create the incentives and means for farmers and landscape managers to apply SLM practices.
Climate impacts
The equivalent of 22.4 million tons of carbon dioxide emissions will be sequestered or avoided over a 20-year period (during and post-project).
Funders
United National Environment Programme – Global Environment Facility grant.
Implementing partners
Rainforest Alliance (lead)
Rythu Sadhikara Samstha (co-lead)
Foundation for Ecological Security (co-lead)
The United Nations Environment Programme
International Union for Conservation of Nature
Indian Ministry of Agriculture & Farmers' Welfare
Indian Ministry of Environment, Forest, and Climate Change
Watershed Support Services Activities Network
Rainforest Alliance contact
Aniruddha Brahmachari, Senior Project Manager
Forests Are Falling At An Alarming Rate.
Each minute, 85 acres are destroyed.
Donate