Imagine that you and your neighbors are coffee farmers in Kenya. Despite working hard, your yields aren't what they used to be, and like millions of farmers across Africa, you're worried that climate change will only make matters worse. Still, you are doing your best to manage your farm, work toward sustainability, and support your community. You'd also like to sell your crop to buyers that value these efforts, so you decide to apply for Rainforest Alliance certification. That's where our trainers come in.
They help farmers prepare for certification, and work with those who are already certified to address areas that still need improvement. While they may not get the glory, our trainers are absolutely critical to achieving the mission of protecting forests, improving livelihoods, and promoting human rights.
Sign up for useful tips to green your life and protect our planet.
Ask Mark Njeru, the Rainforest Alliance's regional training manager for Africa, what he and his team do, and he will give you a perfectly precise answer: they "facilitate knowledge transfer and acquisition." Although based in Nairobi, Njeru coordinates our training work across Africa. Instead of talking down to farmers, he works with smallholder groups to help them integrate new knowledge on their farms—"to change their practices and also change their attitudes."
Harnessing technology and hands-on learning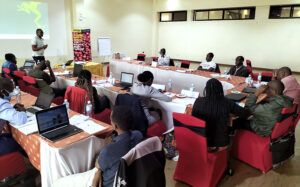 Training is not limited to the environmental aspects of the Rainforest Alliance Sustainable Agriculture Standard; it also covers the standard's social and economic elements, such as worker rights and financial literacy. For this reason, Njeru and other training managers around the world are careful to assemble teams that represent a wide mix of backgrounds, skills, and specialties.
Njeru and his team of trainers rely on many different techniques to achieve their goals, and these have evolved over time. "In the past," he says, "we used to believe that training was more lecturing… transferring knowledge from a trainer to a trainee, without so much focusing on whether there is a change in attitude." These days, the approach is more comprehensive and includes the use of tools such as flyers, posters, hands-on learning, audio recordings, and virtual platforms.
In East Africa, field schools feature demonstration plots where tea farmers can witness firsthand the impacts of applying more sustainable practices, such as weeding and pruning, and try them out for themselves. The Rainforest Alliance has also developed e-courses, which are available in more than ten languages—although their use is limited by the strength of a community's Internet connection and its members' digital skills.
How trainers overcome skepticism to help African farmers succeed
To succeed as a trainer, patience is a prerequisite. Beyond expertise in sustainable agriculture, they have to develop sharp psychological instincts. "The knowledge part is the most easy thing," says Njeru, but trainers must also learn how to evaluate each unique group of farmers and figure out the best way to reach them and facilitate learning. The challenge is knowing when and how to transfer the information, assessing the participants and the learning environment, and determining which methodologies would best help them connect with each audience.
In Africa, for example, there is an age gap between many of our trainers and the farmers they train. Within the coffee and tea sectors in particular, the "students" are frequently older adults who have been farming for a long time. As a result, trainers are often greeted with skepticism when they first arrive in the community. "They doubt your competency," says Njeru. "They doubt if they can be able to believe anything [you say]. This is quite common." To counter such resistance and win the trust of farmers, trainers must pull from their arsenal of tools, including enlisting prominent members of the community to change their peers' attitudes—a more traditional version of today's "influencers."
Creative solutions allow training to continue during the pandemic
The Covid-19 pandemic forced Njeru and his colleagues to tap more deeply into their creativity. Unable to visit the farms in person, trainers used virtual learning platforms to simulate a face-to-face environment and foster as much interaction as possible. In Ghana, where cocoa farmers are located in remote areas, online training was not an option, so recordings were made and then broadcast over the radio and public address systems. One audio clip explained how to prevent outbreaks of black pod disease, which strikes cocoa plants during the rainy season.
Although these workarounds were useful, Njeru is glad to get back out into the field again, meeting with farmers and making those personal connections. "To be a good trainer, even a gesture—the way you position yourself and move your body parts—also helps a lot in the learning process." Despite his current managerial role, he still insists on leading training sessions whenever he can. "It helps you understand the changes that are happening over time," he says. "And when you put a smile to a farmer, that's the most rewarding bit of my job."
Follow the frog for more inspiring stories from our global alliance
Explore