SAT4Farming, an initiative to reach thousands of small-scale cocoa producers with information and services to improve their productivity and sustainability, was announced today. It is designed to use digital technology and satellite imagery to create individual Farm Development Plans (FDPs) that guide farmers over a seven-year period.
The digital FDPs provide a planning and monitoring tool, available over mobile devices. Advice on farm practices and investments, climate-adaptation, certification training, and ongoing monitoring provide farmers, including women and youth, and field agents with unprecedented data-based guidance to a more sustainable future.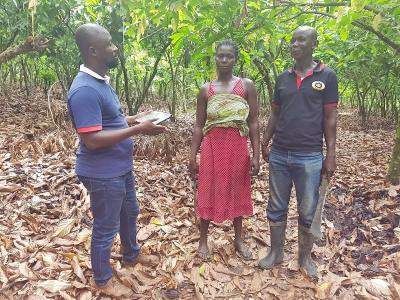 Smallholder farmers produce the vast majority of the world's cocoa, the basic ingredient for chocolate. Cocoa farmers face declining yields, mounting threats from pests and disease, and persistent poverty. In addition, farmers rarely get the timely training and advice they need to change their circumstances. In Ghana, 800,000 smallholder farmers make the country the world's second largest cocoa producer.
SAT4Farming partners include the global nonprofits the Rainforest Alliance and Grameen Foundation; global cocoa trader Touton; the University of Ghana's Department of Agricultural Economics and Agribusiness; the Netherlands-based Satelligence and WaterWatch Projects.
With the launch, Touton has begun deploying the SAT4Farming digital FDP among its network of farmers and suppliers for Mars, Inc., one of the world's largest chocolate makers. Meanwhile, Mars suppliers across a number of countries are adopting similar approaches to support a more sustainable cocoa sector by improving smallholders' livelihoods and protecting the environment. COCOBOD fully supports the program's implementation in Ghana.
SAT4Farming builds on a pilot in Indonesia where Mars, the Rainforest Alliance and Grameen Foundation partnered to create the digital FDP. It is based on a specialized agronomic model for cocoa that includes digital certification performance information. In Ghana, the integration of satellite imagery is expected to streamline the process of creating an FDP, facilitate monitoring, and provide greater insights into dynamic environmental conditions.
Initial funding comes from the Geodata for Agriculture and Water (G4AW) program of the Netherlands Space Office (NSO). The program plans to launch a social enterprise that will make SAT4Farming services widely available and ensure the economic sustainability of the work.
More information on SAT4Farming partners:
Grameen Foundation is a global nonprofit whose mission is to enable the poor, especially women, to end poverty and hunger. It uses digital technology and local partner networks to create breakthrough solutions – spanning financial, agricultural and health services – that bring people the tools and opportunities they need to help themselves.
Mars is a family-owned business with more than a century of history making diverse products and offering services for people and the pets people love. With almost $35 billion in sales, the company is a global business that produces some of the world's best-loved brands: M&M's®, SNICKERS®, TWIX®, MILKY WAY®, DOVE®, PEDIGREE®, ROYAL CANIN®, WHISKAS®, EXTRA®, ORBIT®, 5TM, SKITTLES®, UNCLE BEN'S®, MASTERFOODS®, MARS DRINKS and COCOAVIA®. Mars also provides veterinary health services that include BANFIELD® Pet Hospitals, Blue Pearl®, VCA® and Pet PartnersTM. Headquartered in McLean, VA, Mars operates in more than 80 countries. The Mars Five Principles – Quality, Responsibility, Mutuality, Efficiency and Freedom – inspire its more than 100,000 Associates to create value for all its partners and deliver growth they are proud of every day.
Satelligence
Satelligence is a social enterprise making earth observation more beneficial to society and the environment. The team delivers actionable information to manage performance and risks to natural capital. This includes weekly updated information on (smallholder) plantation distribution, crop growth, performance, and supply chain risks such as deforestation, flooding and drought impact at high detail over large areas in tropical regions.
The Rainforest Alliance is an international non-profit organization and certification program. In January 2018 it merged with UTZ, a global program and label for sustainable farming, to have a greater impact. Together, we are working to build a future in which nature is protected and biodiversity flourishes, where farmers, workers, and communities prosper, and where sustainable land use and responsible business practices are the norm. We envision a world where people and nature thrive in harmony. Our head offices are in Amsterdam and New York, with regional offices around the world.
Touton
Touton is a leading agro-industrial actor. Our know-how builds on 170 years' experience of providing our customers with high quality commodities and services. In addition to delivering responsibly-sourced cocoa, coffee, vanilla and natural ingredients, we are now increasing our engagement in commodity- producing countries through processing operations in cocoa. With subsidiaries in originating regions, and agents in key locations, Touton's strength lies in the skills of its workers, the cultural diversity of its teams, and a deep understanding of the countries in which the company operates.
University of Ghana
The University of Ghana is the leading and largest university in Ghana. It was founded as the University College of the Gold Coast in 1948 for the purpose of providing and promoting university education, learning and research. Specificity the Department of Agricultural Economics and Agribusiness is acting as a centre of excellence in research and training in the areas of agricultural economics, agricultural administration and agribusiness.
Waterwatch
WaterWatch Projects is a part of WaterWatch Cooperative, a Dutch private organization founded by the WaterWatch Foundation in 2011. The mission of the WaterWatch Cooperative is to provide all stakeholders in food production with geo-based information technologies to achieve sustainable increase of land and water productivity. Thus contributing to improved global food security. This is done by further developing the Global Vegetation Database 3.0 which offers data to all stakeholders in food production, water management and environmental management and protection.
Support Our Work
Create a world where people and the planet prosper together.
DONATE TODAY