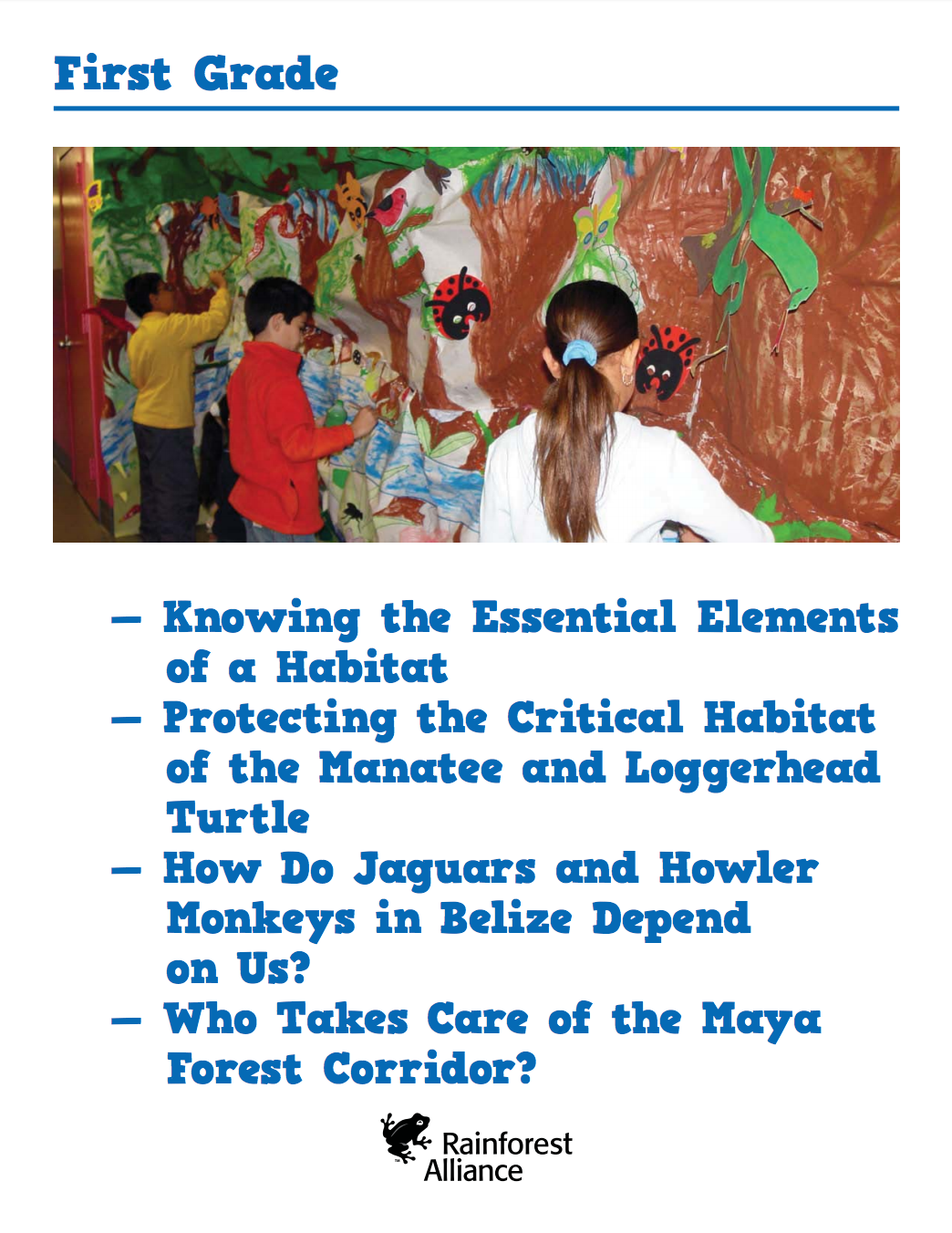 Curricula
First Grade Curriculum: Belize
Learn about the mystical forests of the Maya and the second largest barrier reef in the world! Toledo Institute for Development and the Environment (TIDE) is working with communities in southern Belize to protect a huge swath of the Selva Maya (or Maya forest) and the coastal ecosystems downstream. Students will learn about the jaguars, manatees, howler monkeys and loggerhead turtles that call this amazing place home.
Lessons
Lesson 1: Knowing the Essential Elements of a Habitat
Key Concept: Children will become acquainted with the landscape characteristics of their play space, their neighborhood and their classroom in order to better relate to the Belize landscape.
Essential Question: What sounds does your neighborhood make?
Lesson 2: Protecting the Critical Habitat of the Manatee and the Loggerhead Turtle
Key Concept: Regardless of the natural surroundings or the day-to-day conditions in any given place, plants and animals rely on their environment to provide them with the raw materials they need for life and the conditions to live safely and without stress. To protect manatees and loggerheads, we need to protect their homes.
Essential Question: What do manatees and loggerhead turtles have in common with you and your neighborhood?
Lesson 3: How Do the Jaguar and Howler Monkeys in Belize Depend on Us?
Key Concept: Forests that line the rivers along a watershed play an important role in keeping waterways healthy, safe and comfortable for animals and people.
Essential Question: How does the weather (particularly the amount of rain) link the jaguar and howler monkey with the manatee and the loggerhead turtle?
Lesson 4: Who Takes Care of the Maya Forest Corridor?
Key Concept: The work of conservationists is tireless. It demands a knowledge of the ecological dynamics and the relationship that humans have in each region. A ranger is responsible for balancing human use with the health of the environment.
Essential Question: Making sure animals and people are safe in their habitats is a big job. Who makes sure we are safe, healthy and comfortable?
About Our Curricula
The Rainforest Alliance curricula are unique in that it teaches language arts, math, science, social studies and the arts while addressing the Common Core State Standards (CCSS) for English language arts and mathematics, and the Next Generation Science Standards.
View this Curricula: