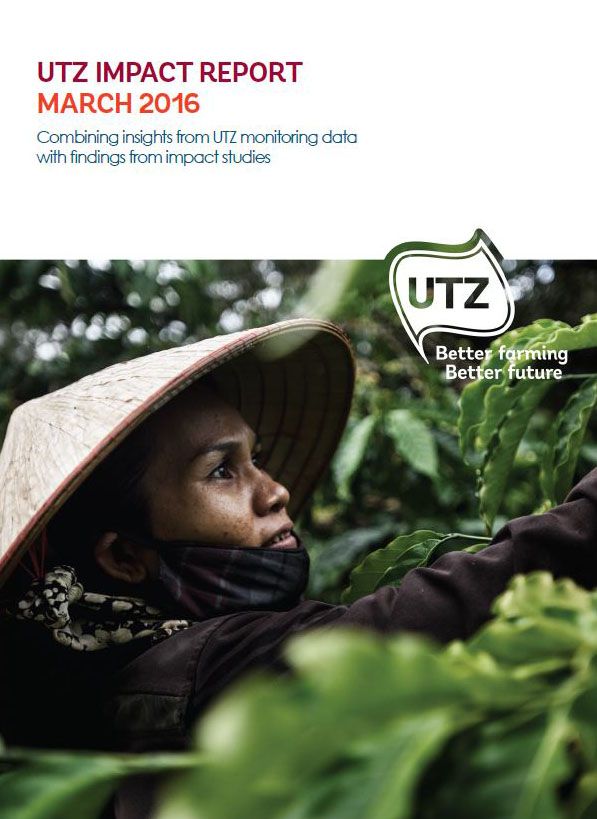 Impact Study
UTZ Impact Report March 2016
The 2016 impact report examines the performance and impact of UTZ. We have combined insights from our
monitoring data with findings from new impact evaluation reports (2014-2015).
The report demonstrates that UTZ, in collaboration with its partners, has achieved positive improvements and found a good balance between a strict code and market uptake. The reach of the UTZ program in coffee, cocoa and tea has significantly grown. The number of UTZ certificate holders,
farmers, and workers on the farm, as well as the arable land under UTZ certification have all increased in the last five years. In addition, we have seen an enormous increase in market uptake, resulting in continuously growing UTZ cocoa, coffee and tea sales. This increase in reach combined with a strong market uptake indicates that UTZ is attractive to farmers and industry.
The impact studies indicate that the UTZ code is meaningful as it is associated with economic, social and environmental benefits. Most impact studies find a positive relationship between interventions and (short-term) outcomes, consistent with our theory of change. For example, training leads to increased adoption of good agricultural practices, which in turn leads to increased productivity.
View this Impact Study:
Topics: