The Rainforest Alliance hosted its sixteenth annual Sustainable Coffee Breakfast at the Specialty Coffee Association Global Expo in Seattle on April 20, 2018.
For 31 years, the Rainforest Alliance has been a global leader in the conservation of forests and natural resources while helping to advance sustainable livelihoods. An important focus of our work is in the specialty coffee sector, making the connection between sustainable agriculture practices and high-quality beans—an impact represented by the well-known "green frog seal" found on Rainforest Alliance Certified™ products. To celebrate our three decades of work with coffee producers, roasters, importers, companies, and coffee-oriented NGOs, The Rainforest Alliance hosted its sixteenth annual Sustainable Coffee Breakfast at the Specialty Coffee Association Global Expo in Seattle on April 20, 2018.
At the breakfast, the Rainforest Alliance honored Juan Jiménez Montenegro, a coffee producer from Finca Santa Rosa in Las Piras, Cajamarca, Peru, with the Change Agent Award. The Rainforest Alliance Change Agent Award recognizes an individual or company within the coffee community that demonstrates superior commitment to sustainability through adopting best practices and promoting sustainable certification.
Mr. Montenegro took ownership of the degraded Finca Santa Rosa in 1995, and has worked tirelessly since then to improve and restore the farm. In 2010, Mr. Montenegro achieved Rainforest Alliance certification, and has planted roya-resistant coffee varietals, alternative crops, and many tree varieties. Through technical assistance provided by the Rainforest Alliance, Finca Santa Rosa is now a model agroforestry farm that produces coffee, mango, avocado, ornamental plants, citrus, bananas, and cacao. His work to diversify the crops on his farm and improve tree cover reduces soil erosion, boosts soil fertility, and helps make his farm more climate resilient.
In addition to the Change Agent Award, the Rainforest Alliance highlighted its recent merger with UTZ, another leading sustainable agriculture NGO, with a keynote speech from Han de Groot, CEO of the "new" Rainforest Alliance. As the former president of UTZ, Han led UTZ to become the world's largest certification program for coffee and cocoa and now leads the merged Rainforest Alliance. During the breakfast, Han shared insights on the merger and talk more about the path forward for the organization.
As part of these insights, the Rainforest Alliance shared new Rainforest Alliance certified coffee data, as reported in our just-released 2018 Impacts Report. Selected coffee data are included below. The report also highlights the efficacy of Rainforest Alliance certification on key indicators, such as protecting and improving the livelihoods of farmers and farmworkers; conserving natural ecosystems, and minimizing pesticide use and risk.
The breakfast was sponsored by Balzac Brothers, Café de Colombia, Dunkin Brands, InterAmerican Coffee, Intercontinental Coffee Trading, La Minita Coffee, N.J. Douek/Uniglobe Coffee, Olam Specialty Coffee, Reunion Island Coffee, S&D Coffee and Tea, and Sustainable Harvest.
2017 Key Coffee Data
Total 2017 Rainforest Alliance certified coffee production was 557,911 metric tonnes, which represents 9.4% growth compared to 2016
Total 2017 sales of Rainforest Alliance certified coffee were 229,564 metric tonnes, which represents a 5.4% growth compared to 2016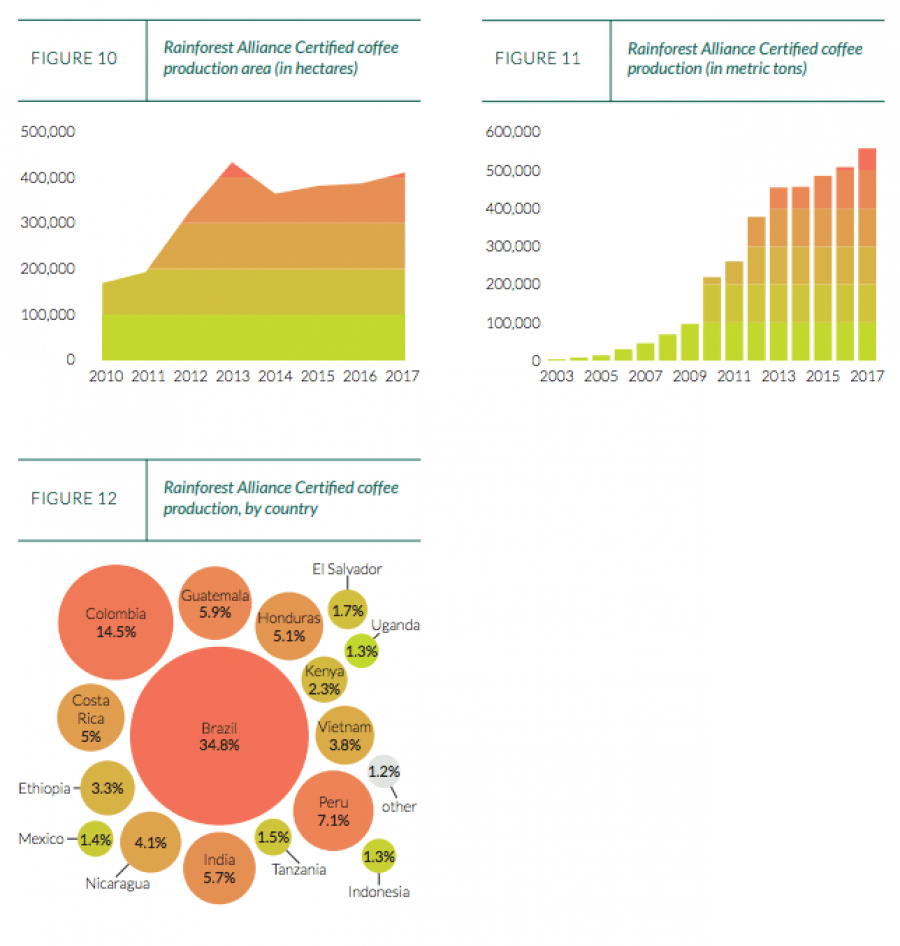 Support Our Work
Create a world where people and the planet prosper together.
DONATE TODAY