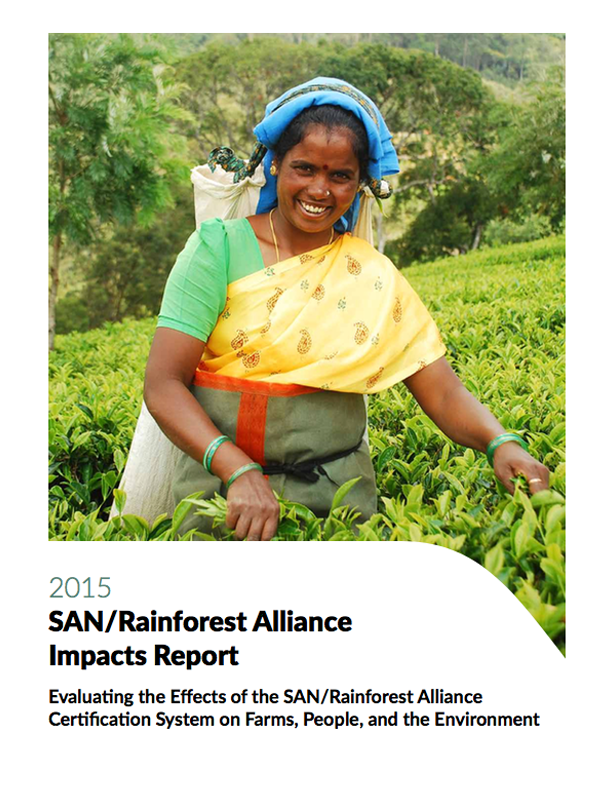 Impact Study
SAN/Rainforest Alliance Impacts Report 2015
In this first-ever SAN/Rainforest Alliance Impacts Report, we summarize the effects of SAN/Rainforest Alliance farmer training and certification through an exhaustive review of nearly two dozen scientific studies and the audit data from over 200 certified farms and farmer groups.
After presenting a global snapshot of the scope and geographic distribution of certified farms, the report focuses on results related to our most widespread certified crops (coffee, cocoa, tea and bananas), followed by in-depth analyses of results related to livelihoods, water, biodiversity and climate change. Along the way, we feature a close-up look at some of the individual farmers, SAN members and local partners who implement the SAN/Rainforest Alliance certification system on the ground. The results described in the Impacts Report underscore the ability of sustainability standards and certification to help farmers simultaneously increase productivity, improve livelihoods, and conserve nature. The report also identifies some areas of weaker performance, which Rainforest Alliance and SAN members will work to address through enhanced farmer training and revisions to the SAN Standard.
View the full report:
To view the Executive Summary, click here.
Choose a language & version to view this Impact Study: