The Rainforest Alliance is working with smallholder cocoa farmers dealing with droughts, floods, and soaring temperatures.
Climate change threatens many of our favorite foods, but perhaps none quite as beloved as chocolate. Periodic threats of a global cocoa shortage never fail to elicit widespread consumer panic among chocoholics. But for the millions of small-scale farmers in the tropics who depend on cocoa crops to support their families, the impacts of our warming climate threaten their livelihoods and their very way of life.
Since the vast majority of the world's cocoa is produced by smallholders (farmers who have less than five acres/two hectares), our farmer training programs emphasize methods to build resilience to droughts, floods, higher temperatures, and changing growing seasons. Here, Martin Noponen, the Rainforest Alliance's director of climate, explains climate-smart agriculture (CSA) and how it helps cocoa farmers in vulnerable regions—including the key cocoa-producing regions of West Africa and Indonesia.
Sign up for useful tips to green your life and protect our planet.
How has climate change affected cocoa production and the lives of smallholders?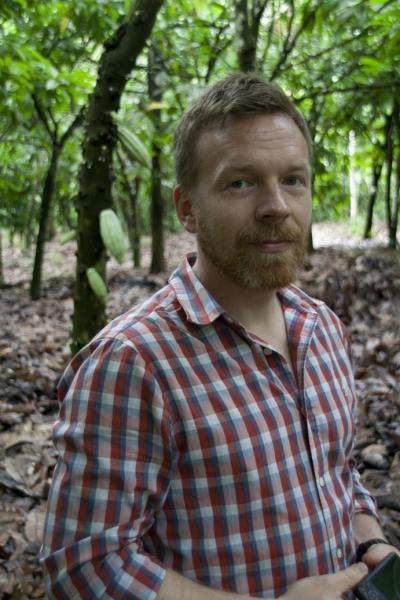 Martin Noponen: Climate change, combined with unsustainable farming techniques, have caused a crisis in cocoa production—in fact, some regions have already been rendered totally unsuitable for growing cocoa. Longer dry seasons and less rainfall, as well as new pests and diseases can reduce yields and quality, which translates into reduced income for farmers and their families. But by using climate-smart agriculture (CSA) methods, farmers can build more resilient livelihoods and farming systems and help secure the future of chocolate. The Rainforest Alliance is working with farmers in Indonesia and West Africa, the world's key-producing areas, to do just that.
The Rainforest Alliance has long been committed to sustainable agriculture. What do you mean by climate-smart agriculture, and how is it different?
Climate-smart agriculture is not a defined set of practices or an entirely new type of agriculture. Rather it is an approach that combines different sustainable agriculture methods under a climate-change umbrella. It assesses the climate change-related risks and needs of a specific farm or farming community, then tackles those challenges using practices chosen to address that particular situation. It gives farmers tools and a pathway to make their operations and livelihoods more productive and resilient to short-term climate variability and medium- and long-term climate impacts, while also helping to curb the greenhouse gas (GHG) emissions, which contribute to climate change.
What are some examples of climate-smart practices?
The practices a farmer takes to adapt to climate change and improve resilience to it depend on the local circumstances and identified threats. In Indonesia, for example, cocoa farmers increasingly face prolonged dry seasons and extreme weather events, so the Rainforest Alliance is working with them to implement a collection of climate-smart agricultural practices tailored to address those problems: planting cover crops and producing and applying compost (this helps improve soil characteristics such as nutrient content, soil structure and moisture content and reduces the need for costly synthetic fertilizers that contribute high levels of GHGs); planting locally appropriate shade trees to help minimize heat stress and potential damage, such as soil erosion, from heavy rainfall; and using natural pest and disease control.
Other common climate-smart practices that we share with the farmers are: diversifying income streams by planting other crops alongside cocoa, or even raising animals or cultivating honey, as a means of spreading climate risk; as well as implementing water-saving measures and constructing water-retention systems to make water available in times of drought.
Importantly, all of these activities must also improve farm productivity, so that farmers can make a living to support themselves and their families.
What do farmers in the field tell you about their climate-related challenges, and how have Rainforest Alliance trainings helped them adapt their practices?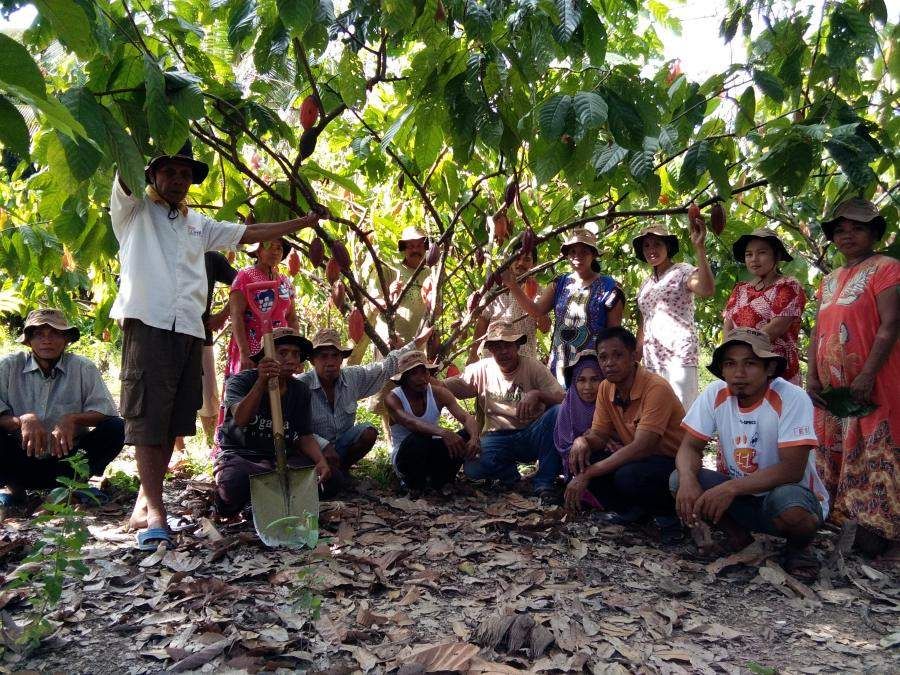 Farmers are now battling unprecedented climatic challenges at a level they have never been experienced before. For example, Syamsuddin, a cocoa farmer on the island of Sulawesi, Indonesia, began noticing that rainy seasons were growing shorter and dry spells longer—and that his crops were suffering as a result. At first he assumed that weather patterns would eventually return to normal. But as one of 8,000 Sulawesian smallholder cocoa farmers who participated in a climate-smart program of the Rainforest Alliance and Olam Indonesia, Syamsuddin (who, like many Indonesians, goes by only one name) soon came to understand the new realities of a changing climate, and the urgent need to adapt his farming practices.
At the Rainforest Alliance's training events, Syamsuddin and the other farmers learned that the synthetic fertilizers they commonly use contribute to greenhouse gas emissions, potentially worsening the weather problems currently challenging their crops. Syamsuddin now collects his organic farm waste and composts, reducing the need for synthetic fertilizers. He has also begun using mahogany leaves and other medicinal forest plants to naturally combat pests and diseases. He plants leguminous cover crops to help improve soil nutrient content and soil structure, and digs trenches to control excessive rainwater and reduce soil erosion.
Syamsuddin has not only changed the way he farms, but has also begun to share his new knowledge with fellow farmers. His advice to them is, "Be patient, keep learning." He adds, "If farmers tire of dealing with these (climate-related) problems and give up, there won't be any chocolate in the future."
2022 Was One Of The Hottest Years On Record. Will 2023 Be Worse?
DONATE