I have been working in agriculture my whole professional life. I graduated from the Higher School of Agronomy of the Polytechnic Institute of Yamoussoukro in Côte d'Ivoire as a forestry engineer and hold a Master's degree in project management from the Senghor University of Alexandria in Egypt. In 2013, I began working with UTZ, which merged with the Rainforest Alliance in 2018.
Cocoa is at the heart of many economies in West Africa, especially in Côte d'Ivoire and Ghana. I head up the Rainforest Alliance team in the region, where nearly 70 percent of the world's cocoa is produced by more than two million farmers. Of these cocoa farmers, around 1 million participate in the Rainforest Alliance or UTZ certification programs.
I am passionate about cocoa and sustainability in West Africa. My day to day work involves working directly with farmer groups, trainers, government officials, and companies in the region. But the part I like most about my work is when I visit the field to meet and interact with farmers and learn from their experiences, challenges, and perspectives. The main challenges we face today are low prices and very low farmer income, which contributes to other challenges, like deforestation and child labor.
Improving farmer incomes
The most urgent problem cocoa farmers face is the extremely low price they are paid for their crop. It is estimated that cocoa farmers receive between just three to six percent of the retail price of a chocolate bar. The simple fact is that cocoa farmers in West Africa bear a heavy disadvantage in the market, with few opportunities to negotiate a better price for their products. As a result, they carry a disproportionate risk in the supply chain. Although many farmers receive no market reward for implementing more sustainable methods, they are impacted most quickly and dramatically when the market price drops.
Cocoa farmers in West Africa are also on the front lines of the climate crisis, which leaves them vulnerable to drought, pests, and diseases that can decimate a harvest. Such climate-related losses are devastating to small-scale cocoa farmers whose farms are, on average, only about 3 hectares (7.4 acres). Even in good years, smallholder farmers may struggle to make ends meet, given how little they are paid per kilo for their crop.
Certification can help farmers address some of these challenges—for instance by introducing climate-smart agriculture methods, including planting drought-resistant trees, diversification of crops with new varieties, and good soil management. Our training programs also include techniques like composting, manual weeding, and pruning, which help farmers improve farm productivity by increasing yields while minimizing costs.
Finally, we encourage farmers to strengthen their position by diversifying their incomes. I have seen firsthand how farmers can protect themselves from price shocks, crop failures, and low prices by developing other income sources.
There is a lot of work to be done by everyone in the cocoa industry to develop ways to increase the price received by farmers. For many of us who work in the sector, making sure everyone across the cocoa supply chain shares responsibility for this is an urgent priority—but it's far from simple. Simply raising the price of cocoa would lead more farmers to grow it, thereby increasing supply and driving prices down. We need a plan, not just a price hike. This is why we are working on long-term, systemic solutions that link producers, supply chains, and governments to support sustainability transformation in West Africa's cocoa sector.
Fighting deforestation
Deforestation is also a major problem in West Africa's cocoa sector. Many farmers facing extreme poverty have been moving into protected forest in search of more fertile land, hoping to increase their revenues. A historical lack of enforcement around protected areas, coupled with the absence of a market reward for protecting the environment, have created conditions for this kind of encroachment.
I am encouraged by the potential for technology to reduce deforestation rates. In the past, many auditors have relied on manual checks of farms, with no clear information available on which areas were previously forest. GPS mapping of farm locations, combined with satellite imagery of farm-forest border areas, represents a groundbreaking development for certification auditing.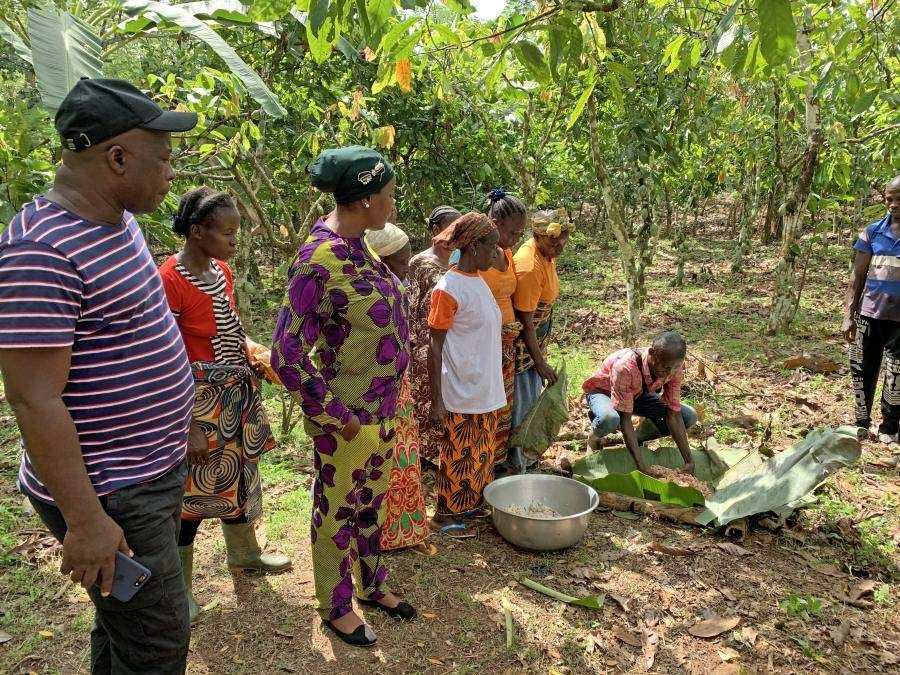 We have already introduced the use of geodata into our certification system; for Rainforest Alliance Certified cocoa farms, we now require 100 percent of farms to be GPS mapped, and for UTZ farms in Ghana and Côte d'Ivoire, we required 50 percent in 2019 and will move to 100 percent in 2020 as part of our Cocoa Assurance Plan.
Yet no matter how good the technology, we can't tackle deforestation alone. Collaboration is essential to improve the lives of cocoa farmers. This is why we engage with government, companies, local and international civil society groups, and cocoa farming communities as much as possible. We support the Cocoa & Forests Initiative (CFI), which includes the governments of Côte d'Ivoire and Ghana in a broad effort to end deforestation and restore forests.
Our relationship with the Conseil du Café-Cacao (Coffee-Cocoa Advisory) in Côte d'Ivoire is also important. In 2018, we trained more than 100 staff of the Conseil and worked together to develop local guidance for the implementation of UTZ standard that will also contribute to deforestation monitoring and other sustainable practices.
The Cocoa Accountability Map, recently announced by the international NGO Mighty Earth, is another important tool developed to provide the data necessary to assess the breadth and depth of the issue. Other similar initiatives include the IMAGE tool and Global Forest Watch, which have been tracing deforestation in near-real time since 2017 and 2000, respectively. The Cocoa Accountability Map is based on data from these initiatives.
Addressing Child Labor
Child labor is an entrenched problem in the cocoa sector. Through our longstanding efforts to address the issue on the ground, we have learned that a simple prohibition of child labor on certified farms is not effective. Child labor is a complex issue, so solutions must address the conditions that fuel it, including extreme poverty, lack of schooling opportunities in rural areas, and safety on farms.
As we move towards our 2020 certification program, we are adopting an "assess and address" approach to tackling child labor. Child labor on certified farms is not permitted, and farmers and farm groups receive training and are required to establish systems to assess, mitigate, and monitor risk. This approach includes identifying incidents of child labor on farms and taking immediate action if it is found. Our auditors will evaluate the system that farms/farmer groups establish, as well as look for any cases of child labor.
It is important that farmers work in a group to tackle the issue. If you stop children working at one farm, they will just go to the farm next door. A well-organized farm group can lead change throughout their whole community by raising awareness of the issue, spotting any cases that do occur, and working together to get the child back into school.
As someone who knows farmers well, it's important for me to clarify that child labor is not to be confused with children helping out on farms by doing age-appropriate tasks and being integrated into farmer groups. Cocoa farmers are an aging population, and that threatens the supply of cocoa in the future. Teaching children the practice of cocoa farming helps ensure the next generation is ready and willing to take over from their parents. This is good for farming communities if it does not interfere with schooling or include work that is dangerous for the children.
Working together
We have a responsibility to work together to scale up efforts to make positive changes in the livelihoods of cocoa farmers. The issues they face are complicated and interlinked, so they will require all of us coming together as an alliance.
Certification can continue to play an important role, as long as it is innovative and adaptable to the changing conditions on the ground. We are taking this approach in the next evolution of our certification program. The Rainforest Alliance's 2020 Certification Program, currently in development, is the first step in the journey of reimagining our certification approach—including new tools, rules, and procedures. This means among other things, strengthening our assurance systems and utilizing new technology to drive improvements at the farm level.
Organizations like ours can also contribute to positive change through other interventions, such as helping to establish more responsible supply chains, working with activists and campaign organizations, and engaging the big market players around shared responsibility.
Sector-wide efforts and commitments are urgently needed to improve the livelihoods of farmers, support -farming communities, and protect the environment. Our efforts should build upon past and existing initiatives, rather than reinventing the wheel. We at the Rainforest Alliance firmly believe in the "alliance" model when it comes to solving the serious problems in cocoa farming. Everyone can and must do their part.
Support Our Work
Create a world where people and the planet prosper together.
DONATE TODAY