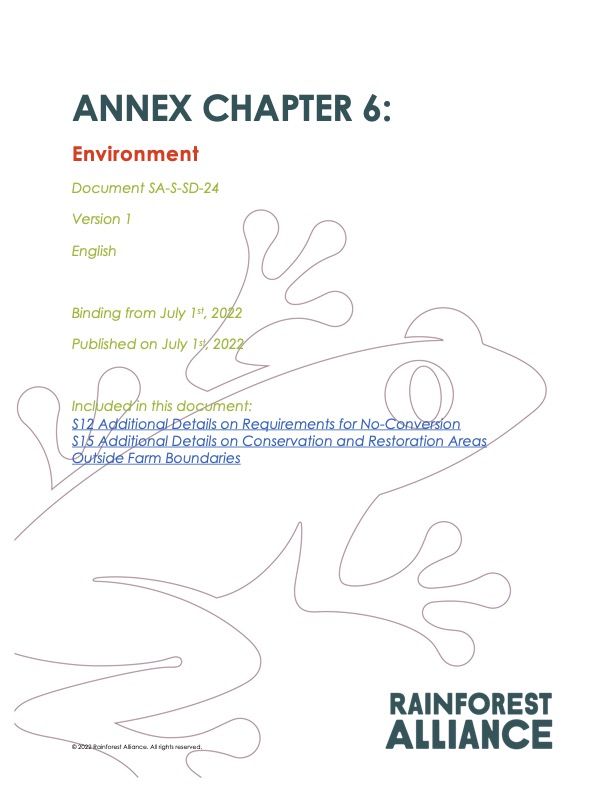 Annex
Annex Chapter 6: Environment (Previous Annexes S12 and S15)
SA-S-SD-24
This annex includes additional binding content related to the implementation of the Requirements in Chapter 6 of the Sustainable Agriculture Standard: Environment.
This document includes:
Additional Details on Requirements for No-Conversion (Previous Annex S12)
(Related to requirement 6.1.1)
Additional Details on Conservation and Restoration Areas Outside Farm Boundaries (Previous Annex S15)
(Related to requirements 6.2.3 and 6.2.4)
In Version 1.3, published February 6th, 2023, the following changes were made:
SECTION
SUBJECT
WHAT CHANGED?
1
Identification of Conversion
Text corrected and clarified
3
Planned Minor Conversion for Infrastructure
Added: Clause 3.iv
Prior to converting, farm or group management must obtain approval from the Rainforest Alliance. To receive approval, management submits a plan to farmcert@ra.org including the reasons, plan and polygons of the area to be converted.
Complete changes overview of the February 6th release:
What's New in version 1.3 of the Sustainable Agriculture Standard?
Choose a language & version to view this Annex: