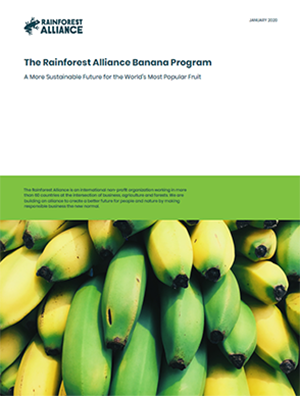 White Paper
The Rainforest Alliance Banana Program
The Rainforest Alliance has made a significant contribution to a more sustainable banana sector in the last 30 years. This paper describes the Rainforest Alliance banana program and its positive impacts. It also touches on the sustainability issues that the organization needs to continue to address and how it envisions doing this.
Bananas are at the heart of the Rainforest Alliance story. When, in 1989, the Rainforest Alliance began with a three-person office in Costa Rica, we had a front row seat to the vast deforestation that was happening in Central America—due largely to the banana industry.
Historically banana farms in Latin America were at the core of agricultural expansion, driving economic growth and creating thousands of new jobs. But there was little concern for how such growth would impact the local landscape or worker and community health.
View this White Paper: