From the foothills of the Andes to the highlands of Cameroon, the Rainforest Alliance helps to protect some of the world's most important—and threatened—landscapes. The secret to our success? Ensuring that our programs amplify the voices of those who call these extraordinary places home.
Pristine forests slashed and burned; rivers and lakes choked with chemicals; wetlands converted to farmland. Human activities are taking a heavy toll on our natural world—with alarming consequences for climate stability and the spread of wildlife-borne diseases. But it really doesn't have to be that way.
Healthy forests and vibrant communities are an essential part of the global climate solution. Sign up to learn more about our growing alliance.
Indigenous peoples, for example, care for almost a quarter of the world's lands and achieve truly astounding conservation results while managing natural resources according to their needs. Similarly, the Rainforest Alliance has long worked to promote ecosystem health in ways that advance the rights and prosperity of farming and forest communities—and vice versa. Through our trainings and certification program, we help more than two million farmers embrace more sustainable growing practices (like planting shade trees) that can help build resilience to climate change and boost yields, while nourishing the land. But our ambitions don't stop there.
A collaborative approach to landscape management
If the Earth's ecosystems are to go on providing essential food, water, carbon storage—as well as opportunities for secure and dignified rural livelihoods—then we must take collective action on a scale never seen before. That's why the Rainforest Alliance is championing the 1000 Landscapes for 1 Billion People, an ambitious global coalition to promote thriving landscapes and rural communities.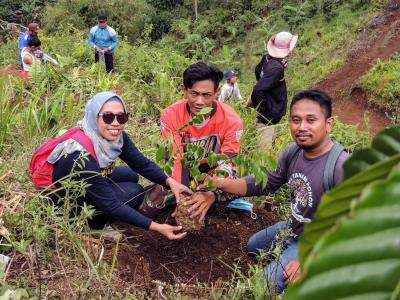 This commitment builds on our mission to drive change beyond individual farms or forests and across whole landscapes, spanning tens of thousands to millions of hectares. The approach we use, known as Integrated Landscape Management, can be defined in many ways, but ultimately it is all about community participation. We help rural communities build dynamic landscape partnerships that bring all land users together—farmers, forest enterprises, local leaders, companies, and governments—to tackle complex and often interconnected challenges, ranging from climate change and ecosystem restoration to human rights. Challenges that are simply too big to be taken on alone.
Community participation is the key here. Farmers and rural communities, especially women and youth, are routinely marginalized from decision-making processes that directly affect their lives. An integrated landscape approach can help address this imbalance by amplifying marginalized voices and strengthening local groups, such as cooperatives and small farmers' associations.
Mobilizing our alliance for landscapes and communities
With staff in more than 30 countries—and partners ranging from farmers and forest communities to companies, governments, and civil society organizations—the Rainforest Alliance has the global reach and expertise to build strong and long-lasting partnerships in many of our most critically important landscapes.
Here are four inspiring examples of our alliance in action:
Stopping deforestation in Guatemala's Maya Biosphere Reserve
In Guatemala, our partner communities in the Maya Biosphere Reserve—the largest tropical forest north of the Amazon—have maintained a near-zero deforestation rate for almost 20 years. This is a spectacular achievement given that neighboring areas suffer some of the highest deforestation rates in the Americas. The secret: an integrated landscape management approach known as community forestry.
Nine communities have each been granted 25-year management rights over neighboring forestry concessions, spanning some 353,000 hectares. In short, they are allowed to make a living from timber and other valuable forest products, such as ramón nuts and palm fronds—so long as they do so in harmony with nature. Only one tree is extracted per hectare every forty years—and during the extraction process, tree seeds are collected from the forest floor to help regenerate areas ravaged by deforestation outside the concessions. The communities also patrol for fires and reinvest their profits in fire alert systems and local fire brigades. The results speak for themselves: less than two percent of the forest fires that happen in the reserve happen in the concessions. All told, the concessions support more than 100 locally-owned businesses, generating more than 12,000 jobs and millions in annual revenues.
Building climate resilience through reforestation in Ghana
Ghana is losing its rainforest faster than any other country in the world. The main driver is agricultural expansion for cocoa—a vital cash crop that supports the livelihoods of some 800,000 small-scale farmers. But after taking part in Rainforest Alliance trainings, cocoa farmers in Juabosa-Bia were inspired to regenerate their landscape. Together with our Ghana team, members of 36 farming communities—spanning 29,000 hectares—joined forces with government officials, cocoa traders, and chocolate manufacturers to form a community-led Landscape Management Board (LMB).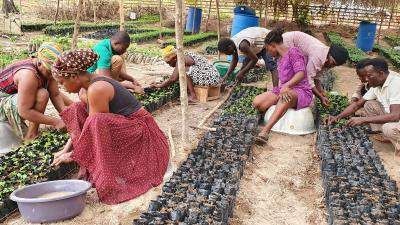 Over the past ten years, the LMB has spearheaded local reforestation efforts—planting nearly 60,000 tree seedlings in formerly degraded areas. Its members have also cultivated thousands of young shade trees on local cocoa farms, nurturing thriving agroforestry systems that can help farmers grow their resilience to climate change impacts, such as excessive heat and unpredictable rainfall. The initiatives have been life-changing. Because of deforestation, water used to disappear from the rivers during the dry season, explains Elijah Owusu-Cashiekrom, chairman of the LMB's forest governance unit— but after planting trees on riverbanks, "the rivers flow all year, like they used to."
Advancing women's rights in the Western Highlands of Cameroon
Studies show that when rural women gain equal access to land rights, financing, and training, the knock-on benefits are extraordinary. "It's a simple equation" explains Nadège Nzoyem, our Central Africa director, "Strong women equal strong communities and strong landscapes". That's why the Rainforest Alliance is forging an exciting new landscape partnership with women producers in the Western Highlands of Cameroon.
Historically, the region's forests were cherished as sacred sites for traditional rituals. Protected through customary law, the forests thrived—supporting livelihoods and providing shelter to troops of mountain gorillas. But today, rampant deforestation threatens everything. Inspired by the success of the Juabosa-Bia Landscape Management Board in Ghana, our Cameroon team is helping to establish a similar partnership to oversee forest stewardship in the Western Highlands. One of the key objectives is to ensure equal leadership opportunities for women at all levels within the LMB. This in turn, will help open up new economic opportunities for other women in the community—from supporting women farmers to adopt more sustainable growing practices to inspiring women-led enterprises (producing forest products like honey, fruits, and spices) to grow their businesses responsibly.
Diversifying rural livelihoods in the Peruvian Amazon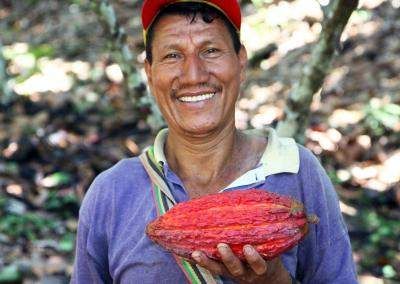 Nestled between the foothills of the Andes and the heart of the Peruvian Amazon, San Martín is a region of untold wonder. The Rainforest Alliance works with more than 7,000 local coffee and cocoa farmers to advance more sustainable growing methods that boost yields and the health of the land. We also work with six Indigenous communities to diversify local economies in ways that protect San Martín's forests. In Yurilamas, for example, we partner with the Kichwa people, who set aside an impressive 26,000 hectares of their lands for forest conservation. Another 7,000 hectares is used to grow not only cocoa, but also bananas, beans, peanuts, yucca, and more. Together, we're now working to build a market for responsibly harvested sangre de grado ("dragon's blood")—a form of natural latex extracted from trees of the same name used in many medicines.
The Rainforest Alliance is now scaling up this success to improve land management across the entire province of Lamas. Together with our community partners, we're bringing together local leaders, companies, and the Peruvian forest and wildlife authority (SERFOR) to develop a landscape action plan to tackle deforestation and attract private-sector investment in local enterprises that support healthy forests.
Where we work
Explore our interactive map to find our landscape and community projects around the world.
Forests Are Falling At An Alarming Rate.
Each minute, 85 acres are destroyed.
Donate