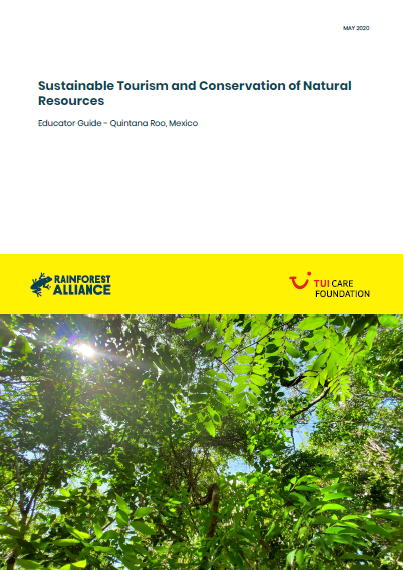 Curricula
Ecotourism Curriculum for High School
This free curriculum will help your students understand the role of sustainable tourism in supporting local communities and conserving natural resources, using the unique ecosystems of Quintana Roo, Mexico as an example.
Materials address the main components to understand sustainable tourism from a social, environmental, economic, and cultural perspective. Each unit includes topic-specific information, activities, case studies, and suggested readings. Activities have also been designed to create a hands-on learning experience for students ages 13-17.
Unit 1: Tourism and My Community
Objectives: In this unit, students will:
Learn about how their community has changed over the last 20 years, analyze real-world maps to discover how land use has changed over the last 20 years in Quintana Roo, and reflect on the future they want for their community.
Develop a baseline knowledge about sustainable tourism.
Understand the dynamics of the productive activities that trigger development and economic growth in their local environment.
Unit 2: Sustainability in Tourism
Objectives: In this unit, students will:
Define the concept of sustainable tourism, with a clear understanding of the concepts of sustainability and tourism, how they are interconnected, as well as the way in which they are present in the students' community.
Analyze challenges, opportunities, threats, and strengths that the students' communities face toward the development of sustainable tourism.
Explore the reality of sustainable tourism in Quintana Roo based on expert data sources to help students get an outlook of the tourism industry in the state and its transition towards a sustainability model.
Understand trends in sustainable tourism at an international level by analyzing what factors create a sustainable quality of life for visitors, local workers, and the communities impacted by tourism.
Unit 3: Sustainable Tourism and Cultural Conservation
Objectives: In this unit, students will:
Identify the key elements of sustainable, community-based tourism by analyzing the case of Síijil Noh Há to better understand the reserve's development model and to show students how this methodology could be applied to their communities.
Determine if community-based tourism is a feasible alternative and to discuss its importance for community development by examining the success story of the community of Señor in Felipe Carrillo Puerto, Quintana Roo.
Revive the cultural legacy of the elders living in the students' communities of origin by recovering folk tales and legends, creating a sense of identity, and belonging among younger generations.
Unit 4: Sustainable Tourism and Environmental Conservation
Objectives: In this unit, students will:
Understand the concept of ecosystem services.
Explore the main ecosystems in Quintana Roo, Mexico, understand the services they provide to the region, and the importance of appreciating those assets.
Understand the value of ecosystems to discuss the key role of tourism in their conservation through a case study.
Identify the interrelation between the ecosystems of Quintana Roo and their interdependence.
Unit 5: Social Dynamics behind Tourism
Objectives: In this unit, students will:
Explore the role of tourists and hosts in a community. Develop an understanding of identity and belonging in the student's culture, environment, and community.
Identify job opportunities resulting from tourism to ensure that they benefit the community at large.
Identify the social dynamics tourism creates in the students' communities by examining the current context.
Understand the social dynamics and issues surrounding tourism by analyzing case studies.
Additional resources for each unit
Unit 1
Unit 2
Unit 4
Unit 5
About Our Curricula
This guide was designed and piloted with teacher leaders in Quintana Roo, Mexico. The Spanish version of the guide is available here.
Choose a language & version to view this Curricula: