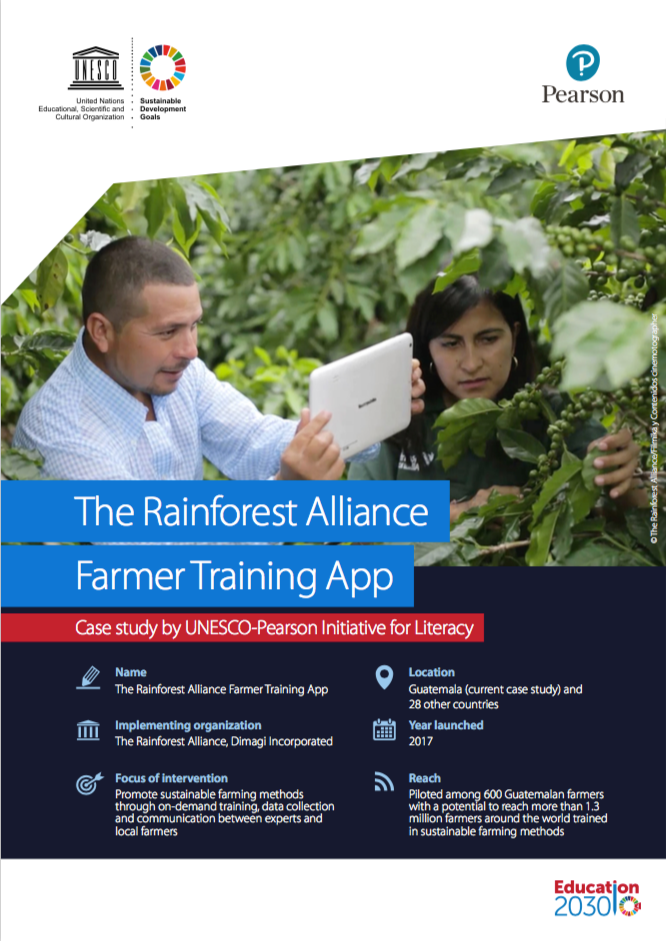 Case Study
The Rainforest Alliance Farmer Training App
The Rainforest Alliance Farmer Training App offers an interesting example of using digital technologies to increase farmer knowledge, connect farmers into peer-sharing networks and promote sustainable agricultural practices.
In 2014, the Rainforest Alliance piloted a digital platform among 600 smallholders in Guatemala as a proof of concept for using technology to improve communication and information exchange between farmers and along the supply chain while providing distance learning for improved sustainability and productivity standards. Designed for offline use among low-literate farmers, the Rainforest Alliance's Farmer Training App has the potential to deliver training content to over a million farmers with limited reading proficiency and technical training who work in remote areas around the world without reliable internet connectivity.
Key takeaways
The Rainforest Alliance Farmer Training App enhances the food supply chain network by improving communication and information exchange through a simple and intuitive digital platform.
It is designed as an offline resource, so farmers can access important content to help them better prepare for the impacts of climate change without the need for internet connectivity.
By updating the content features of the app to include the Rainforest Alliance's Sustainable Agricultural Standard, certified farmers can use the app to maintain and stay current on their accreditation.
About this case study
Through the UNESCO-Pearson Initiative for Literacy: Improved Livelihoods in a Digital World, this case study is part of a series highlighting how inclusive digital solutions can help people with low skills or low literacy levels use technology in ways that support skills development and, ultimately, improve livelihoods – in contribution to achieving the Sustainable Development Goal on education. For more information go to en.unesco.org/themes/literacy-all/pearson-initiative.
View this Case Study:
Topics: