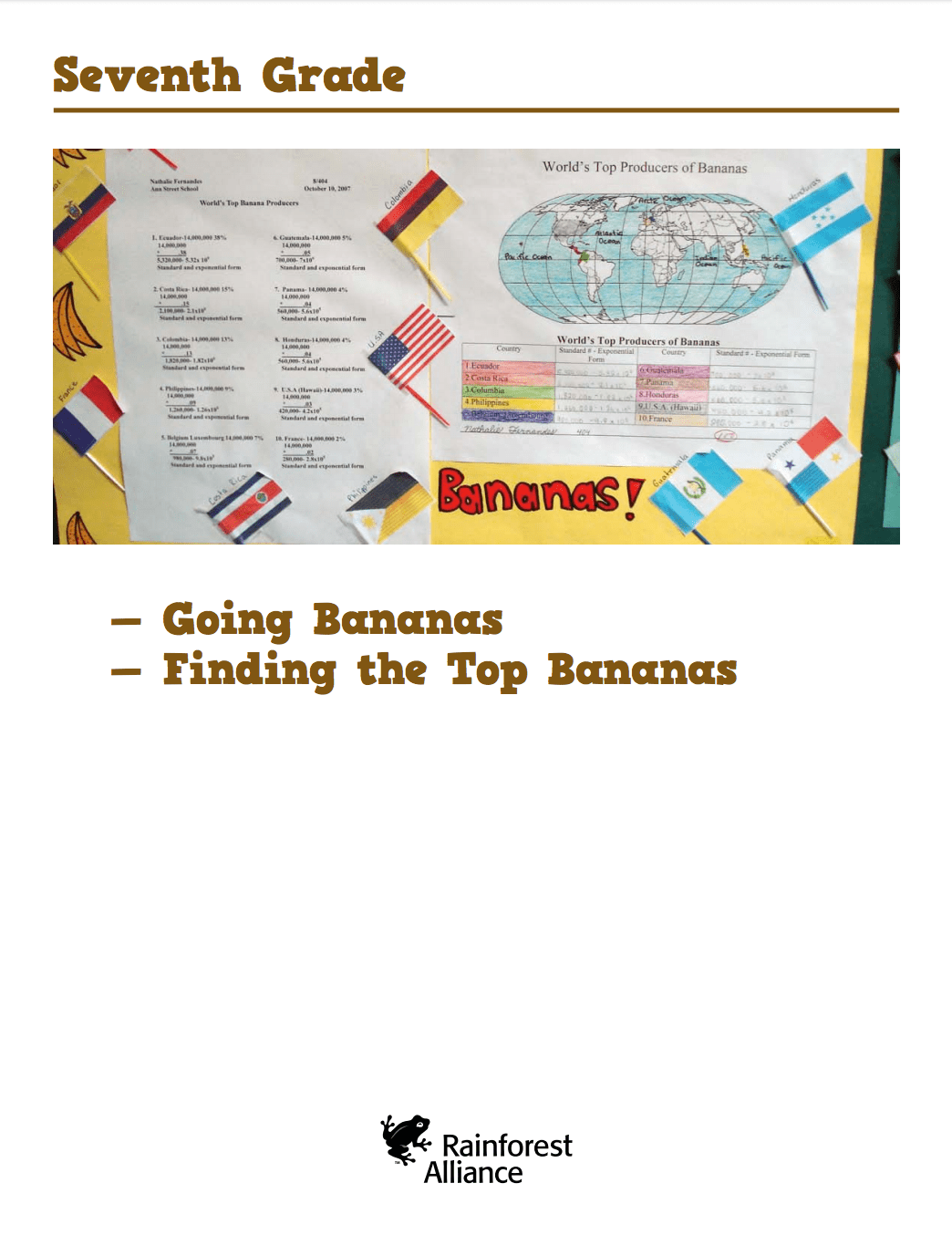 Curricula
Seventh Grade Curriculum: Honduras
Bananas, the world's most popular fruit, can only be grown commercially in the tropical regions of the world where rainforests also thrive. Many of these bananas are sustainably grown on banana farms certified by the Rainforest Alliance. Students will learn about the origin of the banana, how bananas are grown, and how their bananas travel from Honduras to their local grocery store. They will discover the biodiversity of Honduras and how people in their own neighborhoods enjoy eating their highly nutritious bananas. By tracing the journey of bananas from tropical farms in Honduras to their breakfast tables, students will learn about the origin of one of their favorite foods and how they are connected to ecosystems and cultures that may seem very distant.
Lessons
Lesson 1: Going Bananas
Objectives: Students will: (1) create and conduct a survey about bananas, (2) identify reasons for bananas being popular, (3) map a bananas' journey from "bulb" to lunch box, and (4) write a book for younger children that depicts important concepts about bananas and where they come from.
Lesson 2: Finding the Top Bananas
Objectives: Students will: (1) look for different types of bananas and banana products at home or at a grocery store, (2) explore the concept of certification and identify possible criteria for certifying bananas, (3) compare the Rainforest Alliance certification process to the criteria they developed, and (4) develop a brochure that explains what banana certification is and how it helps to sustain the rainforest and the people who live in those regions.
About Our Curricula
The Rainforest Alliance curricula are unique in that it teaches language arts, math, science, social studies and the arts while addressing the Common Core State Standards (CCSS) for English language arts and mathematics, and the Next Generation Science Standards.
This curriculum was developed in collaboration with Project Learning Tree.
View this Curricula: