Increasing Agriculture's Productivity and Resilience
To advance the transition towards sustainable and regenerative agriculture it is crucial to increase adoption of more environmentally friendly agricultural practices. For the Rainforest Alliance, Integrated Pest Management (IPM) is a vital component of a regenerative agricultural sector, and part of climate-smart and a holistic approach to ecosystem management. We aim at a substantial reduction of the use of pesticides by strengthening and balancing the functions of the agro-ecosystem (Figure 1).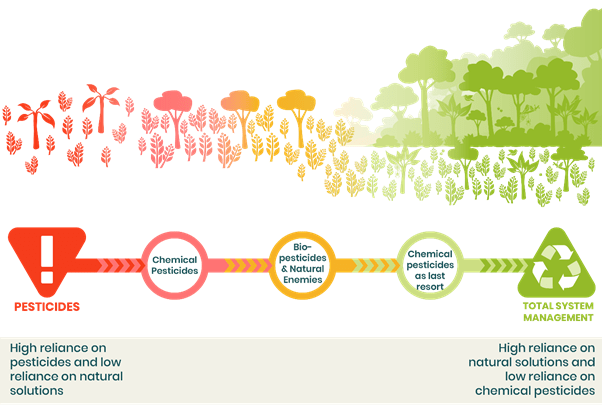 The problem
It is estimated that every year between 20 and 40 percent of global crop production is lost to pests and diseases. Each year, plant diseases cost the global economy around US$220 billion, and insect pests around US $70 billion. But insects, diseases, and weeds are not "born" as pests. Pests are the product of an unbalanced ecosystem, and the pest status of a species depends on their numbers and on the economic damage they may cause. They indicate that there is something amiss with the agro-ecosystem.
Pests are a constant threat for farmers, which is why the first reaction of most producers worldwide is to use pesticides to eliminate pests, or even as a prevention method.
The quantity of pesticides used worldwide has risen 50-fold since 1950. Approximately 3.5 billion kg of pesticides are applied globally each year. Among these pesticides, many are classified as "highly hazardous," and can pose serious human health and environmental problems in both the short and the long term.
What can be done to reduce this reliance on pesticides and the negative consequences of pesticide use? A practical and cost-effective answer is integrated pest management (IPM).
Our approach
Our approach is based on the IPM principles and harnessing the inherent strengths within agro-ecosystems to bring pest populations down to acceptable levels, rather than trying to eradicate them. The choice of control methods is made bearing in mind costs and benefits, as well as ecological and social aspects. The long-term conservation of the ecosystem and its services, and people's wellbeing, are the ultimate priorities.
All Rainforest Alliance initiatives, including the 2020 Certification Program, are in line with this approach. In parallel, we have developed an IPM Strategy, where we aim to identify the barriers to IPM adoption, and to support producers overcoming them. We would like to do this by sharing knowledge about more sustainable pest control strategies and regenerative agriculture practices, and by providing alternatives to pest control in line with local realities, rather than merely issuing lists of prohibited pesticides.
For more information on our position regarding IPM, check the Integrated Pest Management position paper.
Pesticides approach within the 2020 Certification Program
Rainforest Alliance's IPM and pesticides approach is composed of three main elements:
Standard requirements (sections 4.5 and 4.6) – available here
Annex S7 – available here
Overall goal
Reduction of the use of pesticides and safe, responsible, and efficient use of agrochemicals through an increased IPM adoption.
Standard & Annex S7
The approach is based on a sound adoption of the Integrated Pest Management requirements, where pesticides are used as a last resort and reduction tendencies are demonstrated. When pesticides are used, all pesticide management safety measures and occupational health requirements are implemented. Only registered products are used and prohibited, or obsolete pesticides are not used; if pesticides from the risk mitigation list are used, appropriate risk mitigation measures are implemented.
Exceptional Use Policy
Under exceptional circumstances, exceptions can be granted for the use of pesticides included on the Prohibited List. Exceptions are granted for specific crop/pest and geographical scope (country or part of country) combinations. The details and conditions of each exception are included in the Exceptional Use Policy (EUP). You can read more about the procedure for requests and updates on our Exceptional Use Policy page.
Transitioning from RA EUP 2017 to EUP 2020
For authorizations granted in the 2017 Exceptional Use Policy that are not renewed in the 2020 Exceptional Use Policy, a phase-out period of 1 year will be valid.
Principles:
During this phase-out period producers need to transition to the new 2020 Exceptional Use Policy and use, or dispose of the existing stocks of the concerned substances;
During this phase-out period producers can submit new requests for the 2020 EUP;
Fully implementation of the respective risk management requirements is mandatory.
Support Our Work
Create a world where people and the planet prosper together.
DONATE TODAY