The Rainforest Alliance family of marks includes two distinct icons, which represent different relationships with our organization: The Rainforest Alliance logo and the certification seal. To use the Rainforest Alliance marks, a company or operation must meet the applicable criteria, as defined in our Labeling & Trademarks Policy.
In all cases, use of marks must be submitted for review and approval through the appropriate channel. For the agricultural sector and Forest Allies initiative, this is through the Rainforest Alliance's Marketplace portal. We have step-by-step guidance on how to get approval to use the Rainforest Alliance certification seal.
Occasionally journalists, academics, and media professionals may wish to use one of the Rainforest Alliance marks as part of a publication. In such cases, one can request permission via email to our Communications team. Please allow sufficient time for review and feedback prior to publication.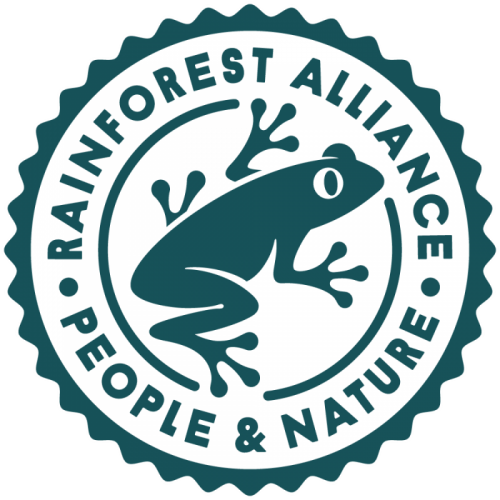 The Rainforest Alliance certification seal
This seal became part of our brand identity in 2020, following the 2018 merger between the Rainforest Alliance and UTZ and the development of our new organizational strategy. It represents our vision of sustainability as a journey of continuous improvement—one where transparency and shared responsibility can help us build a world where people and nature thrive in harmony.
The Rainforest Alliance certification seal can be used by farms and companies that meet the rigorous criteria of the Sustainable Agriculture Standard, part of the Rainforest Alliance certification program. It can be found on thousands of consumer products across the globe.
The legacy Rainforest Alliance seal and UTZ Certified label
Although you may still see the legacy Rainforest Alliance Certified seal and UTZ label on product packaging, they are slowly being phased out. For a smooth roll-out, we've planned a careful timeline for cocoa products, as well as a timeline for other products transitioning from using the legacy marks to the Rainforest Alliance certification seal.
Rainforest Alliance logo

Primarily, we use the Rainforest Alliance logo in our own organizational branding. It may also be used by companies or organizations to denote a cause marketing relationship, a formal sourcing agreement, or to represent another partnership or service relationship, such as corporate advisory for illustrative purposes. It cannot be used by certified companies or farms.
The Rainforest Alliance Forest Allies seal

Forest Allies is a community of practice focused on protecting, restoring, and enabling responsible management of tropical forests. Organizations that are part of our Forest Allies initiative and are actively meeting the requirements of Forest Allies membership can use this seal on FSC certified products meeting eligibility criteria, and in promotional materials or other communications that promote membership in Rainforest Alliance's Forest Allies initiative and related activities. Learn more on this initiative here.
Use of all Rainforest Alliance marks must be pre-approved in writing by the Rainforest Alliance.
Support Our Work
Create a world where people and the planet prosper together.
DONATE TODAY