The Rainforest Alliance family of marks includes two distinct icons, which represent different relationships with our organization. In each case, a company or operation must meet specific (certification) criteria, have a signed agreement with the Rainforest Alliance, and use our marks as defined in our Labeling & Trademarks Policy.
In all cases, use of marks must be submitted for review and approval through the appropriate channel. For the agricultural sector, this is through the Rainforest Alliance's Marketplace portal. For participating forestry and tourism certification programs, this is done through our partner organization, Preferred by Nature.
Rainforest Alliance Certified seal
The Rainforest Alliance Certified seal is awarded to farms, forestlands and tourism operations that meet the rigorous criteria of the 2017 Rainforest Alliance Sustainable Agriculture Standard, the Forest Stewardship Council®, or the Sustainable Tourism Standard certified by Preferred by Nature.
If your business has complied with the following standards, you may be eligible to use the seal.
The new Rainforest Alliance certification seal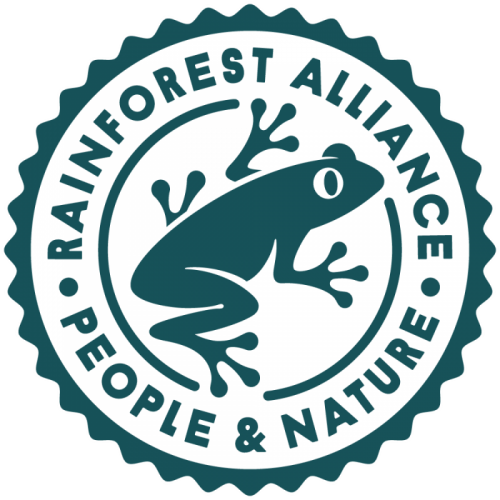 We are proud to introduce our new Rainforest Alliance certification seal. This new seal is part of our new brand identity, following the 2018 merger between the Rainforest Alliance and UTZ and the development of our new organizational strategy. It represents a vision of sustainability as a journey of continuous improvement—one where transparency and shared responsibility can help us build a world where people and nature thrive in harmony.
This new seal replaces the current Rainforest Alliance Certified seal and the UTZ label and can be used by our partners on product packaging and promotional materials from September 1, 2020. Learn more about the new Rainforest Alliance certification seal and guidance on how to use it here.
Rainforest Alliance logo

The Rainforest Alliance logo may be used to denote a cause marketing relationship, a formal sourcing agreement, or to represent another partnership or service relationship, such as corporate advisory, for illustrative purposes. It cannot be used by certified companies or farms.
Use of all Rainforest Alliance marks must be pre-approved in writing by the Rainforest Alliance.
Support Our Work
Create a world where people and the planet prosper together.
DONATE TODAY