Purpose—the "fifth P" after price, product, promotion, and place—has been solidifying its place in marketing for some time now. Your customers love your brand, but they also increasingly demand that your company is responsible and does the right thing. So you've done the hard work of changing your business practices to achieve your sustainability goals. The next step is telling the world about it, signaling to more consumers that you share their values. Therefore, an effective marketing and communications strategy that showcases your green credentials will help raise awareness among consumers about how they too can help make a difference to people and nature by buying your products. Additionally, it shows stakeholders how Rainforest Alliance certification can benefit your company.
We're here to support you on that journey. The Rainforest Alliance marketing team offers a range of services and opportunities to help you tell your sustainability story. From strategies for how to raise consumer awareness to tools that help you get your messaging right, read on for the ultimate guide to marketing your Rainforest Alliance Certified product.
Why promote sustainability?
But first things first. Why is it so important to tell your company's sustainability story and market your Rainforest Alliance Certified products? It starts with the fact that consumers today build trust (and buying preference) with brands that do good. They expect more from brands and want the evidence to back it up: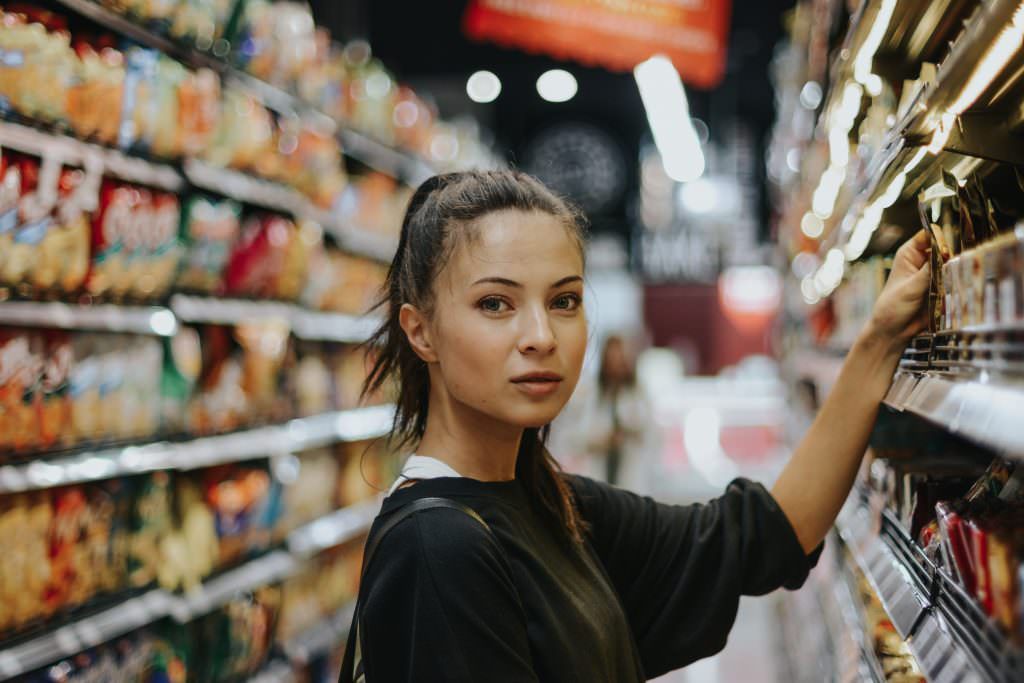 52% of global consumers believe that a company's effort to protect and improve the environment is important for building their trust.
Yet another report shows that 79% ​of American consumers look for products that are socially or environmentally responsible. 87% would buy such a product if given the opportunity. That's why setting an example and communicating about it is vital. Therefore, strong messaging around what you are doing for people and the planet will go a long way in building trust and gaining loyal customers and brand ambassadors.
Craft a powerful story that fits your brand
Conveying a strong message starts with thinking about what makes an impactful story for your audience. Our dedicated marketing team is here to help you find the best approach that fits your brand values and resonates with your customers, whether B2B or B2C.
We take a holistic view by focusing on the three well known pillars of sustainability: people, planet, and profit. These can be highlighted in two different ways:
You can communicate your partnership with the Rainforest Alliance in a general way, highlighting the many benefits and positive impact on people and nature.
Or you can choose to focus on the element(s) that resonate best with your brand values and target audience, for example, by highlighting specific social or environmental messaging. We can show you examples of how other brands have done this, and once you've identified your unique angle, we can work together to create a compelling, relevant campaign or activation that speaks to your customer's needs.
Adapt your message to different audiences
We know that consumers want a company's sustainability messages built into the brand experience in a surround-sound way. 79% of consumers say they are more likely to believe a company's CSR commitment if they share their efforts across multiple channels. So, it's important to consider how to tell your story for different audiences and through different channels. Let's see what that could look like for consumers and employees.
Raising awareness among consumers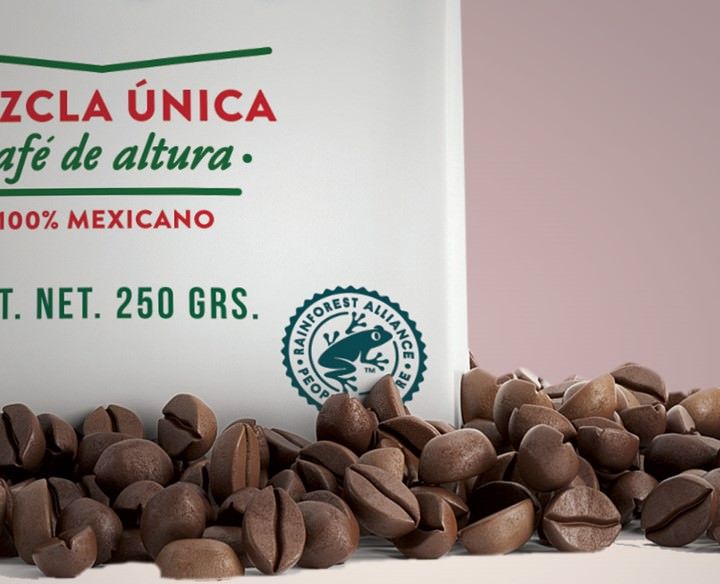 People are increasingly seeking "green" goods and services that do not compromise the health of our planet or the lives of people producing them. One of the most effective ways to show consumers that you are a responsible company working towards sustainability is to feature the Rainforest Alliance Certified seal. With this in mind, here's how you can leverage the "little green frog" to raise consumer awareness:
Display the Rainforest Alliance Certified seal on products and packaging. Examples include retail packaging, product containers, shelf tags, coffee cups, sleeves and coasters, product labels, bags, etc.
Use the Rainforest Alliance Certified seal in promotional materials, such as table tents, brochures, newsletters, displays, posters & signs, or banners. Or reach a broader audience with print and TV ads.
Offer special promotions, such as coupons and discounts, for your certified products.
Join our annual Follow the Frog campaign, a customizable, B2B and B2C marketing opportunity for brands that work with the Rainforest Alliance. It's certainly a great way to help you build brand value. Make sure Follow the Frog is included in your marketing & communication plans.
Use your online channels to reach a broad audience. Especially your website and social media are great tools to engage people and effectively communicate your sustainability story. Here are some tips and tricks.
Organize a consumer event to highlight your work with the Rainforest Alliance and use our point-of-sale materials to decorate the venue and bring your event to life.
Want to celebrate your partnership with the frog by sending a press release? The media can be valuable allies in your sustainability journey and raising consumer awareness. But please remember to include us in the process and contact us for approval prior to release.
Look into opportunities for cause marketing collaboration or corporate grant giving with the Rainforest Alliance.
Showing the green frog seal is one thing but creating a good understanding (and impact!) is your goal. So when possible, provide your audience with additional information and context. Explain what the seal means by either using one of these message templates on-product or in promotional materials. They are available in different shapes and forms, to fit your needs.
Check our guide on how to get approval to use our marks, including the Rainforest Alliance Certified seal and Rainforest Alliance logo.
Engaging your employees
Not surprisingly, employees are some of the best brand ambassadors and research shows that 67% expect their employer to have a greater purpose and their work to have a meaningful societal impact. By actively involving your staff in your company's sustainability efforts, you can keep them committed to the cause and motivate them to share your message with consumers and others. So, here are some ways to engage your employees:
Talk about our work together in your company's newsletter or presentations. Of course we'd be happy to provide an interview or anything else you need to make your content engaging and relevant for your employees.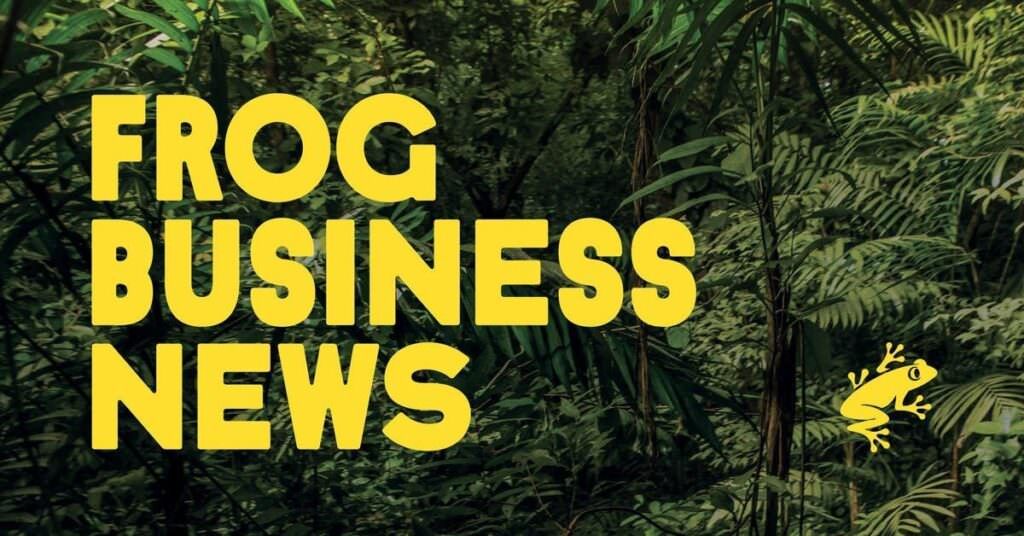 Join our Follow the Frog campaign!

Educate your sales force. For example, use compelling training materials that inspire your salespeople and help them effectively present your Rainforest Alliance Certified products to your clients. We can certainly help you develop materials that work best for your company.
Organize an employee engagement session, such as an interactive quiz or learning lunch, that helps your staff understand what the Rainforest Alliance stands for and what the green frog means for your brand, people, and nature.
Designate an in-house sustainability marketing expert who will be responsible for understanding the benefits (and challenges) of becoming a more sustainable business. This person can serve as your Rainforest Alliance liaison and help facilitate your marketing plan.
Contact us to schedule either a virtual or in-person inspiration session or training (depending on location and availability) for your brand management team, creative agency, or sales staff, including front-end servers and baristas.
Marketing tools and materials at your service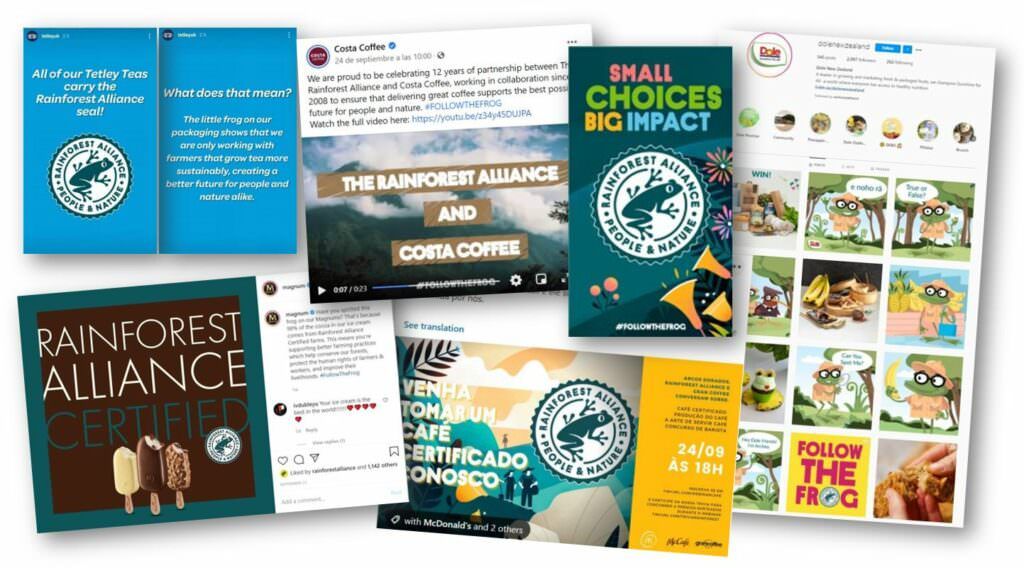 In addition to providing in-person support, the Rainforest Alliance marketing team also has a wide array of tools and materials available. Check our marketing page—your starting point for all the resources you need to market your products and create your sustainability story.
In case you are looking for a video explaining mass balance in cocoa, an infographic on the impact of Rainforest Alliance certification, a two-pager on our banana program, or simply a great picture or graphic to use on social media, you will find it in our marketing toolkit.
Check out the video below to see some of the examples from our partnering companies:
Contact us—we're here to help
Want more guidance on how to promote your Rainforest Alliance Certified products and tell your sustainability story? You can either send us a message at marketing@ra.org or check examples of company activations for more inspiration and ideas.
Lastly, don't forget to sign up for Frog Business news, our bi-monthly newsletter. This will keep you up to date on organizational developments, Follow the Frog, as well as collaborating companies, and more.
Support Our Work
Create a world where people and the planet prosper together.
DONATE TODAY