While "Zero Hunger" is one of the United Nations' SDGs, an estimated 2 billion people experienced food insecurity in 2019. Meanwhile, smallholder farmers are responsible for growing 70 percent of all food. It's clear that farmers' livelihoods and the world's food supply are inextricably linked. So how could we expect farmers to sustain the world if they can't sustain themselves?
Achieving living incomes and better livelihoods for farmers and farm workers is a vital step towards our vision of a world where people and nature thrive together. Yet much more needs to be done to close the living income gap for smallholder farmers around the world. Through our living income benchmark measurement, tailored supply chain services, and innovative projects, we're working to ensure that all people, regardless of their region or role in the supply chain, can afford a decent life's necessities.
Living income, actual income, and closing the gap
As founding members of the Living Income Community of Practice (LICoP), the Rainforest Alliance has supported the development of living income and living wage benchmarks in more than 10 producing regions around the world. The LICoP has created these benchmarks by first identifying the cost of a decent living. This includes food, water, housing, education, healthcare, transport, clothing, and other essential needs, including a margin for unexpected events. They also account for key contextual elements such as region, time, and average number of household members.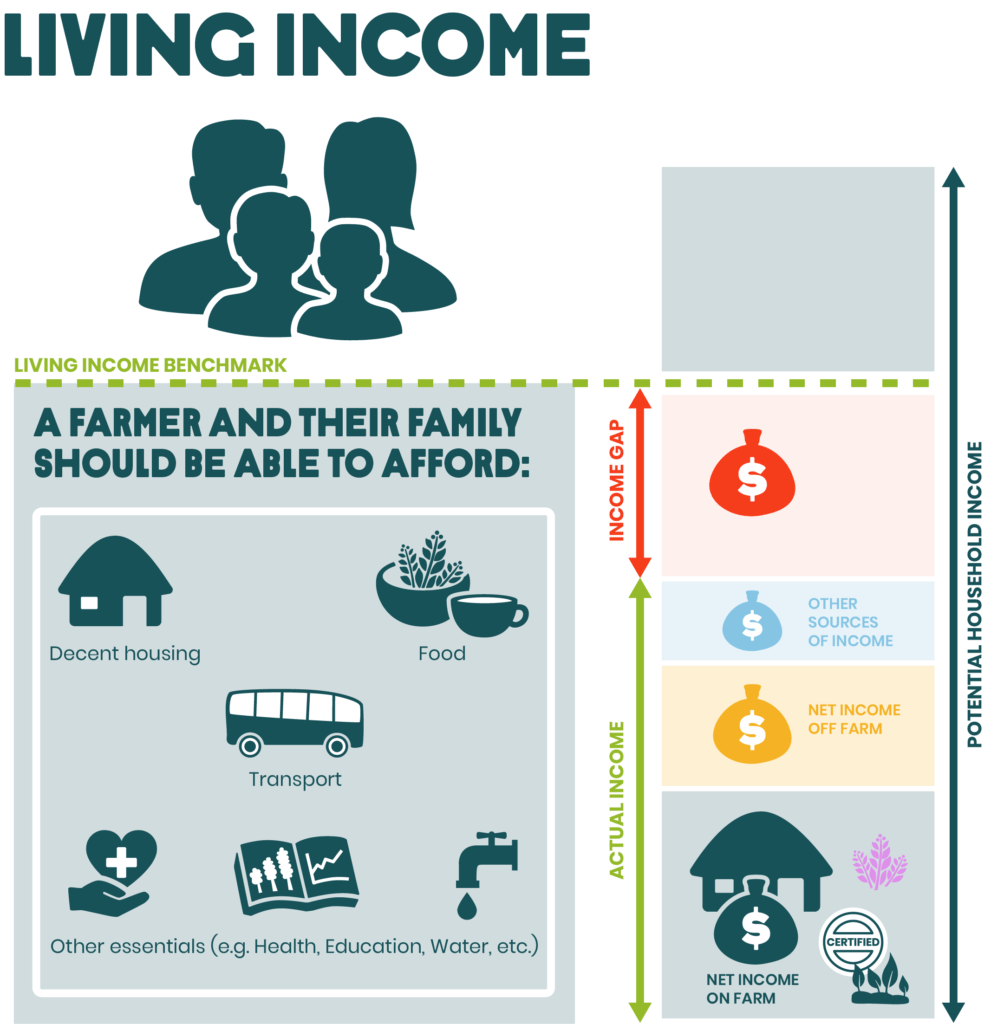 After identifying the benchmark, the measurement of actual incomes shows us where farmers stand in relation to a living income. The LICoP also has comprehensive resources for calculating household income, which mirrors the methods that have been used by the Rainforest Alliance and other partners for many years. This household income calculation is based on basic economics: revenue – production cost = net income.
How we help companies close the living income gap
By collaborating with the Rainforest Alliance, supply chain actors can move toward living incomes for farmers in their supply chain. Our Tailored Supply Chain Services offer a wide range of tools and resources to support companies' responsible sourcing commitments both beyond and in line with certification. An important pillar of this work is supply chain monitoring and evaluation (M&E). When it comes to a topic like this one, we don't just identify the problem; we help you solve it.
Supply chain monitoring and evaluation
In our supply chain M&E work, we use the living income methods to collect and analyze income data in the cocoa and coffee sectors. We use this data to identify trends and compare a supply chain's numbers against benchmarks. We then make focused recommendations based on these insights. For example, we've worked for the past 10 years with the Nescafé Plan and the Nestlé Cocoa Plan. Through our partnership, we have provided these companies with the necessary tools to support this and other goals around coffee and cocoa economics, community resiliency, and environmental management.
Living Income Monitoring
Additionally, our 2020 Sustainable Agriculture Standard has self-selected living income requirements, where group management can select to calculate production costs and assess net income against a Living Income benchmark.
While we successfully piloted a Living Income Monitoring Tool for cocoa supply chains in Cote d'Ivoire and Ghana, its insights are not replicable across all Rainforest Alliance Certified commodities and regions. It also relies on the resource-intensive collection of household level data. The Rainforest Alliance recognizes the need for the development of a producer-led tool to assess the progress in improving farmers' livelihoods as part of our certification program and will prioritize this in the coming years.
Using M&E to find solutions
Gathering and measuring data is a crucial element of creating positive change, but it's just the beginning. To dive deeper into living income on cocoa farms, we're currently working on projects such as the Living Income Module. This innovative two-year project tests a tool to help companies bridge the income gap for cocoa farmers in Côte d'Ivoire. The tool provides a direct transfer option to adjust incomes. It also enables brands to track their progress in eradicating the gap.
The Rainforest Alliance's support for living income comes down to one simple, but firm, belief: Everyone should be able to afford a decent quality of life for themselves and their families. See our Living Income position paper for more information on our vision and current efforts. If our supply chain M&E services could benefit your company, contact us.
Support Our Work
Create a world where people and the planet prosper together.
DONATE TODAY