The evidence is clear: Globally, we need to rethink how we farm.
The dominant system of industrial agriculture—defined by intense land use, monocultures, and pesticide reliance—is both a driver of deforestation and a contributor to climate change. To put it in numbers, the conversion of land used for conventional farming alone threatens 86 percent of species at risk of extinction. Moreover, it accounts for 24 percent of global greenhouse gas emissions. To end this devastation and feed the world for years to come, we must move from an industrial agriculture system to one in which people and nature thrive in harmony.
Companies have a unique opportunity to lead the transformation to regenerative agriculture by supporting farmers who adopt regenerative agricultural practices. And while getting started is often the most daunting challenge for companies and farmers alike, the Rainforest Alliance is here to help.
Sign up for useful tips to green your life and protect our planet.
A more productive and climate-smart way to farm
For 35 years, we have worked to make agriculture more sustainable by partnering with farmers and forest communities around the world to use methods that protect the land as well as their livelihoods. We consider sustainability to be a journey, and regeneration is the goal.
Regenerative agriculture goes beyond harm-reduction to actively restore the land on which we grow food.
Regenerative agriculture is not a new concept, but its potential to fight against climate change and biodiversity loss has put it at the forefront of recent discussions. Its guiding principles are as such:
Promote soil health to sequester carbon, and
Protect and manage natural ecosystems to conserve biodiversity and enhance ecosystem services (in other words, the life-sustaining qualities of healthy forests and landscapes)
"Farming is healing, not just feeding," says agroforestry expert Eko Purnomowidi, founder of Klasik Beans, a long-time partner of the Rainforest Alliance. In practice, regenerative agriculture goes beyond harm-reduction to actively restore the land on which we grow food.
Helping companies to build a regenerative supply chain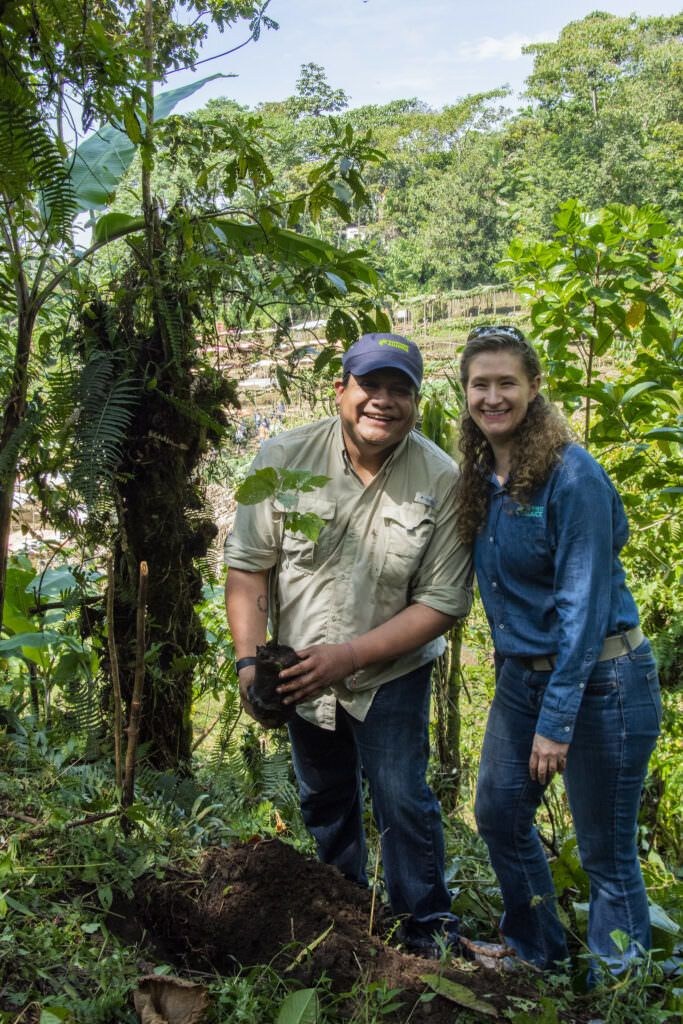 We support companies to implement regenerative and climate-smart agriculture practices into their supply chains, from soil conservation to crop diversification. This has included landscapes in Central America, Colombia, Mexico, Peru, Ghana, and more recently, Mt. Kenya. With a global network of experts—and guided by frameworks like LandScale—we are well-equipped to offer guidance at any stage of the journey.
For companies interested in regenerative agriculture, the Rainforest Alliance Certification Program is a great place to start. Our program promotes practices that simultaneously address climate change, farm resilience, and biodiversity loss. And for companies looking to go beyond certification, we can help you assemble a regenerative strategy or improve an existing one.
Finding solutions through partnership
Part of the challenge that farmers and companies face is that there is no standard definition of regenerative agriculture. Therefore, it can be difficult to identify the needs of farmers and assess whether those needs are met. "When our partners reach out to us about regenerative agriculture, the questions are almost always the same: Where do we go next and how do we get there?" said Rainforest Alliance Markets Innovations Lead Matthew Bare. "Our partner, Nespresso, also recognized the need to address this challenge. As a result, we collaborated and designed a tool that allows us to share our expertise in regenerative agriculture and help move the entire coffee sector forward." The key outcome of this two-year collaboration is the Rainforest Alliance Regenerative Coffee Scorecard.
Developing the regenerative coffee scorecard
Together, the Rainforest Alliance and Nespresso combined field-based research and consultation with global coffee experts to define key elements of regenerative agriculture. We designed the scorecard to guide farmers and companies as they progress toward their goals. It is an important pillar of the Rainforest Alliance's larger regenerative agriculture program. The full program offerings also include monitoring and evaluation, field training, and communications guidance.
"When our partners reach out to us about regenerative agriculture, the questions are almost always the same: Where do we go and how do we get there?"

Matthew Bare, Rainforest Alliance markets innovations lead
The scorecard is complimentary to certification and entirely voluntary. It is underpinned by the Rainforest Alliance's working definition of regenerative agriculture: taking a conservation and rehabilitation approach to farming where agroecology and integrated system management approaches are combined. "In simpler terms, for a coffee farm to be regenerative, it needs to demonstrate that it is taking measures to not just reduce negative practices, but to give back, increase biodiversity, and enhance the local ecosystem's resilience and natural services," explained Dr. Juliana Jaramillo, the scientific lead behind the scorecard. "That is what the scorecard helps assess and incentivize."
An accessible, context-specific tool
"Being able to easily identify what works and doesn't work is a key feature of the scorecard," said Dr. Jaramillo. "When designing the scorecard, we wanted to ensure that it was both accessible and best captured continuous improvement."
That is why, in 2020, after months of researching the state of the science around regenerative agriculture, we tested the scorecard in two coffee production regions of Costa Rica. After testing, the Rainforest Alliance further consulted with coffee experts from Brazil, Colombia, and other coffee producing regions to ensure its applicability across the sector.
"Based on the field results and feedback received, we adjusted some practices (for example, regarding herbicide use, agroforestry, and natural vegetation) to make the criteria more inclusive and realistic for the different contexts and geographies," said Rainforest Alliance Coffee Field Innovations Manager Edwin Vargas. "Now, the scorecard allows agronomists to select and promote the adoption of practices best suited for local conditions. This flexibility enables farmers and technicians to identify a regenerative pathway that's both appropriate for their environment and feasible for the farmers."
Sow the seeds of regenerative agriculture today
As calls for action grow for rethinking how we farm, companies can stand out as sustainability leaders by supporting farmers in the transition towards regenerative practices. At the Rainforest Alliance, our teams will continue to collaborate and support one another to develop leading criteria and best practices for this type of healing agriculture.
If your company wants to develop a regenerative agriculture strategy or increase regenerative sourcing within your supply chains, contact us to discuss opportunities for collaboration.
Invest in the next critical decade
Help us scale, deepen, and accelerate our impact to protect the planet and our entire global family.
Donate now