In the wake of 2020, many are rethinking their relationship with nature. The onset of COVID-19 brought growing attention to the connection between deforestation and the spread of zoonotic diseases. In light of the international community falling short of its biodiversity goals, the United Nations Convention of Biological Diversity is calling for an exploration of measures to reduce further biodiversity loss. These risks have something in common: they are driven by land use, a big part of which is agriculture.
Converting land, such as forests and peatlands, to farmable terrain accounts for 80 percent of global land conversion. And this conversion has major consequences for biodiversity and climate change. According to the United Nations Environment Programme, the conversion and intense use of land for agriculture is responsible for 60 percent of biodiversity loss. It also accounts for 24 percent of greenhouse gas emissions. In response to these threats, we need to rethink how we use land. One solution is to engage in more sustainable methods for farming.
Climate-smart and regenerative agriculture as a conservation tool
The problem is not farming itself, but rather the way we do it. Industrial agriculture—characterized by intense land use to meet growing demands for food—is both a driver of deforestation, and a contributor to climate change. The destruction of habitats, displacement of natural flora in place of monocultures, and use of chemical inputs like pesticides all underpin industrial agriculture. However, when farming is done in a regenerative and climate-smart manner, it can serve as a tool to promote biodiversity conservation and mitigate climate change through carbon capture. Estimates suggest that restoring 30 percent of converted land could cut back 70 percent of predicted extinctions. It has the potential to sequester 465 billion tons of carbon.
But what would farming need to look like in order to have these positive impacts? It needs to be regenerative and climate-smart.
Regenerative, climate-smart farming is not a new concept, but its potential to aid the fight against climate change and biodiversity loss has put it at the forefront of recent climate discussions. Regenerative agriculture and its guiding principles—promoting soil health to sequester carbon and addressing climate risks and biodiversity loss through enhanced ecosystem services—earn it the climate-smart badge. A recent Rainforest Alliance article provides further detail and outlines how regenerative and climate-smart farming practices, such as those pursued by Rainforest Alliance Certified farms, are key to answering the calls for rethinking how we farm.
Building a regenerative supply chain with the Rainforest Alliance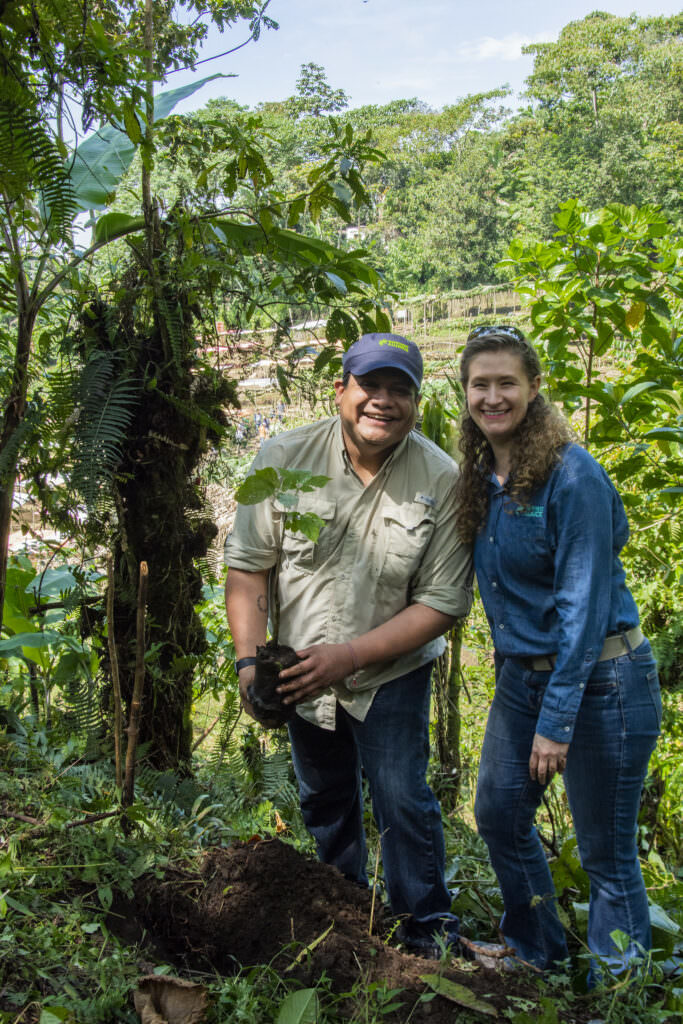 For companies interested in regenerative, climate-smart agriculture, Rainforest Alliance Certification is a good starting place. Our Sustainable Agriculture Standard aligns with and encourages practices that simultaneously address climate change, farm resilience, and biodiversity loss.
For companies looking to go beyond certification, knowing where to begin and what indicators to look for can be a daunting task. Whether your company is just starting to assemble a regenerative policy or is looking to amplify and improve its existing strategies, we are here to help.
From the desk to the field
For many companies, their sustainability journey does not start in the field or forest, but instead at a desk. Using a combination of tools, our global experts flag key risks within supply chains and in the regions where sourcing activities are operating. Building upon this risk analysis, the Rainforest Alliance works with brands, traders, and other stakeholders to develop a regenerative, climate-smart policy framework and accompanying milestones to measure progress. This step is ideal for both companies who are just starting to explore regenerative agriculture, as well as companies with long-standing policies that could use help aligning with best practices.
Turning policies into actions requires on-the-ground collaboration and a deep understanding of what is driving the identified risks. The Rainforest Alliance's Field-Based Partnerships (FBP) team bridges the gap between the desk and the field. The FBP team does this by operating at two levels. At the local level, FBP convenes and facilitates conversations between key stakeholders so that partners can better align on goals, identify needs, and understand next steps. At the regional level, the FBP team monitors risks to pinpoint where there is a need to invest in regenerative projects. They can also identify what those projects may need to include to encourage farmer participation and best provide support.
For decades, the Rainforest Alliance has supported companies to implement regenerative and climate-smart agriculture practices into their supply chains, from soil conservation to crop diversification. In coffee, this has included landscapes in Central America and Colombia, and now includes landscapes in Mexico and Peru as guided by frameworks such as LandScale. In Africa, this has included cocoa landscapes in Ghana, and more recently with tea and coffee landscapes around Mt. Kenya.
Assessing your impact: supply chain monitoring and evaluation
There is no standard definition of what regenerative agriculture is, so it can be challenging for companies to identify the needs of farmers and assess whether those needs are being met. A regenerative tea farm in India has different needs than a regenerative coffee farm in Colombia. For this reason, the Rainforest Alliance established a working definition of regenerative agriculture to help companies determine what practices are working at the farm level and which are not. A pilot project was conducted in 2020 to test and develop a regenerative agriculture module and accompanying scorecard that can be used to assess coffee farms. Supply Chain Monitoring and Evaluation team leader, Matthew Bare, explained the goals of the strategy:
"First, our team researched the state of the science around regenerative agriculture; a good base of knowledge already exists, especially related to soil management. Then, we adapted this to the coffee context and measured the uptake of key practices on a sample of Costa Rican coffee farms. We also looked at progress towards key outcomes of soil and ecological health.
"Then, we took these results and scored them against regenerative & climate smart goals for the coffee sector. We see that many farmers are already implementing good regenerative practices like shade management and pruning, but others are lacking, such as organic fertilizer usage and over-reliance on herbicide. The scorecard is flexible; it allows farmers to choose practices most appropriate for their context. Having been tested in coffee, in Costa Rica, the scorecard will soon be tested in other crops and origins.
"The scorecard is just one piece of a larger 'module' which guides farmers and supply chain actors as they progress towards regenerative agriculture goals; it also has the potential to enable results-based claims in the future."
Sow the seeds for regenerative agriculture today
As calls for action continue to grow for rethinking how we farm, an opportunity exists for companies to stand out as sustainability leaders by supporting farmers in the transition towards regenerative, climate-smart agriculture. At the Rainforest Alliance, our teams will continue to collaborate and support one another to develop leading criteria and best practices for this type of healing agriculture.
But our teams are missing something. That something is you. If your company want to develop and implement regenerative supply chain practices, contact us to discuss opportunities for collaboration.
Support Our Work
Create a world where people and the planet prosper together.
DONATE TODAY