Indonesia is the world's third largest cocoa producer, with about two-thirds of its cocoa coming from South Sulawesi alone—where it's grown almost entirely by smallholder farmers.
Despite the region's impressive output, smallholders in South Sulawesi's Bantaeng District found themselves struggling a few years ago: Farm productivity was down, market access was poor, and prices volatile. To make matters worse, rapid development was threatening wildlife and water sources. The Rainforest Alliance began working in Bantaeng in 2012 to help combat these threats, but without an effective umbrella organization to implement sustainable practices and coordinate sales, efforts faltered.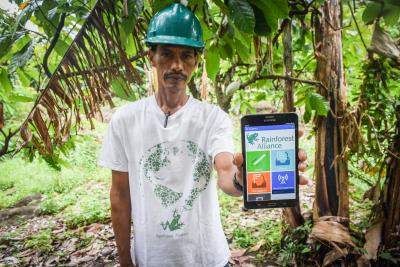 Enter Pak Nurman. This former "pete-pete" (public transport driver) attended a Rainforest Alliance training, began to apply best practices on his small plot of land, and soon his farm was flourishing. In just two years, he improved his income by 70 percent—and his newfound enthusiasm for sustainable practices landed him a role as lead farmer trainer. He quickly became an invaluable liaison between the Rainforest Alliance and local farmers, going above and beyond the requirements of his job promote sustainable agriculture methods. In November 2017, Nurman helped establish the Bunga Biraeng cooperative, which he heads up today.
Under Nurman's direction, 70 percent of the Bunga Biraeng cooperative members are complying with the Sustainable Agriculture Standard, and 96 percent—having seen Nurman's own spectacular success—have expressed interest in applying sustainable practices on their own land. Though the co-op is not yet certified, Nurman is working hard to generate enough income to cover the costs of attaining this milestone. Nurman has been such an impressive and effective ambassador for sustainability that he received a nomination for the Rainforest Alliance's Community Honoree Award, to be presented at our gala this spring.
Farmers named their cooperative Bunga Biraeng for the flower of the fig tree, as it's a commonly held belief in the region that the bloom signals the peak of the harvest season. The fig tree's strong trunk and thick canopy also offer a canny symbol of a cooperative that strives to protect all of its members. It mirrors Nurman's own steadfast stewardship of the community and its land, as well. "He is a true believer and guardian," says Rainforest Alliance consultant Muadz (like may Indonesians, he goes by only one name). "His house is always open to everyone who wants to learn and share knowledge about sustainable farming."
Support Our Work
Create a world where people and the planet prosper together.
DONATE TODAY