Anita Nanda's passion for coffee farming has deep roots. Although the 59-year-old grew up in the city of Bangalore, the seeds of her interest were planted during childhood visits to her grandfather's coffee estate in Coorg, a rural district in India's southwestern state of Karnataka that she has always considered home. One of her maternal uncles, who was also a coffee farmer in the area, used to organize seminars on the crop's cultivation, and Anita would help him to coordinate these gatherings, further fueling her own interest in the subject.
Eventually, coffee farming became an even more central part of her life. "I told myself that I'll marry a coffee planter," she says, "and so I did." Her husband, Nanda Belliappa, always encouraged her enthusiasm for the work, and the couple jointly manages the farm that he inherited from his family. They began by expanding it—preparing uncultivated soil, procuring seedlings, and even setting up a plant nursery—and today their estate is Rainforest Alliance Certified.
Sign up for useful tips to green your life and protect our planet.
Inspiring other women to follow in her footsteps
While the undertaking was a huge learning process for Anita, she enjoyed the challenge. "The curiosity in me to understand more from the growing fraternity," she says, "interactions with various fellow growers in the ecosystem, is what fascinates me."
Those interactions have become a part of her daily life. Her farm belongs to an Indian producer organization called Biota Coffee FPC, and she is actively engaged with other farmer groups, at both the district and state levels. She also promotes coffee cultivation among women through her involvement with the Coorg Women's Coffee Awareness Group, a nonprofit advocacy organization that includes more than 400 farmers, most of whom are smallholders. Beyond being an active member, Nanda is also the group's secretary, and enjoys getting other women as excited about coffee farming as she is.
Building on a long history of sustainability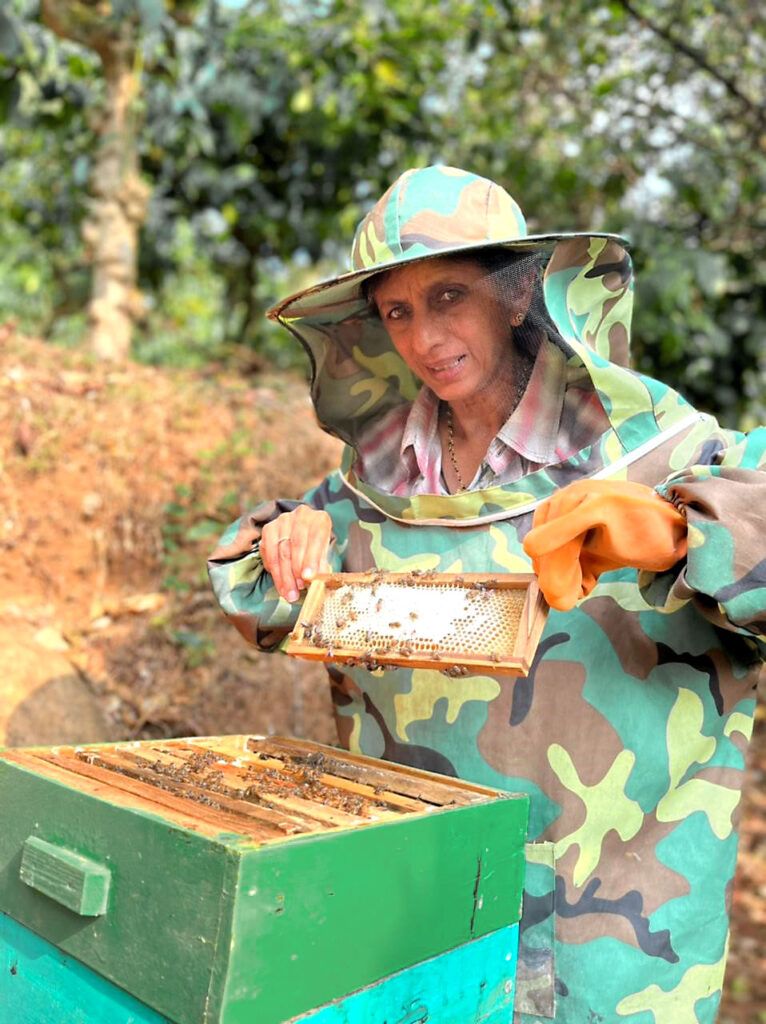 In India's Coorg district, where Anita now lives full time, sustainability and gender advocacy are not the latest buzzwords. They are tradition. Women have long been involved in the coffee sector, and farmers there have been growing beans under the canopy of endemic rainforest trees for more than 150 years. One study found that Coorg's coffee estates had very high tree density—even more than some forest patches—and were among the most diverse and resilient coffee-production systems in the world. Its farmers protect and nourish the health of their soils by applying manure and leaf litter from rainforest trees, and actively work to avoid deforestation.
But while her district serves as a model for others, it also demonstrates that climate impacts cannot be neatly contained by lines on a map. Despite its clean waterways, lush fruit trees, and other healthy plants and trees, Coorg is feeling the effects of the indiscriminate deforestation and carbon emissions that are happening beyond its borders. For example, the loss of natural habitat in nearby government-controlled forests and other public lands is driving elephants, tigers, and bison to enter Coorg's coffee plantations, posing challenges to farmers like Anita, and demonstrating once again the need for the sustainable management of an entire landscape.
Seeing the forest and the trees
Even after 20 years as a coffee farmer, Anita continues building on her deep expertise and acquiring new knowledge to help her estate and the larger community. By learning the art of beekeeping, for example, she has come to understand the role that these pollinators play in the health of her farm. When she stopped using weedicide, she noticed an increase in earthworm activity. "From how the microbes in the soil affect the nutrient uptake in the plant, to how the bees help with pollination is all very interesting and interconnected," she says. "If you do something … it affects some other thing."
By working in harmony with the natural world and paying attention to the details, Anita continues to feed the curiosity that was first piqued as a child on her grandfather's coffee farm. "This is where I feel I have made the biggest difference," she says, "viewing the estate as an ecosystem instead of just a plantation to grow crops."
Invest in the next critical decade
Help us scale, deepen, and accelerate our impact to protect the planet and our entire global family.
Donate now