Cocoa is a vital cash crop in Ghana, providing livelihoods to 800,000 households in the western region alone. But not everything about cocoa production is sweet: it is also a major driver of deforestation. In fact, agriculture—mostly cocoa—is responsible for half of all forests lost in Ghana's high forest zone (HFZ).
But in an exciting development, the governments of Ghana and Côte d'Ivoire committed last fall to ending deforestation in their cocoa supply chains, setting forth a detailed framework for action that includes promoting forest protection and restoration, respecting cocoa farmers' rights, and promoting sustainable farmer livelihoods. To date, 25 major companies with cocoa or forestry interests in Ghana and Côte d'Ivoire signed the framework.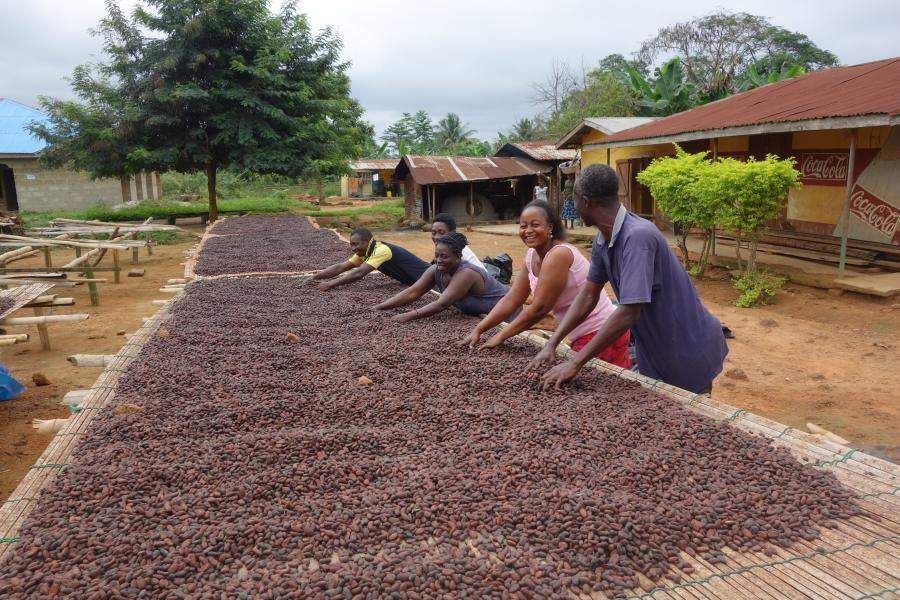 To contribute to this effort in Ghana, the Rainforest Alliance and global agri-business Olam Ghana have joined forces to start manifesting this vision on the ground. The joint initiative, called the Rainforest Alliance-Olam Partnership for Livelihoods & Landscapes in Western Ghana, aims to conserve the cocoa forest landscape and sustain the agricultural livelihoods of communities around the Sui River, Suhuma, Tano Ehuro and Santomang Forest Reserves—a region where forests are particularly threatened by cocoa production.
Two Landscape Management Boards (LMB) will provide participatory forest landscape governance, helping to monitor and control the surrounding 61,190 hectares (151,139 acres) of forest reserves, which are critically important habitat for the African forest elephant (Loxodonta cyclotis) and other species. The partnership is supported by the UK Department of International Development (DFID) through the Partnerships for Forests program.
The project launched in December with three days of workshops in the Sefwi Wiawso district attended by 70 stakeholders, from cocoa farmers to companies to government officials and traditional authorities. The Rainforest Alliance led the workshop, which aimed to strengthen the commitment and cooperation of local actors to ending deforestation in their region and to heighten awareness of climate-smart cocoa production.
"All present agreed that ending deforestation in the supply chain was an urgent imperative," said Rainforest Alliance Senior Manager Christian Mensah, "especially since cocoa is a major commodity for Ghana—it accounts for approximately USD 2 billion in annual investment there." He continued, "In partnership with Olam Ghana, the Rainforest Alliance will work not only with governments and companies, but also with forest communities and cocoa farmers, giving them the tools they need to diversify their income and improve their yields—and therefore their livelihoods—while protecting forests and landscapes."
"That's good not only for forests and farmers, but for our global cocoa supply."
Support Our Work
Create a world where people and the planet prosper together.
DONATE TODAY