Nestled between the Cuchumatanes mountain range to the north and a chain of volcanoes in the south, Guatemala's Western Highlands region is a striking quilt of green valleys and steep forested ridges where Maya communities live and farm. But look beyond this formidable topography and you'll soon discover a far more fragile landscape.
It is Guatemala's most impoverished region, featuring its highest rates of illiteracy and childhood malnutrition—this in a country where nearly half of children under the age of five are chronically malnourished and 60 percent of the total population lives below the poverty line. And when it comes to climate change, the Western Highlands is among the world's most vulnerable areas.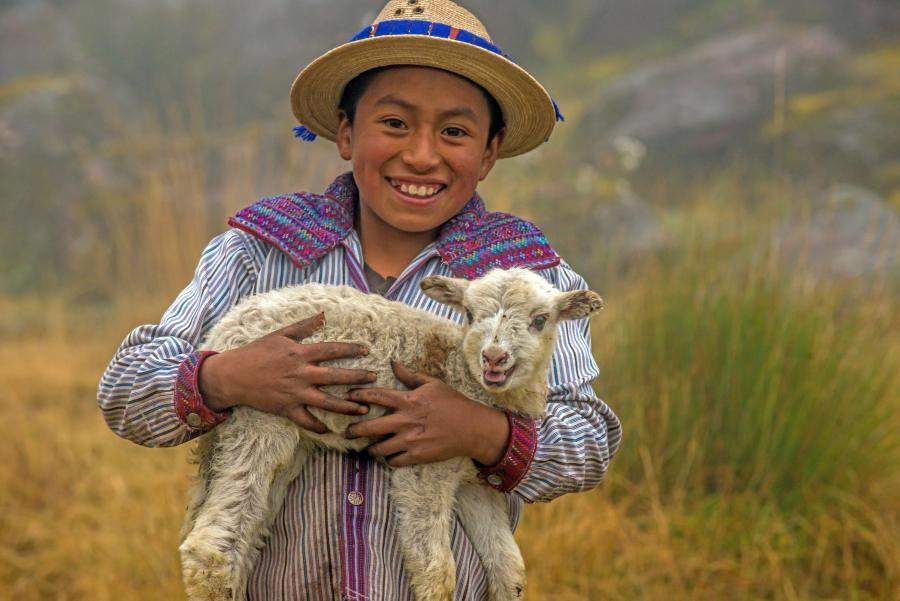 That's why the Rainforest Alliance has been collaborating with local groups such as the Asociación Forestal de Quiché (AFORQ); Asociación Organizaciones de Los Cuchumatanes (ASOCUCH); the municipal governments of Santa Cruz del Quiché and Chiantla, and the United States Forest Service (USFS) to give rural communities here the tools they need to live better from their forests and agricultural lands. Together, we are working to strengthen the two major drivers of the local economy here: community-managed forests and smallholder potato production. To that end we train locals to prevent and fight forest fires (which have been worsening each year due to drought); piloted a program to cultivate frost- and disease- resistant potato varieties; and supported communities to adopt innovative systems for rainwater harvesting.
The work here in the Cuchumatanes-Quiché region of the Highlands, supported by USAID through OFDA, reflects the Rainforest Alliance's longstanding commitment to a collaborative approach: we work closely with local communities to understand their most pressing conservation and development problems, and tailor our trainings and value-chain development efforts accordingly—always prioritizing local values and decision-making. Developing responsible value chains and marshalling market forces —whether locally or internationally—is at the core of all the Rainforest Alliance's efforts to improve rural livelihoods and conserve forests.
Securing a staple crop in a changing climate
Historically a forestry town, Chancol saw its production areas decimated by forest pests and diseases several decades ago. Though in recent years the community has worked hard to revitalize its forestry sector (nearly 2,000 of the roughly 20,000 ha-area have been restored to date), it now relies on potato production alone as a way to make a living. But while potatoes have always been one of the few foods that grow easily in this high-altitude terrain, even they have become harder to cultivate in recent years due to sharp changes in weather patterns.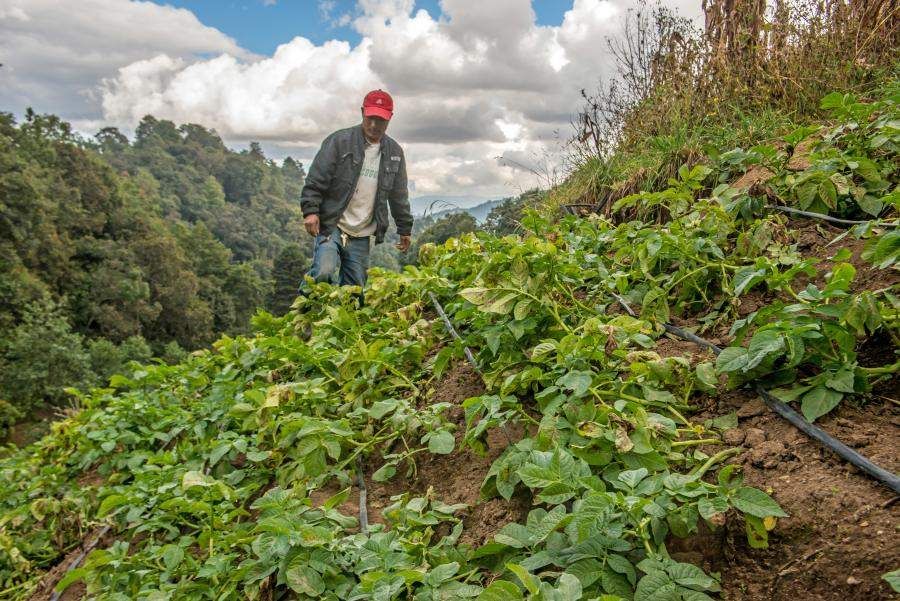 For Fabián Sebastián López Rodríguez, who owns a 4.4-hectare farm, this shift threatens his family's very existence, as potatoes provide the sole source of income for him, his wife, and their seven children. The family sets aside half their crop to feed themselves and their pigs, and sells the other half at a local market, using that money to buy other foods.
"The seasons used to be well defined," says López Rodríguez. "Now, it's almost impossible to know what the climate will be like at any given point in the year. When your survival depends on agriculture, this situation is devastating."
To help López Rodríguez and his neighbors adapt, the Rainforest Alliance teamed up with local partner ASOCUCH to distribute 17 varieties of frost- and disease-resistant seed potatoes—totaling 3,600 pounds—to 50 area families, with the aim of testing the performance of each variety, propagating the ones that do best, and sharing those seeds with other farmers in the region.
A preliminary assessment of this pilot program showed an almost 40 percent increase in the volume of potatoes harvested by participating farmers—and that number is expected to be higher in the final analysis. Not surprisingly, neighboring farmers have expressed intense interest in replicating this pilot in more than a dozen Chancol communities.
Tackling water scarcity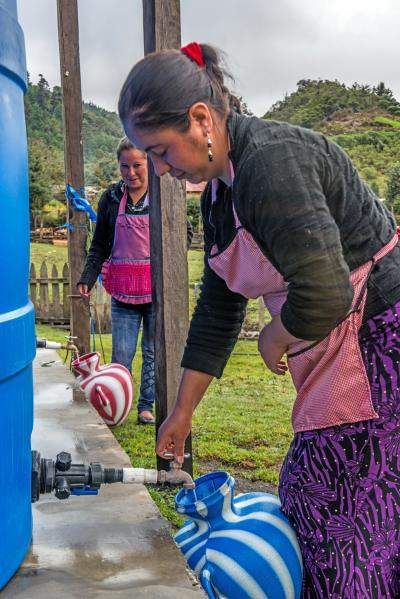 In the communities of Magdalena and Siete Pinos, 20 Chiantla families built innovative rainwater-collection systems with the support of the Rainforest Alliance and ASOCUCH. Together, we helped participating families identify the best spot on each farm—taking into account the incline of the terrain—and provided technical guidance on the construction and installation of each system, which includes canals, water chutes, and pipes to transport the water out into to the field. Each collector has a capacity of 2,800 liters and can be moved if weather conditions, pest outbreaks, or other circumstances require it.
Thanks to these catchment systems, farmers can now grow potatoes even during times of drought, which not only increases their total output and income, but also allows them to earn higher prices during the dry season when the potato supply from other regions is low. "I never imagined we could harvest rain," says López Rodríguez. "Now we have new opportunities to plant more, and we have begun to dream again, looking to the future with hope."
Keeping fires in check to secure forest livelihoods
Forest fires have become an annual challenge in the Western Highlands, worsening each year due to extended periods of drought. The Rainforest Alliance arranged for the US Forest Service (USFS)—a global leader in combating and preventing forest fires—along with the leading community forestry association, the Asociación Forestal de Quiché (AFORQ), and the municipal governments of Chiantla and Santa Cruz del Quiché to provide training to 42 firefighters from Santa Cruz del Quiché and Chiantla. Fire brigades from both municipalities successfully completed course certification and developed customized fire-mitigation and -prevention plans. In addition, 30 firefighters were outfitted with much-needed firefighting equipment and gear.
The positive impact of this training cannot be understated: the incidence of forest fires during the most recent dry season almost doubled from the previous year—and yet, only 25 percent of what burned then was lost this season. AFORQ estimates that 2,476 ha would have burnt without these capacity-building and planning efforts; instead only 620 ha burned.
AFORQ President Heber René Quezada Elías attributes this success of this work to the combination of training by top-notch national and international instructors and the distribution of professional-quality gear. "Theory and practice are useless without the ability to implement them in the field."
Invigorating and diversifying the local economy
Keeping forest fires in check has been critical to not only revitalizing the forestry sector in this corner of the Western Highlands, but to realizing forestry's potential to lift rural communities out of poverty while also restoring natural capital.
Since the Rainforest Alliance began providing technical assistance on forestry value chain development to AFORQ in October 2015, the association's sales have increased by US $2.6 million, with total sales in this period exceeding US $10.9 million. As AFORQ's sales have grown, so has local participation: currently more than 500 community members are engaged in forest management. Ensuring legal harvesting and traceability has been crucial to building market linkages. Timber from Quiché is now sent to sawmills in the most important forestry centers of the country, connecting the people of the Western Highlands to the timber value chain in ways that can help sustain their livelihoods, families, and forests for generations to come.
2022 Was One Of The Hottest Years On Record. Will 2023 Be Worse?
DONATE