At least half of the packaged items on supermarket shelves—from baby food and chocolate to shampoo and detergent—contain palm oil. This extremely versatile oil is also widely used around the world as a biofuel and cooking ingredient. Cultivated in ecologically precious tropical landscapes across Africa, Asia, and Latin America, oil palm crops currently produce 70 million tons of palm oil a year, and demand is estimated to grow three-fold by 2050.
While this crop provides income to millions of smallholder farmers who depend on the crop for their livelihoods (40 percent of palm oil is produced by smallholders), it is also a leading driver of tree cover and biodiversity loss. Additionally, its rapid expansion has fueled greenhouse gas emissions and human rights issues like forced labor and the displacement of Indigenous forest communities. 
Healthy forests and vibrant communities are an essential part of the global climate solution. Sign up to learn more about our growing alliance.
Taking a shared responsibility approach
The solution to these complex, systemic challenges does not lie in eliminating palm oil but in transforming palm oil production to prevent its negative impacts. More sustainable palm oil production can balance the needs of people and nature—providing a better income for smallholder farmers and plantation workers while protecting the environment. 
At the Rainforest Alliance, we believe in taking a collaborative approach where all actors share responsibility to create a better future. By joining forces across the supply chain—from farmers and suppliers to companies and consumers—we can make important strides towards a more sustainable and deforestation-free palm oil sector.
There are three main ways the Rainforest Alliance can help your company improve sustainability in your supply chain and in the key landscapes where your palm oil is sourced:
Commit: We can help you develop a responsible sourcing policy that is in line with your company's goals and current industry standards like the Accountability Framework.
Act: We can help you map your palm oil to its origin using our supply chain mapping tool, the Palm Industry Platform, and support you in assessing and addressing any risks we may find—including developing and investing in interventions that directly benefit smallholders and the landscape.
Advocate: With our wide network and history of advocacy, we can support you in finding the right initiatives, coalitions, and partnerships to join, so that we can all have a stronger voice together.
How we can support your company across the palm oil supply chain
Our work to transform the palm oil sector happens on two levels. We work in palm oil landscapes to address challenges and improve conditions for smallholder farmers, and we also work along the supply chain with companies to improve palm oil traceability and purchasing practices.
Working with smallholders in oil palm landscapes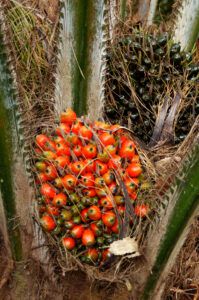 Our work in Indonesia exemplifies our approach to palm oil sustainability. Since 2018, the Rainforest Alliance has been working in the Sintang District of West Kalimantan to promote an Integrated Landscape Management approach that brings different land-users and stakeholders together to address issues around oil palm and natural rubber production, including the protection of High Conservation Value areas. The project supports smallholder farmers to, for instance, implement good agricultural practices and form multi-stakeholder platforms and action plans that promote more sustainable development of oil palm and natural rubber throughout the district. At the same time, we're working with the government of Indonesia to support their land-use planning and governance in Sintang as well as the private sector, including local companies and mills and global corporate partners such as METRO and Sainsbury's.
Mapping palm oil supply chains
Transparency has been hard to achieve in the palm oil industry where complex supply chains are the norm and no sector-wide approach to origin reporting or sustainability policies exists. But at the Rainforest Alliance, we believe that you can't change what you don't understand, which is why a big part of our work centers around mapping and tracing palm oil supply chains. We are doing this in a few different ways.
The Round Table for Sustainable Palm Oil
Since 2007, we have been working with the Round Table on Sustainable Palm Oil (RSPO), which runs the world's largest palm oil certification program. We have helped them develop and manage the RSPO PalmTrace system that traces RSPO certified oil palm products from their origin.
Universal Mill List
We worked with the World Resources Institute, Proforest, Daemeter, and other partners since 2018 to compile the Universal Mill List (UML), a collection of palm oil mill locations worldwide. It now encompasses more than 2,000 mills, a number that will keep growing as we update it. The UML is used across the palm industry and has become a trusted reference to identify mills as part of supply chain mapping and traceability. It has helped to increase the accuracy of mill information globally which has facilitated efficient follow-up efforts with mills when issues are identified. 
Palm Industry Platform
Building on our work with the RSPO and on the UML, we developed the Palm Industry Platform as a digital tool that helps companies map, visualize, and analyze risks in their supply chains while facilitating communication between palm oil producers and buying companies. Once companies have identified supply chain risks through the platform, the Rainforest Alliance helps them translate the data into interventions that address deforestation and improve the livelihoods of smallholder farmers (see above).
Corporate advisory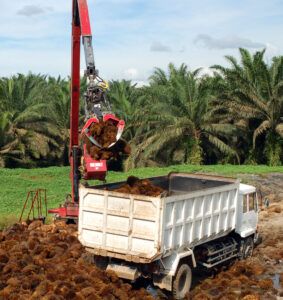 Beyond our traceability and supply chain mapping work, we offer tailored support to companies and other key players in the palm industry. Working hand in hand with our partners, we help in establishing sustainability policies that set their sourcing commitments and targets and then help them implement them in their supply chains and report on results. Throughout this process, we ensure alignment with the Accountability Framework Initiative, a coalition that lays out a common approach for ethical supply chains. Moreover, we support our partners in engaging with palm oil suppliers to ensure commitment compliance and to continuously improve their sustainable sourcing practices. Together with our corporate partners, we also think beyond their own commitments on how to transform palm oil markets by helping them get involved in multi-stakeholder and broader sector initiatives.
For more information on how you can join us on the journey to sustainable palm oil, contact our corporate advisory team.
Support Our Work
Create a world where people and the planet prosper together.
DONATE TODAY