Current efforts to reverse declines in ecosystem health while improving a growing population's well-being are not advancing at the pace or scale needed. To succeed, we need to think bigger and collaborate.
LandScale is a tool to assess and communicate landscape sustainability. The assessment framework, verification mechanism, and reporting platform enable users to access reliable information that can guide and incentivize sustainability improvements at scale.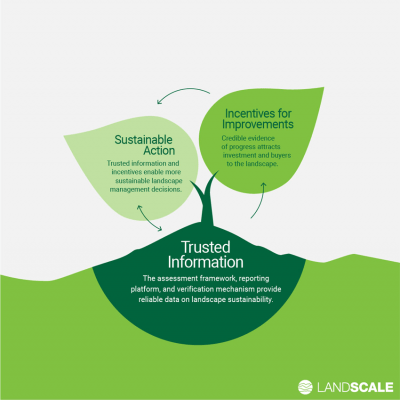 Made for forward-thinkers in diverse landscapes
Companies, industry initiatives, NGOs, governments, donors, and financial institutions can use LandScale to measure the sustainability of any landscape with substantial natural resource-based economies and supply chains, including agribusiness, forestry, extractives, infrastructure, and tourism.
LandScale helps users:
Understand landscape-level environmental, socio-economic, and governance issues that may jeopardize livelihoods, investments, and business activities
Share responsibility and collaborate across sectors to address issues and uncover opportunities to drive positive impact
Credibly communicate sustainability progress to build trust and strengthen support for initiatives
How it works
Assessments can be conducted by a single organization, a group interested in developing a collaborative landscape program, or an existing multi-stakeholder landscape partnership.
Step 1: Assess the landscape
Conduct an assessment using the holistic, standardized framework and online tool.
Step 2: Verify the results
Gain more confidence in insights through a verification process.
Step 3: Communicate impact
Share results via the reporting platform and make credible claims.
Developed by a coalition of partners
LandScale is a collaborative initiative led by the Rainforest Alliance, Verra, and Conservation International with support from a growing coalition of partners and a broad range of stakeholders.
The global initiative is supported by the International Climate Initiative (IKI) of the German Federal Ministry of the Environment, Nature Conservation and Nuclear Safety (BMU), and the BHP Foundation's Environmental Resilience Global Signature Program.
Several landscapes with different geographies, challenges, commodities, and governance models are currently testing LandScale to ensure its practical and impactful. The assessment framework, reporting platform, and verification mechanism will be released for public use in 2021.
Rainforest Alliance contact
Sophie Persey, Senior Manager, LandScale
Susanne Bouma, Market Development & Partnerships Manager, LandScale
To find out more, please visit the LandScale website.
Forests Are Falling At An Alarming Rate.
Each minute, 85 acres are destroyed.
Donate