Droughts and severe weather have devastated farms in Central America.
With the "caravan" of asylum-seekers now approaching the US-Mexico border, many news organizations have rightly pointed out that these are people are fleeing extreme poverty and gang violence caused in part by US intervention in their home countries. But there's another reason behind the exodus: climate change.
"It's almost impossible to know what the climate will be like at any given point in the year. When your survival depends on agriculture, this situation is devastating."

Farmer Fabián Sebastián López Rodríguez
A third of all employment in Central America is linked to agriculture. That means that disruptions caused by climate change cause devastating consequences for people who depend on the land for their livelihoods. These disruptions are complex and varied. Farmers in Honduras (where the caravan started) and Guatemala, for example, have seen their coffee crops decimated by roya (leaf rust), a fungus that has proliferated due to warming temperatures. Prolonged droughts plague already-poor communities struggling to make ends meet from their harvests. In many areas, changing weather patterns have made it nearly impossible to succeed with the conventional farming methods that worked in the past.
In our work with farmers throughout Central America, we focus on building resilience to climate change through a range of adaptation methods. In Guatemala's Western Highlands, the country's most impoverished region, we've worked with local communities and municipal governments to introduce a new potato variety, since new climactic conditions made it nearly impossible to grow the variety that had long been a staple. Farmer Fabián Sebastián López Rodríguez explained, "The seasons used to be well defined. Now, it's almost impossible to know what the climate will be like at any given point in the year. When your survival depends on agriculture, this situation is devastating." But for López and other farmers in his area, the new, frost-resistant varieties have been a lifeline for a community that has one of the highest rates of illiteracy and childhood malnutrition in Guatemala—a country where nearly half of children under the age of five are chronically malnourished. We also worked here with local partners to install simple, clean, and effective rainwater harvesting systems so that the communities have water even during dry seasons, which have become more severe in recent years.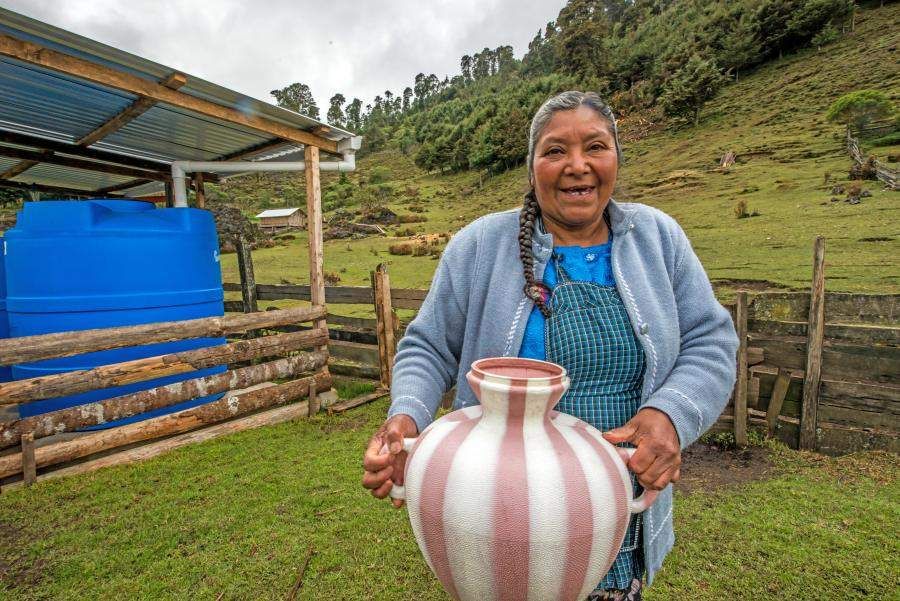 Because this region is so remote, it can be hard to effectively disseminate information and training materials on climate smart agriculture. To tackle this problem, we worked with local farmers in 2015 to develop a new mobile app that provides instant access to information on sustainable farming methods, as well as ways to respond to drought, unpredictable rainfall patterns, and other climate change challenges. Because the app has been designed to run offline once content has been downloaded, farmers can access information even when they are in the field, without cellular or WiFi service. The app has since been rolled out in 30 other countries.
In Honduras, we are working on the Atlantic coast, in the central eastern and Corredor Seco regions, and in the remote, northeastern Moskitia area on two interrelated goals: bolstering sustainable, smallholder businesses and boosting the communities' resilience to the impacts of climate change. Our partners in this wide-ranging, three-year initiative are Inter-American Development Bank (IDB), Honduran micro-finance institution FAMA, and Honduran conservation organization ICADE.
The Rainforest Alliance has witnessed first-hand the devastating impacts of climate change on livelihoods and lives in Central America—and we have developed and implemented successful, proven strategies to mitigate and adapt to those effects. With broader support for bolstering rural prosperity through sustainable and climate-smart methods, we can further ease the economic desperation that has fueled the caravan currently making its way north.
2022 Was One Of The Hottest Years On Record. Will 2023 Be Worse?
DONATE