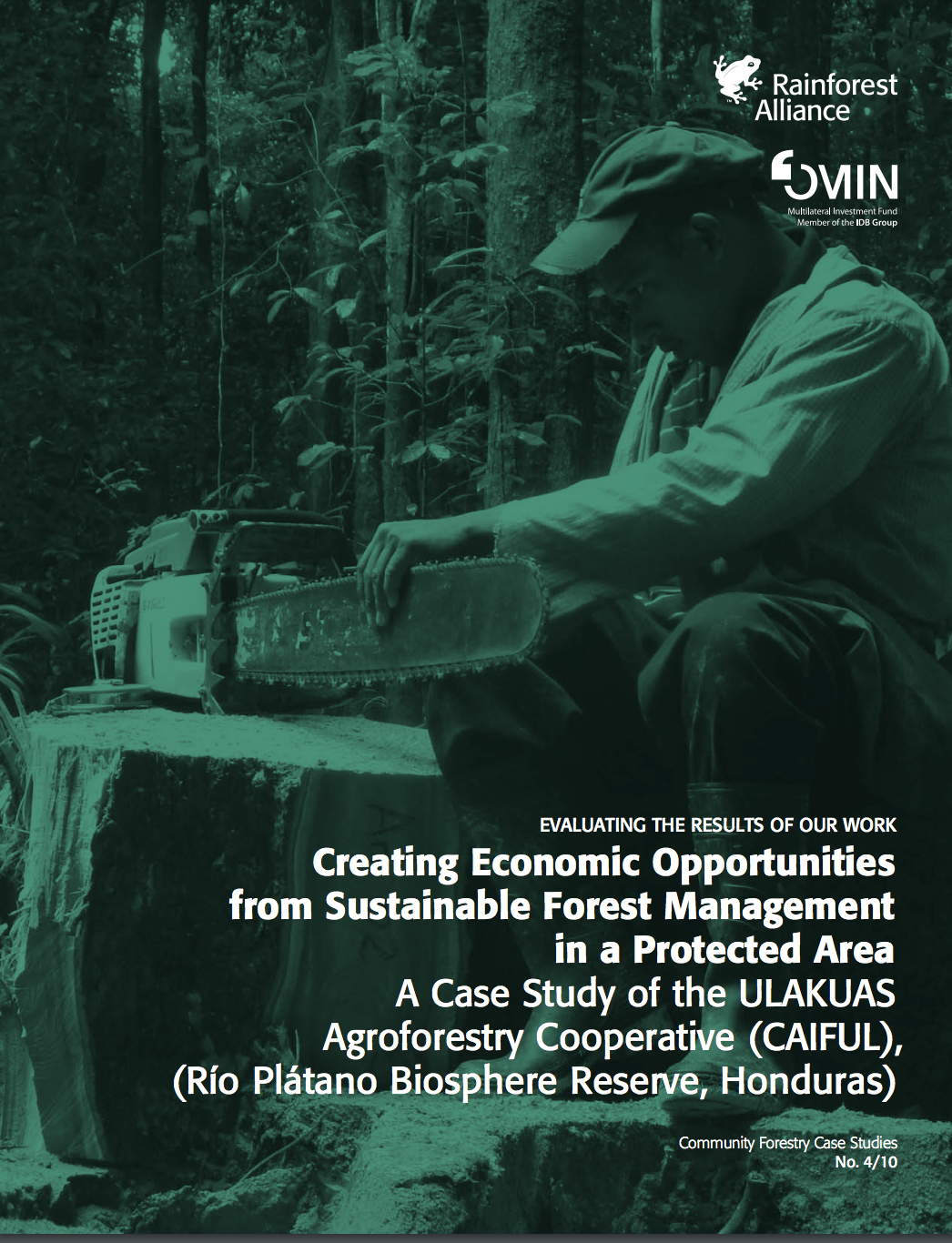 Case Study
Creating Economic Opportunities from Sustainable Forest Management in the Río Plátano Biosphere Reserve, Honduras
This case study chronicles work undertaken with the CAIFUL forestry cooperative, situated near the indigenous Miskitu community of Brus Laguna, in the Río Plátano Biosphere Reserve, in northeastern Honduras. Home to approximately 11,000 people, Brus Laguna is one of the country's poorest municipalities, with an annual per capita income of US$1,090. The people who call this part of the Muskitia home are the ancestral stewards of eco-systems rich in cultural and biological heritage.
CAIFUL is a 40-member cooperative whose forestry practices are certified to Forest Stewardship Council (FSC) standards. The cooperative is dedicated principally to the sustainable production of timber for national and international markets. CAIFUL manages a 19,055 ha forest concession in the biosphere reserve's cultural zone, about 25 km south of the community of Brus Laguna. The concession is particularly rich in mahogany and other hardwoods, and holds a host of important non-timber forest products as well. Since 2005, Rainforest Alliance has been working with forestry cooperatives in Honduras. In 2010, with support from MIF, Rainforest Alliance began working more directly with CAIFUL to improve enterprise operations. Support has also been received from USAID and, more recently, from the Avery Dennison Foundation.
The core finding of this case study is that local forest enterprise—even when highly incipient, undercapitalized and operating in a challenging context—can be profitable and significantly improve local incomes. Through forest harvesting and enterprise development, CAIFUL has become an important source of employment among both cooperative members and non-members. For the majority of the people who spend one or more months per year working for CAIFUL, their earnings from forestry makes up about quarter of all income; but for more than 15 percent of workers, forestry accounts for more than 50 percent of household income. Significantly, CAIFUL has sought to increase the contribution that forestry makes to local incomes over time, steadily increasing salaries paid to workers.
Choose a language & version to view this Case Study: