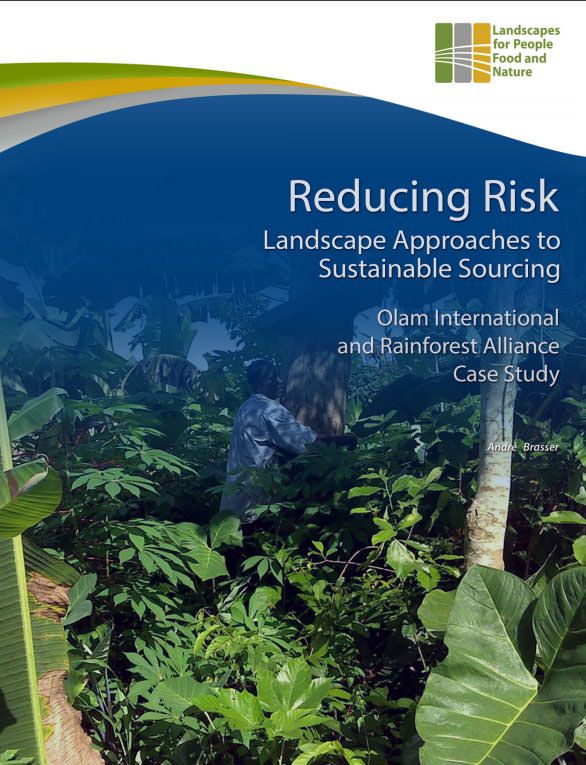 White Paper
Reducing Risk: Landscape Approaches to Sustainable Sourcing
Olam is a global integrated supply chain manager of agricultural products and food ingredients, sourcing 20 products, with a direct presence in 64 countries. In Ghana it sources 80,000 Mt cocoa per year, of which four percent originates from the western Bia-Juabeso region, representing USD 6 million market value. Olam started its operation in the region by conducting a standard risk assessment, which identified community and operational risks related to farmers' ability to dependably supply Olam and to deforestation and impacts on cocoa production due to climate change.
The company recognized that the regular producer support program was unable to mitigate climate change and other resource risks. Therefore, in 2011, Olam partnered with the Rainforest Alliance to start the "Climate Cocoa Partnership for REDD+ Preparation" project, which aimed to break the link between cocoa production and deforestation and build cocoa production areas mixed with forest lands to become more resilient to moisture and temperature changes due to climate change. Additionally, the project aims to allow Olam to be the first company to bring climate-friendly cocoa to market, diversify opportunities and increase income for farmers, build efficient value chains, and serve as a learning model for future expansion of the project.
The partnership has worked with stakeholders at all levels through a variety of means in order to accomplish these goals. With farmers, the partnership has been instrumental in training them to be certified under the Sustainable Agriculture Network standard including the additional climate module, thus ensuring that both sustainable and climate smart methods of agriculture are followed. Such certification allows for farmers to increase their incomes by not only being paid more for higher quality cocoa, but also promotes intercropping and maintaining carbon stocks as supplementary income sources. Additionally, the partnership has been working closely with the Forestry Commission, traditional authorities, and private concession holders on partially or wholly devolving land rights to local communities who can then support sustainable forest management practices and develop these resources into REDD projects.
Though the project lasted until 2014, there are early results and lessons learned being drawn from the experience. At the end of 2012, there were 833 farmers and 1,259 farms certified, which contributed to an estimated yield of 1,295 metric tons of certified beans sold for US$2.4 million. Sourcing is expected to increase to 3,000 metric tons by 2014 and continue to rise over time. While this project represents almost double the cost of a normal business venture of this scale for Olam, the company intends to reduce costs as they learn from mistakes and the project matures. If a success, Olam looks to eventually apply these methods to other cocoa sourcing areas as well to other tree crops, such as coffee.
View this White Paper: