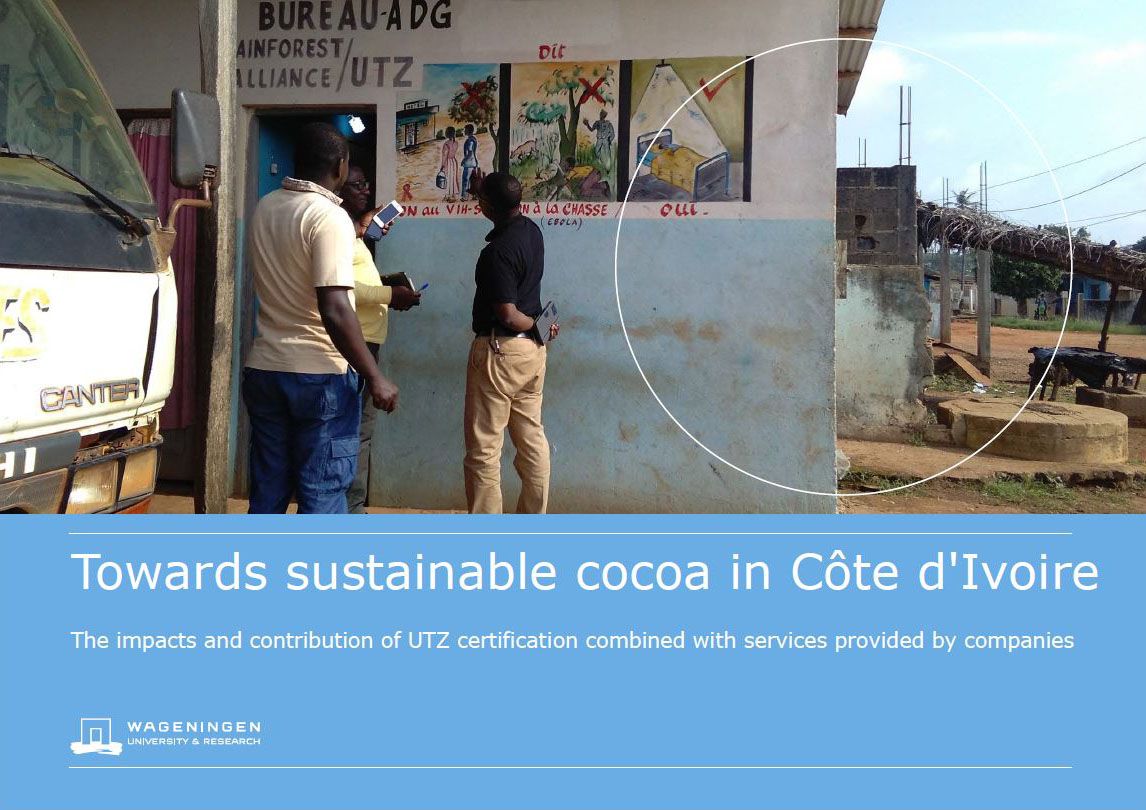 Impact Study
Towards Sustainable Cocoa in Côte d'Ivoire: The Impacts and Contribution of UTZ Certification Combined with Services Provided by Companies
This impact evaluation was commissioned to Wageningen University, and analyses the contribution of certification and interventions of companies implementing certification with groups of farmers in Côte d'Ivoire. The outcomes analysed are increased yields, improved income, improved working and living conditions, and better environmental protection. The results indicate that cocoa farmers increased their knowledge and implement better agricultural, social and environmental practices between 2013 and 2017. But knowledge and implementation rates remain low, despite service packages and certification. The intensity of training and services decreased over time, levelling out knowledge and implementation improvements.
The question of whether adopted practices lead to better lives, incomes, crops and environment was answered by looking at four main areas derived from the theory of change of the certification program. Farmers receiving high intensity service packages are most impacted. Certified farmers have significantly higher cocoa productivity than non-certified farmers. Changes in productivity on a seasonal basis however are attributed largely to the weather. Over time non-certified farmers are catching up to similar yields as certified farmers. Farmers generally produce under potential, on average 480 kg/ha, indicating there is still room for major improvements. Certified farmers had significantly higher net cocoa income per hectare in 2017 than non-certified farmers. But cocoa per capita incomes remain low, at USD 1.25 per day.
Certified farmers have seen improvements in their lives, working and living conditions, whereas non-certified farmers have experienced fewer changes.
Read the Rainforest Alliance's response.
View this Impact Study: