It has just become easier than ever for consumers to shop Rainforest Alliance Certified products.
Amazon recently launched Climate Pledge Friendly, a new program to help make it simple for consumers to discover and shop for more sustainable products, including those that are Rainforest Alliance Certified.
Highlighted as a leading sustainability certification
While searching for products on Amazon's website, consumers will now see the Climate Pledge Friendly label—an hourglass with wings—to signify which products have one or more sustainability certifications that help preserve the natural world. Amazon evaluated hundreds of sustainability certifications and chose the Rainforest Alliance as one of 18 certification programs for products with demonstrated, environmentally-related sustainability benefits. Additionally, the new feature allows users to look exclusively for Rainforest Alliance Certified products by typing our name into the search bar.
"Amazon has created a unique opportunity for brands we work with to receive even more visibility for certified products," said Stephanie Gerteiser, Sector Lead – Cultivate & Retail at the Rainforest Alliance. "This is as much a service for the consumer who can now more easily search for more responsible products as it is for the companies that work with us on certification."
Helping transform how consumers shop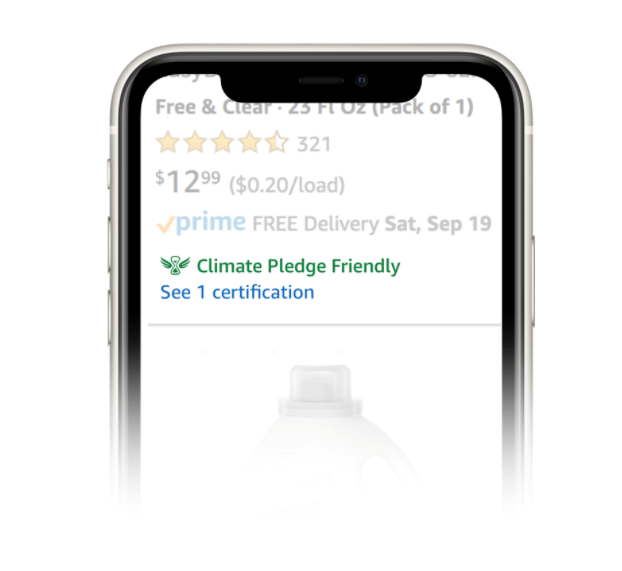 In the wake of COVID-19, consumers have increasingly turned to online retail. While the Rainforest Alliance Certified seal is designed to grab a shopper's attention on a store shelf, this added visibility helps a company's sustainable sourcing commitments stand out in the crowded e-commerce space. It also means that if your company is already labeling with the Rainforest Alliance or UTZ, your products are now more easily discoverable on Amazon.com. As of 28 October the programme is also available In Europe. It launches with over 40,000 Climate Pledge Friendly products across France, Germany, Italy, Spain, and the UK.
The Rainforest Alliance believes that sustainability is a journey. We're excited to collaborate with Amazon on this step in their commitment to help preserve the natural world. Retailers like Amazon offering consumers more ways to shop responsibly aligns with our mission to make responsible business the new norm. We are glad our vision of a world where nature and people thrive in harmony will now reach an even wider audience in the online marketplace.
For detailed information on the program qualification criteria and to start shopping for these products, visit Amazon's Climate Pledge Friendly. Look for the Climate Pledge Friendly badge on qualifying items.
Support Our Work
Create a world where people and the planet prosper together.
DONATE TODAY